Homey and fragrant these spiced apple oatmeal pancakes are just what fall called for! Full of cinnamon, nutmeg, applesauce, maple syrup and ground oats these will make your home smell like a candle, and taste even better. If you really want to get an A+ from your family, top with sautéed cinnamon apples. Breakfast, brunch or even dinner, these pancakes will be a hit, and not just for you–but for just about everyone as they're gluten free, dairy free, egg free, nut free and vegan.
This post contains affiliate links.
Why I love these spiced apple oatmeal pancakes
I guess I should really say, why my family loves these spiced apple oatmeal pancakes, because they adore them. I'm talking, my kids couldn't wait for me to photograph them, and had them as an after school snack.
These are very soft pancakes, and are filled with warm spices. The oatmeal base adds a rustic flavor that just makes them over the top.
I love that there's no refined sugar, that they're gluten free and have actual applesauce in the recipe. You'll love how they make your house smell and how good they taste!
What to be aware of with these apple oatmeal pancakes
Because these pancakes are quite wet–using actual applesauce to boost that apple flavor, and because they don't have eggs as a binder (my son is allergic to eggs) they're are quite soft set. They will not be as pliable as regular pancakes. You'll need to try to just flip them once, in one fluid motion, to get them to not break apart. You'll also want to wait to flip these until the bubbles have popped and the edges are starting to set, to make sure they're not too wet to flip.

How are these apple oatmeal pancakes gluten free?
These pancakes are gluten free because I use certified gluten free rolled oats as the flour. I use Bob's Red Mill brand, because we've never had a problem with them, and they're easily found online or at Walmart (my main shopping store in my small town). Feel free to use whatever brand you want. I've also used old fashioned rolled outs and not noticed a difference. I know some Celiacs still don't feel comfortable with oats at all, in that case I have several other pancake recipes in my gluten free breakfast index you can check out.
If you can have wheat, feel free to use regular instead of gluten free oats.
How are these apple oatmeal pancakes dairy free?
To make these pancakes dairy free, you need to do several things:
Use a dairy free milk for the batter. We prefer rice milk, because it has no after taste, but you should be able to use any milk substitute you want
Make sure that if you're going to top it with butter, or use butter in the sautéed apples recipe that you use a vegan butter. We prefer

Earth Balance

Check your syrup. If you're going to use a syrup on top of your pancakes, some will use butter in the recipe

How are these apple oatmeal pancakes egg free?
In order to make these apple pancakes egg free, I added 1/2 cup applesauce to make up for them. Applesauce is a common egg replacer. And more applesauce flavor is always a win.
If you aren't vegan and can do eggs, I would suggest using them though, as it will help the texture of the pancakes be more sturdy. Simply use 3/4 cup applesauce and two eggs instead.
Are these applesauce oatmeal pancakes vegan?
Yes they are. Because they use no milk, eggs or animal products, these pancakes are safe for vegans and those who wish to avoid meat and animal products.
Are these apple cinnamon pancakes allergy friendly?
Yes they are. If you follow my recipe exactly, they will be top-8-free. The only thing to watch out for, is to make sure that you use the soy free Earth Balance butter option.

What sides go well with these applesauce oatmeal pancakes?
Here's what we like to have with our pancakes to fill all my hungry kids' tummies:
Call us crazy, because these are vegan pancakes, but we only have to avoid milk and eggs due to food allergies, so we actually have a side of bacon for additional protein. You could definitely use whatever vegan bacon you'd prefer.
We also like to do hash browns.
You could also do a safe yogurt (we like the brands So Delicious and Silk).
Do I have other gluten free vegan pancake recipes?
I sure do! I just adore breakfast for dinner and brunch, and pancakes can be a vital player in that line up. Check out these other fun pancake recipes:
Spiced Apple Oatmeal Pancakes (GF & Vegan Options)
Homey and fragrant these spiced apple oatmeal pancakes are just what fall called for! Full of cinnamon, nutmeg, applesauce, maple syrup and ground oats these will make your home smell like a candle, and taste even better.
Ingredients
PANCAKE INGREDIENTS:
1 tsp. baking powder
1 tsp. baking soda
1 and 1/2 tsp. cinnamon
1 tsp. nutmeg
1/2 tsp. salt
1 and 1/4 cup unsweetened applesauce
3 Tablespoons pure maple syrup
2 Tablespoons canola oil (or other neutral cooking oil)
2 tsp. apple cider vinegar
2 tsp. vanilla
SAUTEED CINNAMON APPLES INGREDIENTS:
3-4 apples of choice (I like Gala or Honeycrisp)*
1/2 cup cold water mixed with 2 tsp cornstarch or arrow root powder
1/2 cup brown sugar
1/2 tsp ground cinnamon
Instructions
PANCAKE INSTRUCTIONS:

In a high quality blender, place gluten free rolled oats and blend until a fine powder. If you already have oat flour, I find mine ends up blending down to about 2 and 1/3 cups oat flour.

In a large mixing bowl, combine all of the dry ingredients (oats, baking powder, baking soda, cinnamon, nutmeg and salt) and whisk.

Next, add your wet ingredients to the bowl (rice milk, applesauce, maple syrup, canola oil, apple cider vinegar, vanilla) and stir.

Once everything is combined, let the batter sit for five minutes, so that the oats can absorb the liquid.

Next, heat your griddle to medium, and grease it. I use a 1/3 measuring cup to equally pour the batter.

I find these pancakes take a little bit longer to be ready to flip. These pancakes are fragile--try to wait to flip them until the bubbles have popped and the sides look sturdy. Try to flip it by only scooping under the pancake once with one fluid movement to avoid tearing.

If you find the tops and bottoms are getting done before the middle, turn the heat down a little bit.

Grease in between each round of pancakes.

Take the cooked pancakes and keep them in a tortilla warmer, with the lid on, or a plate with aluminum foil on top to keep them warm until the entire batch is done.

Serve warm with a safe butter and syrup, powdered sugar, or the sautéed apples as follows below. (I personally like both a little maple syrup and the apples...life is too short to choose!)

Keep leftover pancakes in the fridge in an air tight container. Because they are so moist, I find I prefer to eat them fresh, as they are very soft after being in the fridge, but my kids don't mind microwaving them later on.


2. SAUTEED APPLE INSTRUCTIONS

Wash, core, and chop the apples into bite sized pieces (we leave the skin on, but you could also take this off if you prefer.)

In a medium sauce pan over medium heat add the butter and melt. Next, add your apples, brown sugar, cinnamon and water/cornstarch mixture.

Let it come to a boil and boil for one minute (or longer, depending on how you like your apples, I like mine al dente). Take off the heat. It will thicken as it stands.

Serve warm over the pancakes. Keep any leftovers in an air tight container in the fridge.

*Depending on the size of apples and amount of apple to syrup ratio you like, cut up 3-4 apples, stopping when you feel you've reached your desired balance.
Notes
One of the reasons these pancakes are fragile is because there are no eggs, which provide a good binder. If you don't need them to be egg free for a vegan diet, or food allergies, I'd recommend subbing back in two eggs. So, change the applesauce amount to 3/4 cup and use two eggs instead.
For gluten and dairy free dinner ideas check out my cookbook: An Allergy Mom's Lifesaving Instant Pot Cookbook.
*Our allergies, while severe and that get re-tested yearly, are such that we can go strictly by what's on the label. I do not call companies to see what things are derived from, or call manufacturers to see about potential cross contact. If your allergies require you to do so, please do your own homework. I cannot assure you of any ingredient's safety, only you can do that. I simply share what works for our family
**If you are going to feed this to someone with food allergies, and you yourself do not have food allergies, I HIGHLY recommend having them check every single brand and ingredient you are using, to ensure they're OK with each part of the recipe. And, to make sure you've talked to them about how to avoid cross contamination in your kitchen.

Pancke recipe adapted from the talented One Lovely Life's Blender Apple Oatmeal Pancakes.
Sauteed cinamon apples slightly adapted from AllRecipes.com
DON'T FORGET TO PIN IT, SO YOU DON'T LOSE IT. BE SURE WHILE YOU'RE THERE TO CHECK OUT MY OTHER DIETARY SPECIFIC PINTEREST BOARDS.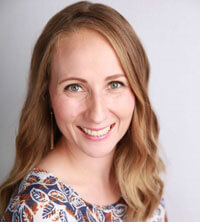 Hi! I'm Megan, a mom to four kids, two with multiple food allergies & one with EOE. I'm a published cookbook author that constantly tweaks recipes to make them allergy friendly–it's an addiction. I share every recipe & tip with you, to help you eat like you did before food allergies & dietary restrictions. You can still be awesome, even with food allergies!