Protein filled pancakes without gluten or dairy! And, no bananas (why is it so many recipes rely on bananas?!) No refined sugar either. The entire batch has approximately 84.4 grams of protein! I make 16 pancakes out of one batch, so each pancake has approximately 5.27g each. Enjoy your favorite carby breakfast, while also loading up on protein for a satisfying breakfast that will stick with you. This pancake recipe is free of: wheat, dairy, peanuts and tree nuts with a soy free option too!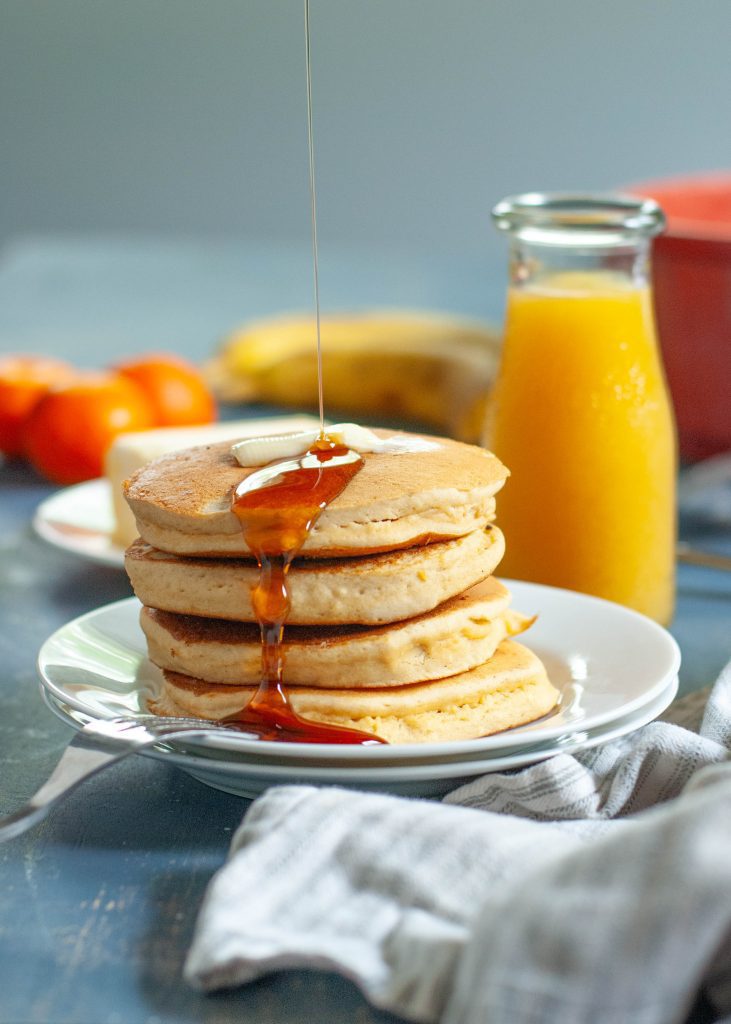 This post contains affiliate links.
​WHY WE LOVE THIS PROTEIN PANCAKE RECIPE
Pancakes are my favorite breakfast food, but I often felt a sugar high and icky after downing a bunch for breakfast. Plus, I found it didn't stay with me long. I have very active kids who play sports year round, and I was worried about their protein in take. I also started trying to take better care of myself and have been trying to exercise more. In tracking my macros, I found I was very low in protein. So, how could I add it to foods I already love? In came these pancakes!
A thing that made protein pancakes a bit tricky for my family is that we have a gluten intolerance, a wheat allergy, nut allergy and a dairy allergy–so no relying on whey protein powder, Greek yogurt, cottage cheese or nut butters. I know! That's a lot of typical protein sources out the door that you'll see in regular recipes for those who have no dietary restrictions. But, I've found a nice, thick pancake stacked with multiple protein sources that still gives you that pancake party in your mouth.
I make a batch at the first of the week, and it almost lasts until the end of the week. I keep leftover pancakes in a gallon Ziplock bag in the fridge, and the kids heat them up as needed. Even my kids that have decent appetites find they're full after just one because they're so satiating. It takes little prep time, and I'm always glad the rest of the mornings when all I have to do is microwave one for 20-30 seconds. Saves me all the rest of the week on busy mornings before school!
HOW TO MAKE THESE PROTEIN PANCAKES
If you've made regular pancakes, these pancakes aren't too different. Other than having to separate the egg whites and adding scoops of protein powder it's pretty much the same. Measure, pour and stir and then bake on a griddle. It's that easy!

INGREDIENTS NEEDED FOR PROTEIN PANCAKES
You only need these simple ingredients:
Wet ingredients:

Rice milk

(or other non-dairy milk for for dairy-free, see notes below)
4 large egg whites
2 large whole eggs
Pure maple syrup
Vanilla extract

Dry ingredients:
Tools needed:

Measuring cups and measuring spoons
Large mixing bowl
Large spoon and spatula for stirring

Griddle

or large non stick pan
Non-stick cooking spray
Spatula for flipping
WHAT DAIRY-FREE PROTEIN POWDER DO I USE?
I stumbled across this plant-based protein powder: Orgain Organic Vegan Vanilla Protein Powder. It isn't sponsored, but it's worked well and has a good flavor so we've stuck with it. Feel free to use whatever you feel is the best protein powder for your individual diet. I can't guarantee the results, as some may be more bulky than others and affect the texture slightly, or the flavor, but I would think most vegan ones are fairly similar. You may find you'll need to add more non-dairy milk and play with that amount if you use a different brand. Here are the ingredients in case you need to see them, taken from their website:
Orgain organic protein blend: organic pea protein, organic brown rice protein, organic chia seed. Orgain organic creamer base: organic acacia, organic high oleic sunflower oil, organic rice dextrin, organic sunflower lecithin, organic rosemary extract, organic erythritol, organic natural flavors, organic acacia, sea salt, organic reb a (stevia extract), organic guar gum, xanthan gum, natural flavor.

WHAT IF I NEED THE PROTEIN PANCAKES SOY FREE?
If you need the pancakes soy free, you'll only need to make sure the dairy-free butter you use doesn't contain soy. Earth Balance has a soy free stick you can purchase. You'll also want to make sure if you use a different protein powder, that it is soy free as well, as that is common in a lot of vegan protein powders. Thankfully, the kind I use does not.
WHAT IF I DON'T NEED THE PANCAKES TO BE DAIRY FREE?
If you don't need them to be dairy free, feel free to swap back in regular milk and regular butter at a 1:1 ratio.
CAN I USE PEA PROTEIN IF I HAVE A NUT ALLERGY?
For some reason, a lot of people are nervous to consume pea protein if they have a nut allergy. I was never told to avoid pea with my two nut allergic boys. There is only a 5% chance of being allergic to both. Of course, work with your own allergist for your individual case, but I wouldn't outright avoid it unless your allergist has told you to. Pea protein is in a TON of vegan things so it would make avoiding things even harder if you're opting to not eat it without being given a reason to.
WHAT GLUTEN-FREE FLOUR DO YOU USE?
I have a family of six, so I try do use discount products when I can. So, I use the Walmart brand: Great Value All Purpose Gluten Free Flour. With gluten-free baking it's always good to follow the recipe exactly as it's developed with that certain blend. If you can't use that brand, I can't guarantee the results, but would think that as long as the blend includes: rice, tapioca and potato you should be good. Blends that have sorghum as well work well too. It's good to have a blend that includes xanthan gum.
I would not recommend swapping in other flours, like coconut flour, almond flour or other nut flours. All purpose is a general substitution for wheat and it takes several to make up the regular taste and texture, so you can't simply swap it in with a single grain.
If you're looking for a pancake that uses oat flour, you can check out my Banana Oat Chocolate Chip Pancakes.

WHAT CAN I TOP THESE PERFECT PROTEIN PANCAKES WITH?
As with most pancakes, you can sprinkle some chocolate chips or fresh blueberries once you've put the batter on the griddle. I like mine plain and simple, but you do you!
You can also top them with a peanut butter, nut butter (if you can do it) or even a sunflower butter for extra protein. Fresh berries, dairy free whipped cream, maple syrup or even powdered sugar. Customize them however you like them.
WHAT DAIRY-FREE MILK DO I RECOMMEND?
I love rice milk because the flavor doesn't compete like unsweetened almond milk. Plus, my son has nut allergies. There is also flax milk and chickpea milk and all sorts of alternatives nowadays. I've stuck with rice milk for baking. But, if you want to amp up the protein you could use soy milk instead. You should be able to swap out any dairy-free milk 1:1. But, to be sure, cook just one pancake and see if you like the texture. You may find you want to add more milk to thin it, depending on what type you use and your preference of pancake thickness.
WHAT DO I COOK THE PROTEIN POWDER PANCAKES ON?
I prefer to use a griddle because I can fit more at once versus a non-stick skillet. Instead of having one that has to be plugged in, I have this kind that just sits on top of my gas burners. Feel free to use whatever you prefer.
HOW DO I COOK THE PANCAKES?
Just like regular pancakes, these gluten free protein pancakes are easy. Simply ladle some pancake batter (I like to use a 1/3 cup of batter) onto a preheated and greased griddle around medium heat. Wait until some bubbles start to pop on top. Then, carefully flip. Cook until both sides are golden brown. If you find the middle isn't getting done, try turning your heat down. It may be too hot and only getting the edges browned but not cooking thoroughly. I also find keeping my pancakes warm (whether in a tortilla warmer, like in the video) or placing them on a baking sheet and keeping them in the oven on the "warm" setting, helps finish cooking any middles that may be a tad underdone before serving.

HOW DO I STORE THE PANCAKES?
I like to keep these fluffy pancakes in a ziplock baggie in the fridge. Another airtight container would do as well. I have never tried freezing them, as we go through them too fast. But, I would imagine they would freeze well. If you try it, be sure to comment and let us know.
DO YOU WANT MORE GLUTEN FREE DAIRY FREE BREAKFASTS?
I actually have a HUGE list of gluten free and dairy free breakfast options. Be sure to see this list for sides to accompany these high-protein pancakes.
DO I HAVE OTHER GLUTEN-FREE PANCAKES OR VEGAN PANCAKES?
I do! Pancakes are one of my favorite breakfasts, so I have some other yummy options, especially if you can't have eggs. If you can have eggs, you can always swap them back in. Try out these other delicious gluten free pancakes:
DO I HAVE A VIDEO SHOWING HOW TO MAKE THIS PROTEIN POWDER PANCAKE RECIPE?
I do! I know how helpful it can be to see how something is made. Watch me make a batch of these protein pancakes so that you'll be ready to hit the hot skillet too! The video should auto populate, but if it doesn't, it's embedded into the bottom of the recipe card. If that doesn't work, you can always check out my YouTube Channel.
Gluten Free Protein Pancakes + VIDEO (DF Option too)
Additional Time:
10 minutes
Protein filled pancakes without gluten or dairy! And, no bananas (why is it so many recipes rely on bananas?!) No refined sugar either. The entire batch has approximately 84.4 grams of protein! I make 16 pancakes out of one batch, so each pancake has approximately 5.27g each. Enjoy your favorite carby breakfast, while also loading up on protein for a satisfying breakfast that will stick with you. This pancake recipe is free of: wheat, dairy, peanuts and tree nuts with a soy free option too!
Ingredients
4 egg whites
2 large eggs, whole
2 Tablespoons pure maple syrup
2 teaspoons vanilla extract
1 teaspoon baking soda
1/2 teaspoon baking powder 
1/2 teaspoon salt
Instructions
In a large mixing bowl pour the: rice milk, egg whites, whole eggs, pure maple syrup and vanilla extract. Whisk.
Add in the baking soda, baking powder and salt. Whisk.
Add in the protein powder and gluten free flour. Stir to combine.
Melt the butter. Add to the batter. (You'll notice I don't add it with the wet ingredients. I find it starts to harden due to the cold refrigerated rice milk, so I think it incorporates better at the end.)
Pour batter by small scoops (I use a 1/3 measuring cup so mine are all the same size) onto a greased and pre-heated griddle or non-stick pan on medium heat.
Allow to cook several minutes, until a bubble or two pops (you can check the underside by lifting a little corner if needed).
Flip.
Cook until the other side is also golden brown.
Keep pancakes in either a tortilla warmer, or on a baking sheet that is left in the oven on "warm" to keep them heated until serving (and to ensure the middle gets cooked).
If you find the middle isn't getting done enough, you can also turn down the heat on your griddle.
Eat warm. Allow the leftovers to cool completely, and then keep them in an air-tight container in the fridge. Keeps 4-5 days.
Notes
For frequently asked questions and substitutions see the text above the recipe.
Be sure to watch the video below to see how to make it.
*Our allergies, while severe and that get re-tested frequently, are such that we can go strictly by what's on the label. I do not call companies to see what things are derived from, or call manufacturers to see about potential cross contact. If your allergies require you to do so, please do your own homework. And, products may have changed since the time of publication, so always re-read labels once you have them in hand. I cannot assure you of any ingredient's safety, only you can do that. I simply share what works for our family
**If you are going to feed this to someone with food allergies, and you yourself do not have food allergies, I HIGHLY recommend having them check every single brand and ingredient you are using, to ensure they're OK with each part of the recipe. And, to make sure you've talked to them about how to avoid cross contamination in your kitchen.
Adapted from: Protein Pancakese by The Real Food Dietitians
Nutrition Information:
Yield:

16
Serving Size:

1
Amount Per Serving:
Calories:

65
Total Fat:

1g
Saturated Fat:

0g
Trans Fat:

0g
Unsaturated Fat:

1g
Cholesterol:

24mg
Sodium:

192mg
Carbohydrates:

9g
Fiber:

0g
Sugar:

2g
Protein:

4g
DON'T FORGET TO PIN IT, SO YOU DON'T LOSE IT. BE SURE WHILE YOU'RE THERE TO CHECK OUT MY OTHER ALLERGY-FRIENDLY PINTEREST PINS.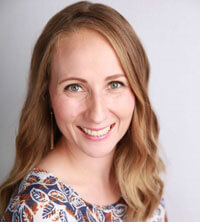 Hi! I'm Megan, a mom to four kids, two with multiple food allergies & one with EOE. I'm a published cookbook author that constantly tweaks recipes to make them allergy friendly–it's an addiction. I share every recipe & tip with you, to help you eat like you did before food allergies & dietary restrictions. You can still be awesome, even with food allergies!