These gluten-free dairy-free meatballs are slow simmered in sauce for a tender, flavorful Italian meatball that will have you shouting "Mangia!". By using oatmeal instead of breadcrumbs and lots of herbs, you won't miss the cheese as these are flavor bombs in and of themselves. Serve over your favorite gluten-free spaghetti and eat it Lady and the Tramp style. This is also free of: soy, fish, shellfish, peanuts and tree nuts.
This post contains affiliate links.
Why I Love These Gluten and Dairy Free Meatballs
I love any kind of Italian, but I it's definitely become harder since my son's wheat allergy and dairy allergy diagnosis. But, I was determined to figure out how to make him this classic dinner dish, even with our food allergies. Thankfully, you can make this with pantry staples, jarred sauce and still please even Italian food lovers (like myself.) This is my favorite way to make traditional meatballs because it doesn't require turning on the oven and can all be done on the stove top–which means we can even enjoy this in the hot summer months! These juicy meatballs will now be a staple for your dinner rotation despite your dietary restrictions.
What ingredients do you need for these Dairy-free Gluten-free Meatballs?
You need these meatball ingredients:
Olive oil
Dried Italian seasoning
Onion powder
Salt
Pepper
Nutmeg
Jarred minced garlic
Dairy-free milk of choice
Ground beef
Egg
1

jar of Prego

(or other safe sauce you prefer)
Fresh parsley for garnish, if desired

What tools do you need to make these homemade meatballs?
You will need:
Large bowl for mixing

Cookie scoop

(not required, but helps make them uniform)
Measuring cups and spoons
Large Dutch oven, or large skillet with a lid
Large stock pot for boiling the pasta
Strainer/colander for draining pasta
Do you need breadcrumbs for gluten-free meatballs?
No! Gluten-free breadcrumbs can be difficult to find and expensive. You can always make homemade gluten-free bread crumbs but I don't want an extra step when I'm ready to start dinner. This is why I use oats. Oats are a great substitute for bread crumbs in meatballs.
Are oats gluten-free?
This is a debated topic. While oats are inherently gluten-free (they do not contain gluten) most people worry about the fact that they're processed in facilities and equipment that processes wheat or other gluten containing grains. For this reason, I buy certified gluten-free oats. You can use whatever type of oats and whatever brand you prefer. I've also used old fashioned rolled oats, but I believe quick cooking oats would work fine too.

Do I need a food processor?
Because I use onion powder, and not an onion or any fresh herbs, you really only need your hands to mix the meatball mixture. Yay for less dishes! You could blitz the oats in either a food processor or blender if you want the oats smaller, but I don't do this because they become so tender and you really can't taste or notice them when eating the finished product.
What dairy-free marinara sauce do I recommend?
One secret to these meatballs is to let them simmer in your favorite sauce. It helps the flavor as well as helps tenderize the meatballs. You could use a homemade tomato sauce if you prefer, but I've been very happy with Prego Roasted Garlic and Herb. Thankfully this sauce is naturally gluten and dairy free per label.
Do I have to use products that say "gluten free" or "dairy free" on them?
That is a tricky question. My son gets prick tested by a board certified allergist yearly for his food allergies and they show as very severe. Yet, we have been find to use "regular" products that don't have text on the bottles such as "free from XYZ" or "XYZ-free". When we were first diagnosed, it felt more comfortable to buy things that explicitly said this, but then I realized it was very limiting and now only go by ingredients and not additional statements. Do what feels comfortable to you.

What gluten-free spaghetti noodles should I use?
Thankfully, there are so many types of gluten-free pasta so you can use whatever kind you like. We like Barilla or Jovial (both rice based) but there's also some noodles made from chickpea flour, quinoa or lentils in case you're wanting low carb. There's also homemade zucchini noodles (also known as zoodles) as well. These meatballs would even be delicious in meatball subs if you want to skip the noodles altogether. I'd recommend Schar Hoagies.
What meat do I use in these gluten-free dairy-free meatballs?
I use all beef. But, if you want to use half ground pork and half ground beef, I'm sure that would be fine too. I know many say you need more than one type of meat, but I feel like these are still tender, hold well and it's less expensive than buying two types of protein. I wouldn't recommend ground turkey, as turkey is a drier meat.
What temperature do I cook these meatballs at?
I like to start my sauce around medium heat, and once it starts to simmer, turn it down to low and place a lid. You'll cook the meatballs for 20 minutes without touching them (as they'll be too tender) and then at twenty minutes turn the meatballs, replace the lid and cook for the final 20 minutes. Before serving, even though they've cooked a really long time, I still like to use an instant read thermometer and make sure that they reached an internal temperature of 160 degrees F.

Do I need a sheet pan?
No, you do not need a prepared baking sheet. I simply scoop the meat mixture with my cookie scoop, roll it into my hands and place it right into the sauce in the pan (making sure to place them in a single layer). I'm all about less dishes! If you needed to make the meatballs ahead of time (making the mixture, and rolling them into balls) then you could place them on a cookie sheet and keep them in the fridge until you're ready to cook them later that day, or over night. Keep them covered with plastic wrap if you do that.
How do I store leftover Italian meatballs?
You can store these dairy-free gluten free Italian meatballs in an airtight container in your fridge for 2-3 days. If you have a tender pasta (not all gluten-free pastas hold up sitting in sauces for long) you can store the meatballs and pasta separate.
Do I have other gluten and dairy free Italian recipes?
Yes, I have more gluten-free and dairy-free Italian recipes, because Italian is the best!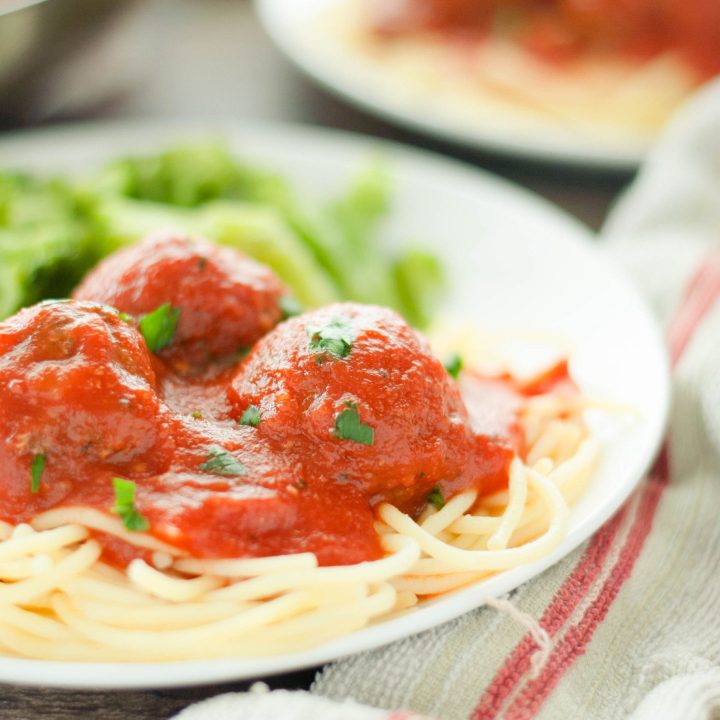 Gluten-Free & Dairy-Free Italian Meatballs
These gluten-free dairy-free meatballs are slow simmered in sauce for a tender, flavorful Italian meatball that will have you shouting "Mangia!". By using oatmeal instead of breadcrumbs and lots of herbs, you won't miss the cheese as these are flavor bombs in and of themselves. Serve over your favorite gluten-free spaghetti. This is also free of: soy, fish, shellfish, peanuts and tree nuts.
Ingredients
1 and 1/2 Tablespoons dried Italian seasoning
1 Tablespoon onion powder
1 teaspoon salt
1/2 tsp pepper
1/4 teaspoon ground nutmeg
1 pound ground beef
1 large egg , whisked
Instructions
In a large mixing bowl, pour your oats, Italian seasoning, onion powder, salt, pepper, nutmeg, garlic, dairy-free milk, ground beef and whisked egg.

Mix with your hands to incorporate everything.

In a large dutch oven, or a large skillet with a lid, pour the bottle of spaghetti sauce (or marinara sauce) in the bottom. Place pan on your stove top. Turn heat to medium.

Using a cookie scoop, or your hands, roll the meatballs into 2 inch meatballs. Place the meatballs directly into the sauce.

Allow sauce to come to a low simmer. Place the lid on and turn the heat to medium-low.

Set a timer for 25 minutes. After the timer dings, flip each meatball.

Set a second timer for 25 minutes.

While this last timer winds down, make your preferred gluten-free spaghetti according to package directions. Drain and set aside.

When the second timer dings (meatballs need to cook a total of 50 minutes), your meatballs are done. Serve over cooked spaghetti noodles and garnish with fresh parsley, if so desired.

Enjoy!

Leftover meatballs can be stored in the fridge, in an air tight container for 2-3 days.

If you need egg-free meatballs (or don't also mind being egg free, you can check out my other two meatball recipes: Teriyaki Meatballs and Asian Meatballs.
Notes
Oats can be blitzed for a few seconds in a blender or food processor, but don't let it turn into oat flour. I leave my oats whole, because even though they look odd in the meat mixture, once they're cooked they're so soft and tender I don't notice them at all.
See the post above for FAQs.
*Our allergies, while severe and that get re-tested frequently, are such that we can go strictly by what's on the label. I do not call companies to see what things are derived from, or call manufacturers to see about potential cross contact. If your allergies require you to do so, please do your own homework. I cannot assure you of any ingredient's safety, only you can do that. I simply share what works for our family
**If you are going to feed this to someone with food allergies, and you yourself do not have food allergies, I HIGHLY recommend having them check every single brand and ingredient you are using, to ensure they're OK with each part of the recipe. And, to make sure you've talked to them about how to avoid cross contamination in your kitchen.
Inspired and adapted from: Mama Knows Gluten Free's Gluten-free Meatballs
Nutrition Information:
Yield:

4
Serving Size:

1
Amount Per Serving:
Calories:

423
Total Fat:

23g
Saturated Fat:

8g
Trans Fat:

1g
Unsaturated Fat:

11g
Cholesterol:

148mg
Sodium:

659mg
Carbohydrates:

17g
Fiber:

3g
Sugar:

1g
Protein:

36g
DON'T FORGET TO PIN THIS RECIPE, SO YOU DON'T LOSE IT. WHILE YOU'RE THERE, CHECK OUT MY OTHER DIETARY SPECIFIC PINTEREST BOARDS TOO!