Spicy yet sweet, this simple grilled chicken is naturally allergy friendly, dairy free & gluten free because it just uses spices & honey. Perfect for summer and for lots of guests, no matter their dietary restrictions. Find this allergy friendly chicken recipe below!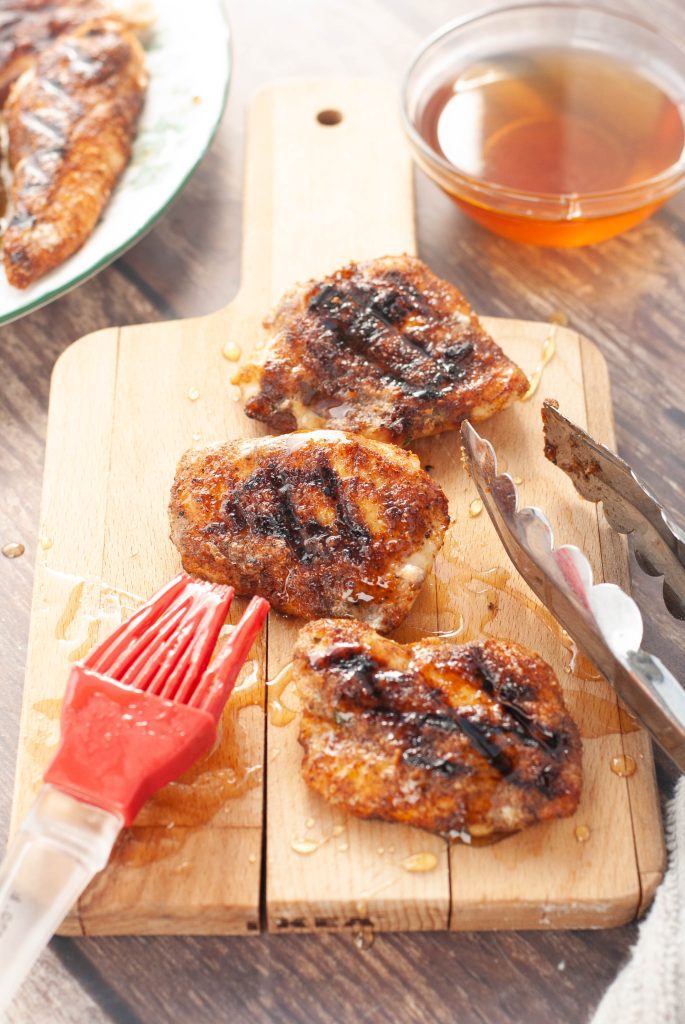 Why I Love This Grilled Spicy Honey Chicken
This is probably my husband's favorite grilled recipe I have. I'm not one to grill much, but everyone has to have a good grilling recipe up their sleeve for Memorial Day, 4th of July, Labor Day and for friend and family gatherings.
This grilled spicy honey chicken is such a great entrée because it's unique–it's not just another marinade, it's meat coated in punchy spices, and then tempered with a sweet honey glaze that gives it a one-two punch.
It's also great, because many grilling recipes require hours of marinating and you can do this without any prep time!
This recipe could also be considered "hot honey chicken" as some people know it. The recipes tend to vary online, but they're usually just a spicy chicken with some type of honey glaze. I especially like this one, because it has no breading, which makes it less calories, and naturally gluten free too (plus less mess).

How is this Spicy Honey Chicken gluten free?
One thing I love about this recipe is its simplicity. Oil, spices, honey and apple cider vinegar. That's it. The only thing you'll need to do to ensure there's no gluten is to read all of your spice labels. It would be very odd if any of them had anything other than the desired spice, but it never hurts to double check.
How is this Spicy Honey Chicken dairy free?
Again, because it's just oil, spices, honey and apple cider vinegar, there is no dairy in this spicy honey chicken. The only possible cross contamination might be from using a grill that has grilled cheeseburgers on it. Be sure to clean your grill thoroughly before using. Or, if going to a place where you can't clean the grill beforehand, you can always place some aluminum foil over the grates and grill your food that way (you'll miss the char marks, but it will be safer).

Is this Spicy Honey Chicken allergy friendly?
It most certainly is! It is free of the top-8-allergens. There is no: wheat, dairy, egg, soy, peanut, tree nut, fish and shellfish. Just make sure that if you do have a soy allergy, that you're using a safe oil (not vegetable) that is meant for high heat.
What goes well with Spicy Honey Chicken?
Really, any sides that you typically love at a BBQ will work, but here are some of our favorites, that are also gluten and dairy free:
Do I have any other grilled chicken recipes?
I'm not a huge grilling person, but I do have two other staples that we really enjoy. In fact, we love these gluten and dairy free grilled chicken recipes so much, that we make them year round in our indoor grilling pan.
Grilled Spicy Honey Chicken
Additional Time:
5 minutes
Spicy, sticky and sweet. It's the trifecta of grilled chicken. I don't grill much, but when I do, my husband sure loves when I bust this recipe out.
Ingredients
3-4 chicken breasts, butterflied
2 teaspoons vegetable oil, or other safe high heat oil
SPICE RUB:
2 teaspoons granulated garlic
2 teaspoons chili powder
1/2 teaspoon onion powder
1/2 teaspoon coriander
1 teaspoon kosher salt
1 teaspoon cumin
GLAZE:
1/2 cup honey
1/2 Tablespoon apple cider vinegar
Instructions
Heat your grill to medium high.
In a small bowl, stir together all of the spice rub ingredients.
Butterfly your chicken, so that they're all a uniform thickness.
Rub the chicken with the oil on both sides.
Sprinkle the spice rub evenly on all of the chicken pieces.
Place the chicken on the grill, and cook until done (an internal temperature of 165 degrees F. I highly recommend getting an instant read digital thermometer.)
While letting the meat rest for five minutes before serving, place a small bowl with your honey and apple cider mixture in the microwave oven and warm it for 20 seconds or so, just so it's thinner and easier to pour.
Either pour, or brush on the honey glaze on top of your chicken before serving.
Nutrition Information:
Yield:

4
Serving Size:

1
Amount Per Serving:
Calories:

390
Total Fat:

10g
Saturated Fat:

2g
Trans Fat:

0g
Unsaturated Fat:

8g
Cholesterol:

102mg
Sodium:

446mg
Carbohydrates:

37g
Fiber:

1g
Sugar:

35g
Protein:

38g
DON'T FORGET TO PIN IT, SO YOU DON'T LOSE IT. WHILE THERE, BE SURE TO CHECK OUT ALL OF MY DIETARY SPECIFIC BOARDS.