In less than 30 minutes you can have a restaurant worthy Sweet and Sour Chicken Stir Fry. Simply chop, sauté and stir your way to enjoying a well beloved take out dish all made at home. My recipe doesn't call for battering or frying either. You won't miss it. It makes a huge mess and just isn't worth it. It's healthier and tastes just as great thanks to the lip smacking sauce. Load it up with your favorite veggies and serve over rice for a delicious and complete dinner anytime you're craving this Chinese-American classic. This recipe also happens to be naturally free of: gluten, dairy, egg, fish, peanuts and tree nuts, making it very allergy friendly to be enjoyed by even more people. (Soy free option too!)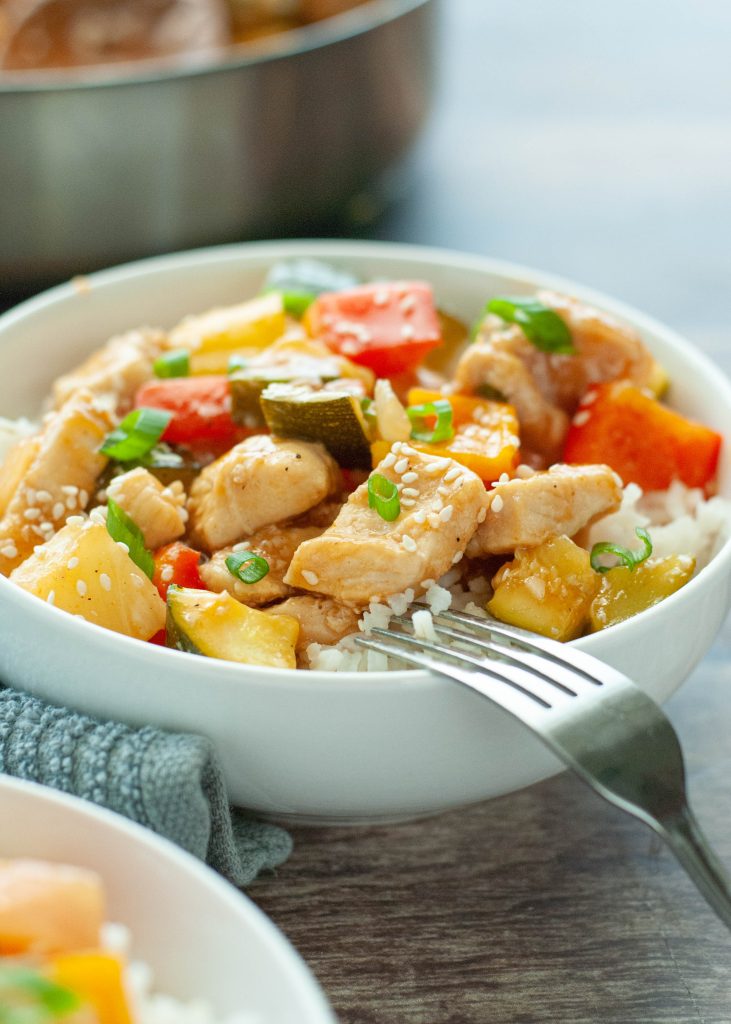 This post contains affiliate links.
WHY WE LOVE THIS SWEET AND SOUR STIR FRY RECIPE
Growing up, my mom was a great cook and cooked often–especially because money was tight. So, it was a special treat when my dad would come home from the local Hong Kong restaurant with a brown bag filled with Chinese take out. I loved those nights! I've always had an infinity for Chinese American food. However, I thought my days of sweet and sour sour chicken were gone because of my sons wheat and nut allergy–which Chinese restaurants are filled with. I'm so grateful I figured out this copycat sauce recipe so my family can still enjoy this popular Chinese dish. I wondered if it would still taste as good, not frying the chicken. But, I don't miss it. The frying makes a ton of mess, adds an extra step and more time. Sure, it isn't crispy chicken, but it's tender chicken and it's delicious. This recipe is easy, you don't even need a wok, and it helps you clean out the fridge as you can dress it up or down with as many vegetables as you like! This dinner recipe is bursting with color, texture and flavor! This is the best way to cure your craving of take out without waiting for delivery.

WHAT INGREDIENTS ARE IN HOMEMADE SWEET AND SOUR SAUCE?
Thankfully, sweet and sour sauce only need pantry staple items, so it's easy to throw together last minute. For this tangy sauce you'll need:
Sugar
Brown sugar
Vinegar (white vinegar or rice vinegar will do)
Ketchup
Soy sauce (use gluten free soy sauce if needed)
Garlic
Black Pepper
Corn starch
Optional: red pepper flakes
And don't worry–this makes a lot of sauce. So, you can either have a very saucy dish, or some extra sauce leftover. I recommend pouring some on, instead of pouring the whole thing and judging how much you'd like it drenched in. I did this because some people will use a little or a lot of vegetables and that way you'll be covered no matter the amount you use.
WHAT VEGETABLES GO IN SWEET AND SOUR CHICKEN STIR FRY RECIPE?
Really, there is no wrong answer here. I'll list what I put, but really use this as a reason to clean out your fridge.
Red bell pepper
Green bell pepper
Orange bell pepper
Zucchini
Onion (red, yellow or white will do)
Carrots, broccoli, sugar snap peas, snow peas, mushrooms and bok choy would all be great vegetables to throw in as well!

WHAT GARNISHES DO YOU USE IN THE SWEET AND SOUR CHICKEN RECIPE?
I like to do some green onions (and if you want it to look restaurant worthy, cut it on a bias) and some sesame seeds. For those with sesame allergies, you can totally omit this, as it isn't a make or break. I also love to add pineapple chunks (I use a can of pineapple, but fresh pineapple would be great too if you have it) at the end right before serving because it's nice to have the extra boost of juicy sweetness of the pineapple among all the vegetables.
WHAT DO YOU SERVE SWEET AND SOUR CHICKEN WITH?
Typically, since you already have your protein, vegetables and fruit in the sauce, you serve it over rice. You can use brown rice, long grain rice, jasmine rice…whatever your heart desires. If you're wanting it to be grain free and limit your carbs, you can omit the rice and it would still be filling and delicious. You could serve it over quinoa too for extra protein. Cauliflower rice is also another grain free base.

WHAT CHICKEN SHOULD I USE?
Any type of chicken should work for this recipe. I use boneless skinless chicken breasts. You could use skinless chicken thighs as well. I wouldn't recommend any cut with bones in it or skin on it as it will take longer to cook. Cut it into bite-size pieces for ease of eating and for it to take less time to cook, so it will cook right alongside the vegetables. If you use dark meat instead of white meat, it will take just a little bit longer to cook, so keep that in mind. And honestly, if you want to omit the chicken and just do veggies for a meatless Monday meal, that would work too!
HOW TO MAKE THE SAUCE?
It's easy to make the sauce. Simply pour all of the ingredients in a small bowl and whisk to combine. I usually do this while my chicken is cooking and my onions are softening. You can see more details in the video.
WHAT OIL SHOULD I USE?
Many Asian restaurants use peanut oil. They do this because it can withstand very high temperatures in their woks without smoking. Most allergists will say it's still OK to eat peanut oil, even if you have a peanut allergy. Though, many people still don't trust it. I prefer to use canola oil instead. It's a neutral oil with a high smoking point as well, versus an oil olive which can smoke easier. Though, if you don't plan on cooking it at such a high heat, you could use it.

WHAT PAN SHOULD I USE?
Chinese food purists will say you need a wok. However, I've used a large nonstick skillet and stainless steel. I'm not picky and haven't found it makes that much of a difference. Don't let a certain type of pan stop you from making this. Just make sure it's large enough since you'll have both chicken and veggies. I don't even cook mine at a high heat, like the traditional way people stir-fry vegetables in woks because the only vegetable I want cooked to tender is the onion and zucchini, so I just put those in at the same time as my chicken. Then, I just add the bell peppers and pineapple at the end, so there's no need for flash cooking. So depending on if you want your vegetables crisp, crisp-tender or tender, you'll want to add them in in the order and time that you want them cooked to. The longer in the pan, the more tender they will be.
HOW DO YOU THICKEN THE SWEET AND SOUR SAUCE?
I combine cornstarch with the rest of my sauce ingredients to thicken my sweet and sour chicken sauce. This gives it some body so it will stick to the chicken and stir fry vegetables, rather than sliding right off if it's too thin. If you can't do cornstarch, you could also use arrow root. Either way you'll enjoy this flavorful sauce!
IS THIS SWEET AND SOUR CHICKEN STIR FRY ALLERGY FRIENDLY?
Yes it is! This dish can be free of these top allergens: wheat, gluten, dairy, egg, fish, shellfish, peanuts and tree nuts if you use gluten-free soy sauce and use canola oil. These simple swaps don't affect the taste at all. If you need it to be sesame free, simply omit the sesame seed garnish. If you need it to be soy free as well, swap in coconut aminos for the soy sauce at a 1:1 ratio. And, then it will be top-8-free! *Always read every label. Those allergens listed shouldn't be in any of the other ingredients, but you never know what company will sneak in what ingredients, so always do your own due diligence with the brands you have on hand.*

DO I HAVE OTHER CHINESE RECIPES?
I do! Get your chopsticks ready! Enjoy these other Asian recipes:
IS THERE A VIDEO SHOWING HOW TO MAKE THIS SWEET AND SOUR CHICKEN STIR FRY?
Yes there is! I made a video showing you how to make it so you can feel confident before letting your taste buds dive in. The video should automatically pop up, or if it doesn't it should be at the bottom of the recipe card. And if all else fails, you can watch it (and a bunch of other yummy recipe videos) on my YouTube page.
Sweet and Sour Chicken Stir Fry Recipe
Less than 30 mins for a restaurant worthy Sweet and Sour Chicken Stir Fry. Enjoy this well beloved take out dish at home!
Ingredients
STIR FRY INGREDIENTS:
2 Tablespoons canola oil
2 large boneless, skinless chicken breasts cut into 1" chunks (can use chicken thighs)
1/2 onion cut into 1" chunks (can use red, yellow or white onion)
1 zucchini, cut into half moons
1 red bell pepper cut into 1" chunks
1 green bell pepper cut into 1" chunks
1 yellow red bell pepper cut into 1" chunks
1 cup drained pineapple chunks (optional)
SWEET AND SOUR SAUCE INGREDIENTS:
1/2 cup sugar
1/4 cup brown sugar
1/3 cup white or rice vinegar
1/3 cup ketchup
2 cloves garlic minced (1 tsp if using jarred, minced garlic)
1/4 tsp black pepper (or red pepper flakes if you like it hotter)
2 Tablespoons cornstarch
OPTIONAL TOPPINGS:
diced green onions
sesame seeds
SIDES FOR SERVING:
Instructions
If needed, start cooking your rice according to package directions.

Dice all of your veggies and set aside.

Dice chicken and set aside.

Place oil in a large skillet or wok (I've used both stainless steel and nonstick just fine). Heat oil to medium heat.

Add diced chicken and onions. Cook around 2 minutes.

Add zucchini.

While chicken cooks and vegetables become tender, make your sauce.

Combine all sauce ingredients in a small bowl and whisk to combine.

Once chicken is almost done, pour in as much sauce as you'd like (will depend on how saucy you like it, and how many vegetables it needs to cover.) Heat until sauce is thicker and bubbling.

Turn off heat, add in any vegetables you still want crisp (I like my bell peppers totally crisp) and the pineapple. Stir to combine and cover in sauce.

Top with optional green onion and sesame seeds.

Serve hot over cooked rice or quinoa.

Leftovers keep well for 2-3 days in airtight container in the fridge.

*Feel free to add any other vegetables you like, and cook the vegetables for as long as you like. I only like my onion and zucchini tender, which is why I add them in with the chicken so they have that entire time to cook while the chicken is becoming done. Add in any vegetables you want at the desired time, noting that the longer they stay in the pan the softer they will be.)
Notes
*Our allergies, while severe and that get re-tested frequently, are such that we can go strictly by what's on the label. I do not call companies to see what things are derived from, or call manufacturers to see about potential cross contact. If your allergies require you to do so, please do your own homework. I cannot assure you of any ingredient's safety, only you can do that. I simply share what works for our family
**If you are going to feed this to someone with food allergies, and you yourself do not have food allergies, I HIGHLY recommend having them check every single brand and ingredient you are using, to ensure they're OK with each part of the recipe. And, to make sure you've talked to them about how to avoid cross contamination in your kitchen.
Adapted from the fabulous Sabrina's Sweet and Sour Chicken
Nutrition Information:
Yield:

5
Serving Size:

1
Amount Per Serving:
Calories:

475
Total Fat:

14g
Saturated Fat:

2g
Trans Fat:

0g
Unsaturated Fat:

10g
Cholesterol:

70mg
Sodium:

358mg
Carbohydrates:

62g
Fiber:

3g
Sugar:

43g
Protein:

28g
DON'T FORGET TO PIN IT SO YOU DON'T LOSE IT. WHILE YOU'RE THERE, CHECK OUT MY MANY OTHER PINTEREST BOARDS!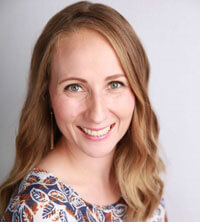 Hi! I'm Megan, a mom to four kids, two with multiple food allergies & one with EOE. I'm a published cookbook author that constantly tweaks recipes to make them allergy friendly–it's an addiction. I share every recipe & tip with you, to help you eat like you did before food allergies & dietary restrictions. You can still be awesome, even with food allergies!