I thought my meatball days were over since all the recipes I knew included eggs and wheat as a binder. You would think by now I would know there is a work around to almost any culinary conundrum, but I truly had given up hope. That was, until I saw these meatballs that used quinoa as the perfect, allergy-free binder.
We're huge fans of quinoa. My boys love to snack on plain quinoa, cooked in chicken broth topped with a little olive oil and sea salt.
So, I was ecstatic to find another recipe using it. Not only do these flavor bombs have pork, but they also have quinoa making them a protein powerhouse!
These are a fabulous appetizer that are wonderful for holiday parties. I also plan on busting these out during our Chinese New Year celebrations.
But, these make it into our typical dinner rotation too, often being served with rice and broccoli. We gobble these Asian quinoa meatballs up, and almost fight over any leftovers. I'm going to have to start doubling this recipe!
If I haven't convinced you how savory and flavor packed these are–just know this: I hate touching raw meat. So, for me to put my hands in raw meat means that these are SOOO worth it.
Enjoy!
Also–if you're looking for that classic, Italian meatball that is also gluten, dairy and egg free, check out my allergy friendly instant pot cookbook where you'll find the recipe there!
MORE ALLERGY FRIENDLY ASIAN DISHES:
Do you have a video showing how to make these Asian Quinoa Meatballs?
Yes, I do! I like to use TikTok because their videos are short and succinct. This general overview should give you a good idea of how to make these Asian Quinoa Meatballs that are gluten, dairy and egg free. I also have the video saved to my Instagram Highlight Bubbles. Enjoy!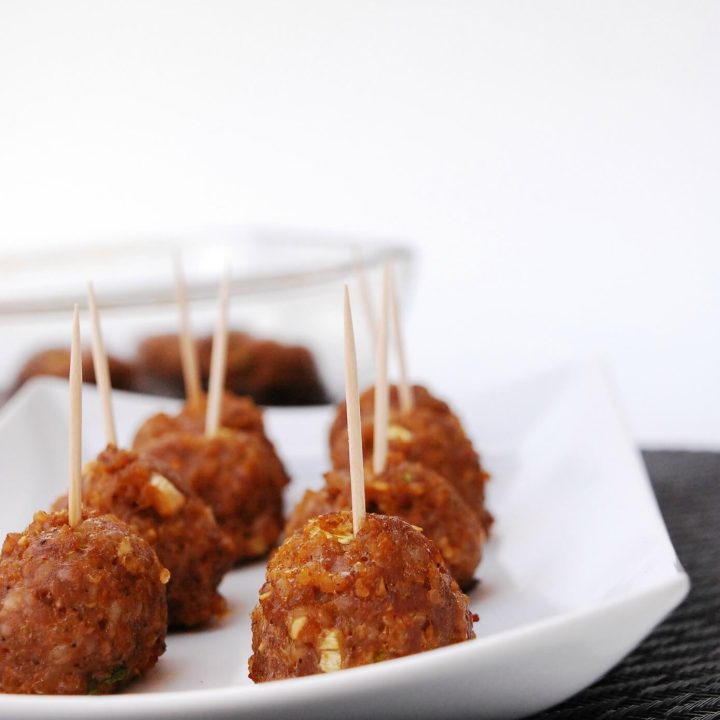 Gluten, Dairy & Egg Free Asian Quinoa Meatballs (Nut Free Too!)
Flavor bombs packed with Asian swagger. Perfect as an appetizer or as a meal with sides. A breadcrumb and egg-free meatball!
Ingredients
1 package regular ground pork (1 pound)
2 green onions, thinly sliced, plus more for garnish
Instructions
Preheat oven to 400 degrees F. Lightly oil a 9x13 baking dish or coat with nonstick spray.
In a small saucepan, bring the chicken broth to boil, add in rinsed quinoa and cover. Lightly simmer for 10 minutes, or until it has popped and is soft. Allow to cool enough to handle with your hands.
Meanwhile, in a large bowl, combine ground pork, garlic, onions, soy sauce, sesame oil, and Sriracha to taste. Add in the quinoa once cooled. Using a wooden spoon or clean hands, stir until well combined. Roll the mixture into 1 1/4-to-1 1/2-inch meatballs, forming about 18-20 meatballs. (I like to use a cookie scooper for this so that they're uniform.)
Place meatballs onto the prepared baking dish and bake for 18-20 minutes, or until all sides are browned and meatballs are cooked through.
Notes
*If you have a sesame allergy, this recipe would still turn out fine without the sesame oil if it needs to be omitted.*