A creamy, slightly sweet, roasted red pepper sauce for your gluten-free noodles to swim in. An easy, meatless meal for weeknights. The sauce comes together with the help of your blender and is done in less than 30 minutes. This Allergy-Friendly Red Pepper Pasta is free of: gluten, dairy, egg, soy, peanuts and tree nuts. It's also top-8-free and vegan too!
This post is sponsored by Frontier Spices, and all opinions and ideas are my own; and may contain affiliate links.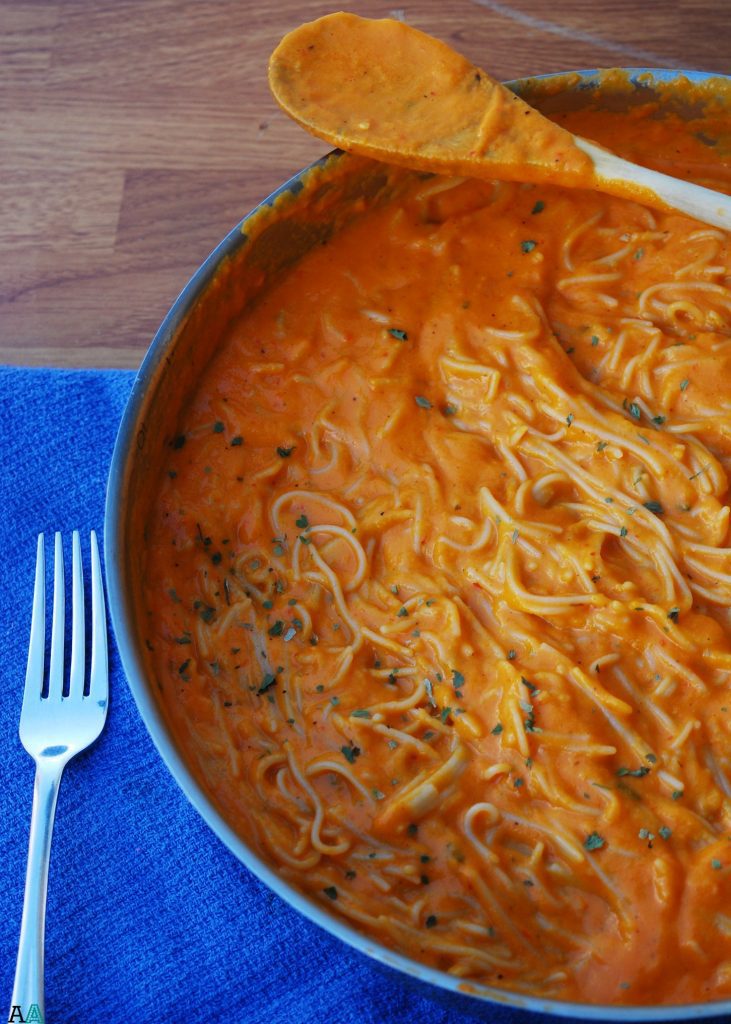 When I found out my son had all of his food allergies, we lived off rice. I just didn't realize that there were all sorts of gluten-free pastas. Don't do what I did. It was a sad, empty life for awhile. There's quinoa, brown rice, lentil…all sorts of pastas now to choose from. We have pasta usually once a week now. We have to make up for lost time!
However, since we can't do cheesy/cream sauces like alfredo…we do a lot of tomato based sauces. Which I love, but sometimes I want something not so savory, and a little more sweet. That's where this delicious, roasted red pepper sauce comes in.
Can I also confess something? Remember, my goal isn't to be the end-all-be-all/Alton Brown of allergy cooking. I'm hoping to inspire you because I'm constantly learning–just like you can! I always wondered why red peppers were so much more expensive than green, when I *thought* they tasted the same. Now, I've come to appreciate that they have this slightly sweet flavor, that when roasted makes for a super yummy and different sauce. No green pepper could make this sauce, that's for sure!
Also, can I give a personal note too? We're flying to Boston soon, and it's the first time we've flown with both our boys, and we haven't flown with our oldest in years. I'm a bit nervous not only for the cross-country flight with two little boys, but to be stuck in a cylinder with peanuts, AND to figure out what in the world to eat when we get there. I'll definitely be packing a lot of snacks to get us by until we can get to a grocery store, and for when we're out and about. What are your favorite snacks? I'll be packing the SunButter On the Go cups…I'm so grateful I'm their affiliate, as they just sent me some. Perfect timing! I think I'll also pack craisins, rice chex, and some of my nut-free trail mix. I'm all ears if you have other easy snacks.
As much as I sometimes whine about having to cook every single night because of food allergies, I'm a bit nervous to be eating out so much and relying on others to cook for my food allergy boys. So, for now–I'll enjoy this pasta and be renewed in the freedom to cook safely for my boys. Hope you enjoy it too! If you're looking for another red pepper recipe, try this Roasted Red Pepper Soup by Cooking LSL.
If you'd like a video to see how to make it, be sure to see when this favorite recipe was featured on Fox 13's talk show "The Place". Click on the picture below to launch the video from my Facebook page:
You'll notice that I use Frontier Spice's Nutritional Yeast in the recipe. Nutritional yeast is now my best friend for giving that cheesy taste while still being dairy-free and vegan. If you haven't tried it yet–it will change your life.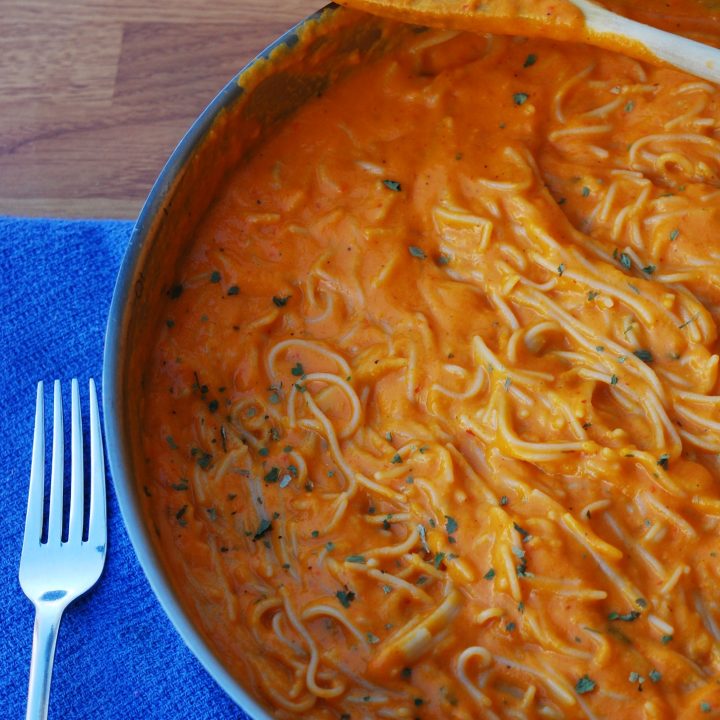 Red Pepper Pasta (GF, DF, Egg, Soy, Peanut/Tree nut, Free, Top 8 Free, Vegan)
A creamy, slightly sweet, roasted red pepper sauce for your gluten-free noodles to swim in. An easy, meatless meal for weeknights. The sauce comes together with the help of your blender and is done in less than 30 minutes. Top-8-free and vegan too!
Ingredients
2 red bell peppers, washed, seeded and cut in halves
2-3 Tbsp olive oil
1 yellow onion finely chopped
4 cloves garlic, finely chopped
GENEROUS Sea salt and ground black pepper
1 1/2 cups original rice milk
1.5 Tbsp cornstarch
1 tsp. dried parsley
Pinch red pepper flake
1 tsp salt
1 tsp dried minced garlic
12 ounces gluten free linguini or spaghetti noodles (or other noodle of choice)
Instructions
Turn oven to broil. Take a cookie sheet, and cover it in aluminum foil and spray it with non-stick cooking spray. Place the four halves of the red pepper on the aluminum, cut side down. Place on the top rack and broil until the peppers are softened--a few minutes. It's OK if they bubble and blacken a little. You can either peel the blackened part off once they cool, but I like it on.
Cook pasta according to package instructions; but add the 1 tsp salt and 1 tsp dried minced garlic to the water to help season the pasta. Once it's al dente, drain, and rinse lightly to remove some of the starch.
While the red peppers are roasting, bring a large skillet over medium heat and sauté onion and garlic in 2-3 Tbsp olive oil until golden brown and soft - about 4-5 minutes. Season with a generous pinch of salt and pepper and stir. Remove from heat and set aside.
Transfer sautéed shallot and garlic to blender with roasted peppers, milk, red pepper flake, nutritional yeast, parsley, and cornstarch.
Blend until creamy and smooth, taste and adjust seasonings as needed, adding more salt and pepper or nutritional yeast for flavor. You want the flavor to be pretty robust and strong since the noodles don't have much flavor - so be generous with your seasonings.
Once blended, place sauce back in the skillet over medium heat to thicken. Once it reaches a simmer, reduce heat to low and continue simmering.
Once sauce is thickened to desired consistency, add noodles. Then, toss to coat. Serve.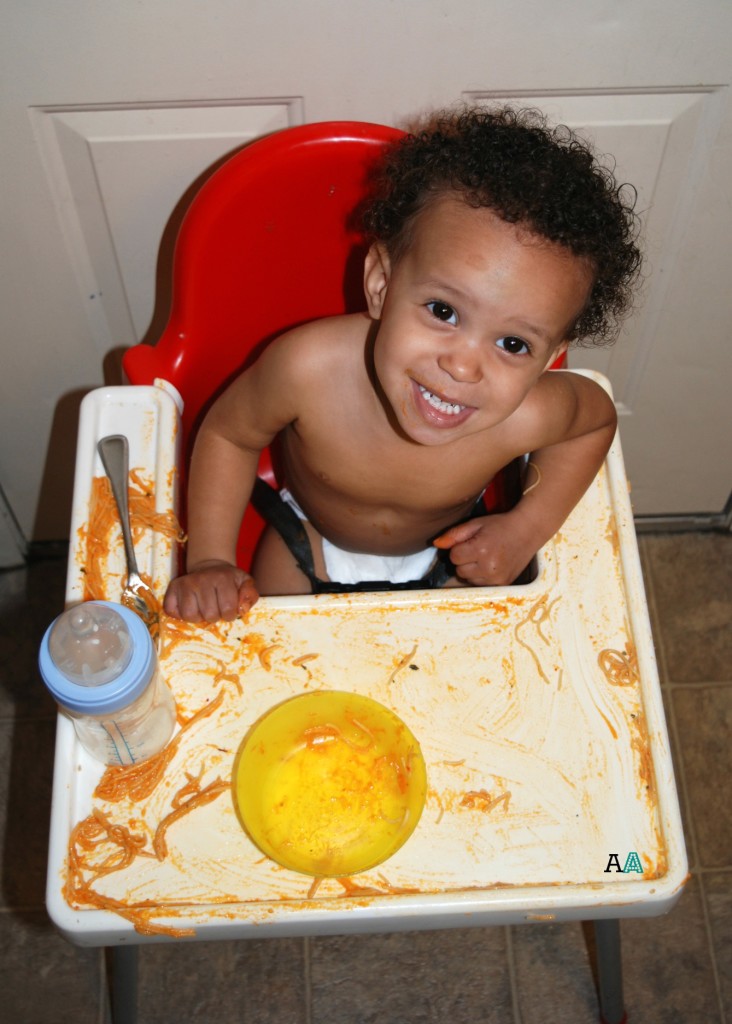 And, PS–what is it with babies+pasta+sauce? They get sooo messy! That's OK…I'll take my baby making a mess with food, then not having this be a safe food.
Adapted from: Minimalist Baker
DON'T FORGET TO PIN IT, SO YOU DON'T LOSE IT. ALSO, CHECK OUT MY OTHER ALLERGY-FRIENDLY & VEGAN

PINTEREST BOARDS

.
---
Looking for other allergy-friendly pasta dishes? Check out some of my favorites:
Roasted Cauliflower Pasta Salad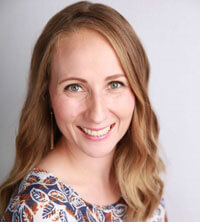 Hi! I'm Megan, a mom to four kids, two with multiple food allergies & one with EOE. I'm a published cookbook author that constantly tweaks recipes to make them allergy friendly–it's an addiction. I share every recipe & tip with you, to help you eat like you did before food allergies & dietary restrictions. You can still be awesome, even with food allergies!