Tangy from the pepperoncinis and super flavorful from Italian dressing, this tender, flavorful pulled pork makes an exceptional slider. With only five ingredients, it's not only tasty but SUPER easy. Great for dinner, lunch, as an appetizer at tailgating or parties, this little sandwich will become a beloved menu item.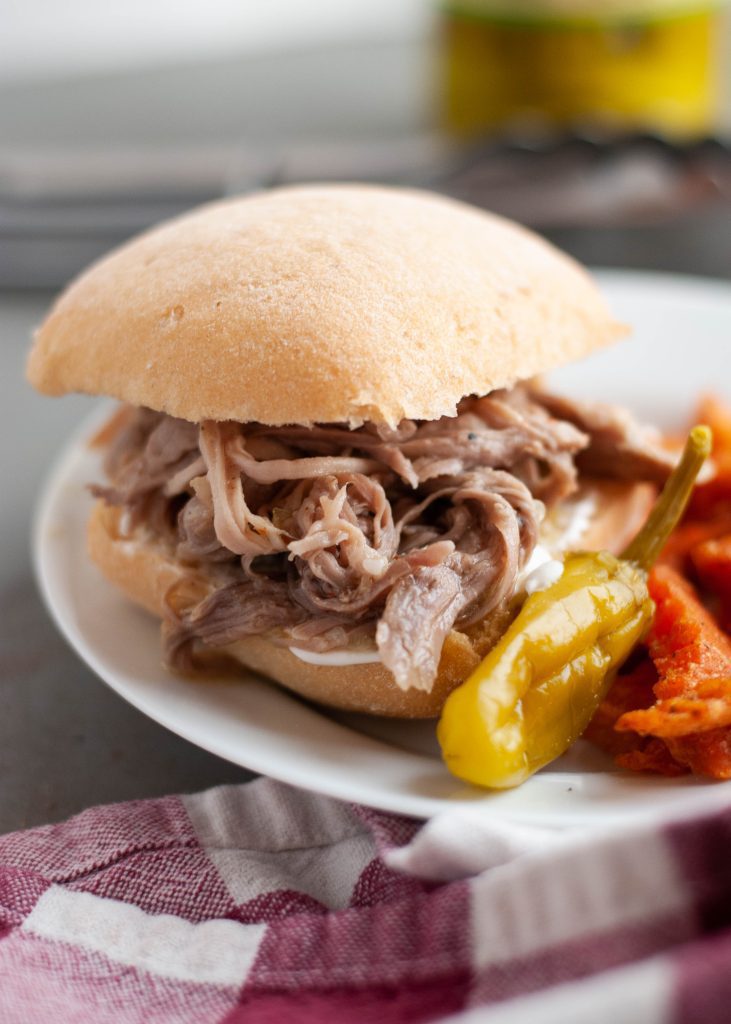 This post contains affiliate links.
Why I Love These Gluten Free Dairy Free Italian Pork Sliders
Who doesn't love a sandwich? Especially if it's cute and little like a slider? But, just because it's little, doesn't mean it can have little flavor. This shredded Italian pork is dripping with flavor thanks to slow cooking for hours with pepperoncini's and packets of Italian seasoning. Add a little safe mayo and *chef's kiss*.
We have these all of the time for dinner, throw some potato chips on the side, some veggies or sweet potato fries (as pictured) and you have a finger food frenzy with easy clean up and happy tummies.
Very few ingredients, hardly any prep and loads of flavor, this is going to be one dinner recipe you keep on hand!
How are these Italian Pork Sliders gluten free?
In order for these sliders to be gluten-free, you'll need to pick a gluten free bun. Here are some gluten-free bun options for you:
If you have a favorite bun I didn't list, let me know. I've been able to find Schar, Canyon Bakehouse and Udi's at Walmart. I have better luck finding Little Northern Bakehouse and BFree at specialty stores.

How are these Italian Pork Sliders dairy free?
This was the hardest part! Finding an Italian Dressing packet that doesn't contain dairy was tough. I looked at many different brands until I finally found one that was just spices and didn't contain any form of milk or cheese. The packet that I use is by the Walmart brand, Great Value. The official name is: Italian Salad Dressing & Recipe Mix. I'll share a picture below that shows the front and back of the packaging. I actually can't find it at the Walmart closest to me, and have to drive to the one across town, so it seems some locations carry it and some do not.
If you can have dairy, feel free to use whatever brand of Italian Seasoning you want. My husband, who can eat cheese, loves to melt a piece of pepperjack on his slider as well.
Are these Italian Pork Sliders allergy friendly?
Yes! Based on all of the labels, these Italian Pork Sliders are free of the top-8-allergens. This recipe does not use: gluten, dairy, egg, fish, shellfish, peanut or tree nuts.
If your allergies are such that they require you to dig more into the manufacturing of these ingredients, feel free to reach out to the companies and do your own research to your unique needs.
What vegan mayo do you use?
I just LOVE mayo and can't do a sandwich–slider or other–without mayo. We use a vegan mayo (seems contradictory, since there's meat on the sandwich) because my son is allergic to eggs. We love Hellman's Vegan Mayo (also known as Best Food's). Here is a listing of it's ingredients:
SUNFLOWER OIL, WATER, MODIFIED FOOD STARCH (POTATO, CORN), DISTILLED VINEGAR, LESS THAN 2 % OF: SUGAR, SALT, LEMON JUICE CONCENTRATE, SORBIC ACID (USED TO PROTECT QUALITY), NATURAL FLAVOR, CALCIUM DISODIUM EDTA (USED TO PROTECT QUALITY, PAPRIKA EXTRACT.
Feel free to use whatever mayo you prefer and what works for your diet. I can find Hellman's mayo at Walmart and of course Amazon.

Can you use the instant pot to cook the roast?
Yes. I've done this both ways (I do have an instant pot cookbook after all) and I prefer the slow cooker. But, if you're in a rush, it certainly is a fabulous back up. Here is how I would do it:
I'd cut the roast into at least four pieces (allows for faster cooking time). And then use high pressure, and cook it for 1 hour and 15 minutes, and then allow the pressure to naturally release. You're looking at around 1 hour and 45 minutes total (to come up to pressure and release) which is shorter than the 6-8 hours in the slow cooker.
Roast questions: Can you use a beef roast instead? And, what type of pork roast?
The reason we do pork is because my son has anaphylactic allergies to beef (he's one of those rare ones that can't have milk or beef). I don't feel pork loin makes a good shredded roast. I usually go for a picnic roast, because they're smaller, but a Boston Butt or Pork Shoulder are also typically good.
If you can do beef, use a chuck roast–it is delicious with a beef roast as well!

What side dishes do you recommend with these Italian Pork Sliders?
This slider is great in the winter, at parties, or in the summer. Depending on the season that changes what I serve with it. Here are some options:
If you can have dairy, these Hawaiian Slider Rolls from fellow blogger, This Vivacious Life would be great too.
Do You Have a Video Showing How to Make Gluten Free Dairy Free Italian Pork Sliders?
Yes I do! I made a Tiktok video, which is a short and sweet video giving you a general overview of how to make this recipe. Enjoy!
Gluten Free Dairy Free Italian Pork Sliders
Additional Time:
15 minutes
Tangy from the pepperoncini's & super flavorful from Italian dressing, this tender, Italian pulled pork makes an exceptional slider. Great as an entrée or appetizer.
Ingredients
2-3 pound boneless pork roast (see post for cut preferences)
2 packets of Italian Salad Dressing & Recipe Mix (.7 oz each, see post for details)
garlic salt, black pepper, & salt to taste
1/2 cup of broth of choice (chicken or beef)*
Instructions
In a slow cooker/crock pot set to low, place your roast. Sprinkle on the two packets of Italian dressing mix.
Take your garlic salt and give a generous shake across the top of the roast. Repeat with salt and pepper.
Add in your 1/2 cup of broth along the bottom.
Set half the pepperoncini's along the side of the roast. Pour in half of the pepperoncini's brine in the bottom.
Place the lid on top and allow it to cook 6-8 hours, or until fork tender.
Take the roast out and shred. Return to the pot.
Serve over buns of your choice. Use mayo if desired.
Leftovers will keep in an air tight container in the fridge for 3 days.
(If you'd like to try a different slider, check out my BBQ chicken sliders.)
Notes
*Because we can't have beef, we use chicken broth. If you can do beef, it will give it a richer flavor. If you're like us and prefer to use bouillon to make broth (I find it more flavorful) I use Orrington Farms Broth Base. Mix 1 tsp and 1/2 cup water for the recipe.
The pepperoncini's can be replaced with banana peppers (very similar, but not as hot). Also, you can use them to flavor the roast, but discard them before shredding for a milder roast. Leaving them in will make the mixture hotter.
Adapted from my friend Stacey's adaption of The Pioneer Woman's Dripping Beef
If you're looking for more allergy friendly dinners, check out my cookbook: An Allergy Mom's Lifesaving Instant Pot Cookbook.
*Our allergies, while severe and that get re-tested frequently, are such that we can go strictly by what's on the label. I do not call companies to see what things are derived from, or call manufacturers to see about potential cross contact. If your allergies require you to do so, please do your own homework. I cannot assure you of any ingredient's safety, only you can do that. I simply share what works for our family.
**If you are going to feed this to someone with food allergies, and you yourself do not have food allergies, I HIGHLY recommend having them check every single brand and ingredient you are using, to ensure they're OK with each part of the recipe. And, to make sure you've talked to them about how to avoid cross contamination in your kitchen.
Nutrition Information:
Yield:

12
Serving Size:

1
Amount Per Serving:
Calories:

363
Total Fat:

26g
Saturated Fat:

9g
Trans Fat:

0g
Unsaturated Fat:

14g
Cholesterol:

102mg
Sodium:

261mg
Carbohydrates:

4g
Fiber:

0g
Sugar:

2g
Protein:

27g
DON'T FORGET TO PIN IT, SO YOU DON'T LOSE IT. WHILE YOU'RE THERE, BE SURE TO CHECK OUT MY OTHER ALLERGY FRIENDLY PINTEREST BOARDS.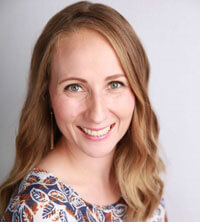 Hi! I'm Megan, a mom to four kids, two with multiple food allergies & one with EOE. I'm a published cookbook author that constantly tweaks recipes to make them allergy friendly–it's an addiction. I share every recipe & tip with you, to help you eat like you did before food allergies & dietary restrictions. You can still be awesome, even with food allergies!