Finding gluten free Halloween treats can be hard enough. Finding dairy free Halloween treats can be hard enough. Trying to find Halloween treats that are both gluten AND dairy free? Tough. That's why you've got me–a sugar fiend who won't give up! Whether you need a homemade Halloween treat for a party or get together, or you need some gluten and dairy free treats to hand out on Halloween night, I have options for both. See my list of dairy free gluten free Halloween treats below!
This post contains affiliate links.
Why having gluten & dairy free Halloween treats is important
Will having some gluten and dairy free Halloween treats create world peace? No, it will not. But, will it make a difference to one kid or one adult who feels left out? Yes, yes it will. And that's a big deal.
If you have to avoid multiple foods due to health reasons or food allergies gluten and dairy are often the first foods to go. And, it's tough because it feels like they're in about every.single.thing in the American diet.
If you're like us, we let our food allergic child still go trick or treating for the experience, and then we have a stash of safe candies that we swap him out for. So, it's important that we know what safe store bought gluten and dairy free candies there are.
We also like to have a Halloween party, and sometimes I'll volunteer for their school party and it's nice for kiddos to have a themed food they can make and enjoy that has a Halloween vibe to it too, which is why I included some homemade options as well.
Disclaimer: Important before moving on
While everyone's dietary restrictions are different (some need to call manufacturers and find out their cross contamination practices, while some can go by label alone) I hope this list is a good starting place. We go off of label alone, and only look at ingredients (not called out marketing text like "XX free".) Of course, be sure to read the ACTUAL label before you buy it, as the ingredients may have changed since time of publishing–especially since holiday varieties are sometimes made differently than regular versions. If you need help figuring out labeling, FARE has a great "how to read a label" article.
*And, if you yourself do not have the food limitations and are buying this for someone else, please double check with them that they're comfortable with it, and don't just assume. They've usually done their homework and can help you decide if that truly works for their individual circumstances. Don't just take a list off the internet as correct for every specific circumstance out there. And, also THANKS. It's so nice when grandparents, teachers and others try to include those who eat differently. As a mom with two kiddos with multiple food allergies, it really means a lot. Please don't be offended if we still don't feel safe to eat it, after you've gone to this effort. The effort means a WHOLE LOT. Hugs.*
Happy Halloween. May your costume rock, your treats be aplenty, and may you stay safe and healthy.
Gluten & Dairy Free Halloween Recipes
Either click on the photo, or click on the text below to photo to be taken to each of the Halloween recipes.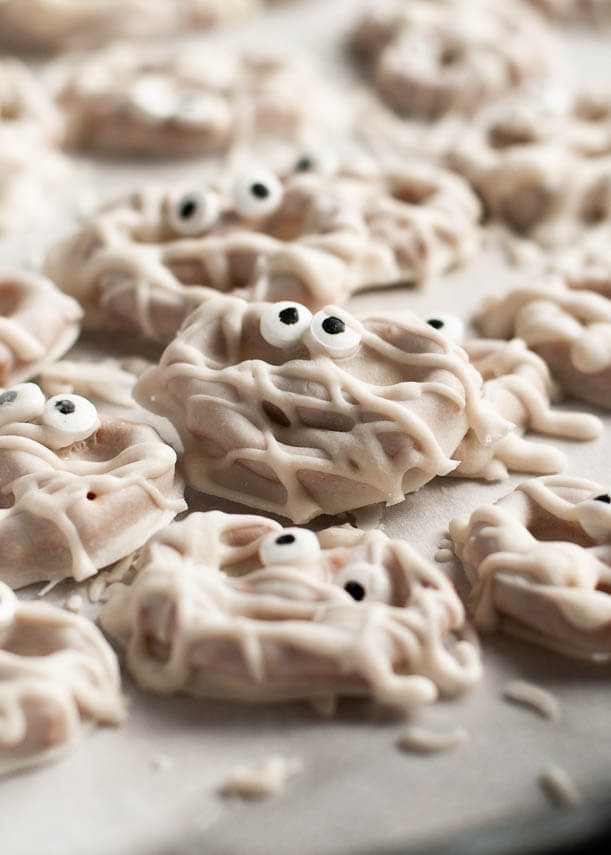 Gluten Free Dairy Free White Chocolate Mummy Pretzels
Gluten Free Dairy Free Chocolate Halloween Cake
Gluten Free Dairy Free Venus Fly Trap Cupcakes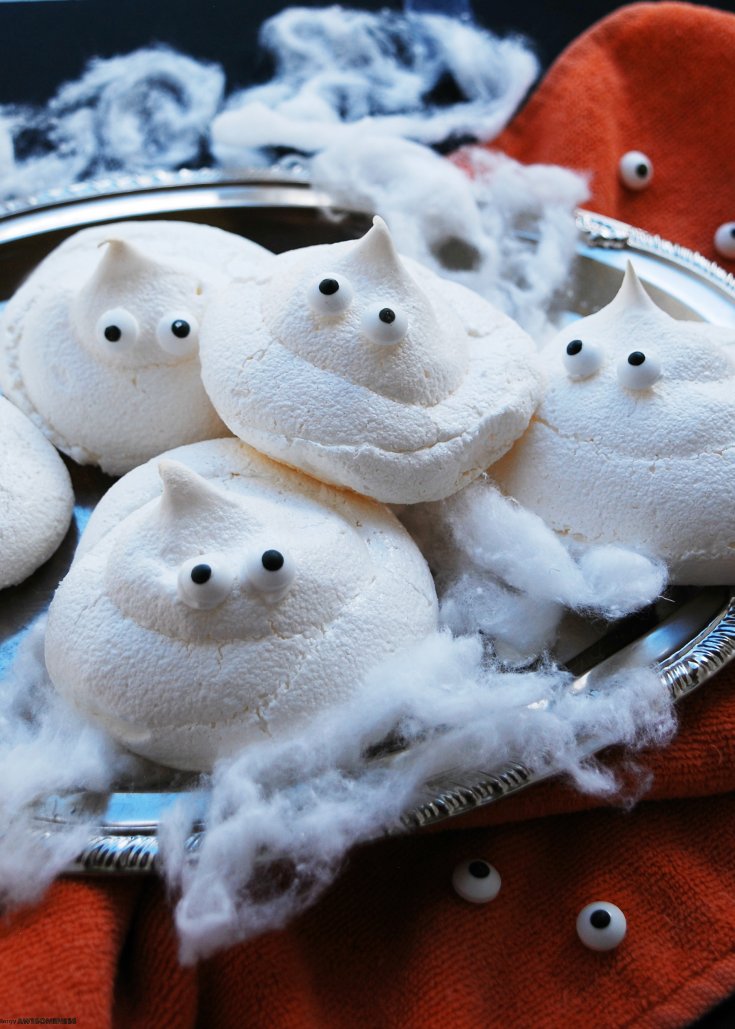 Gluten Free Dairy Free Ghost Meringues
Gluten Free Dairy Free Chocolate Sugar Cookie Bats
Gluten Free Dairy Free Monster Eyeballs
Gluten Free Dairy Free Frankenstein Rice Krispies
Gluten Free Dairy Free Spider Sugar Cookie Bars
Gluten Free Dairy Free Store Bought Halloween Treats
Here are the gluten and dairy free Halloween treats we like to buy. Be sure to share this life with friends, family and neighbors to make sure anyone who needs these can find these while trick-or-treating. The more people we tell about them, the better chance we have of them being passed out.
If you also have little kids who have to eat gluten and dairy free, we like to let them trick-or-treat, and then we have a stash of safe candies that we let them trade out for. You can find out more about our Safe Trick-Or-Treating Plan for Food Allergies here.
Smarties (please note in Canada they're called Rockets, smarties in Canada have chocolate & are not allergy friendly)
Pixy Stix
*If I missed any, will you please comment below so that we can have as many options as possible? Thanks guys! Hope this list was helpful.*
Cheers–Megan