Super tender, perfectly puffy gluten free breadsticks with an easy option to make them vegan too. You are going to die when you see how these taste just like the real thing! Finally, all your Italian dinners will be complete with these beautiful breadsticks. These Gluten Free Breadsticks are free of: wheat, gluten, dairy, egg, soy, peanut and tree nuts, making them top-8-free too. And it comes from a mix to make it extra easy!!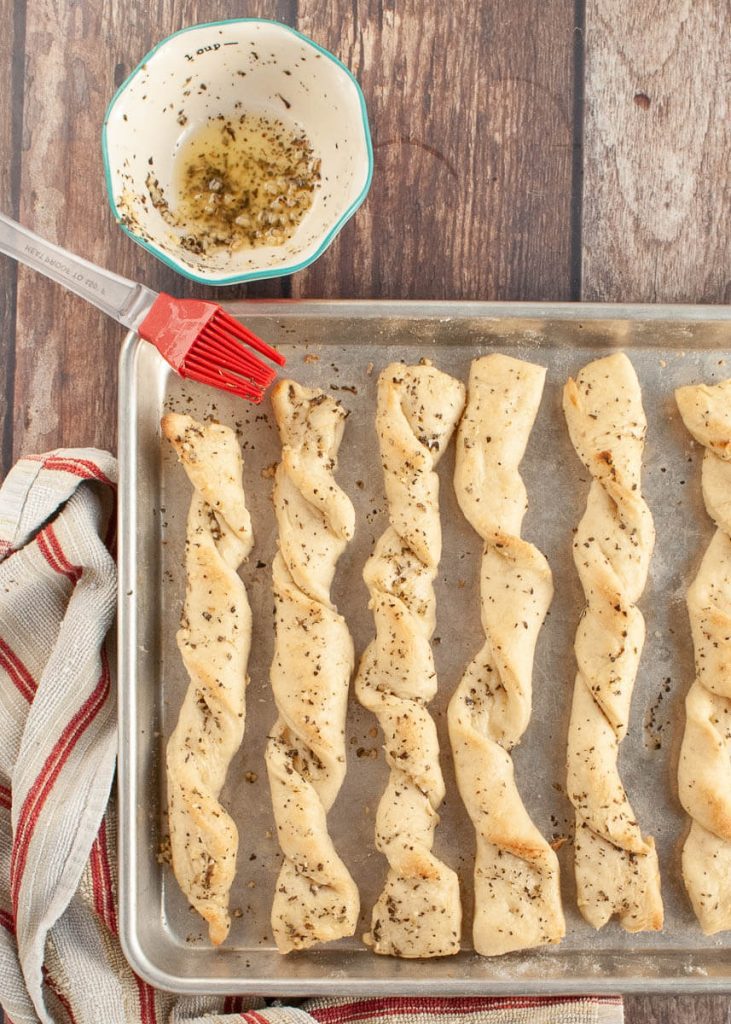 This post contains affiliate links.
Why I love these vegan gluten free breadsticks.
I literally didn't think we'd ever be able to enjoy any type of yeasted, soft bread ever–because it seemed all gluten free recipes and mixes called for eggs. It's literally been almost a decade since I made them back in our pre-food allergy days. Boy have I missed them! When you need a gluten free AND vegan bread recipe, it seemed as if I was doomed.
Meals just didn't seem as filling without a delicious, carby side. I missed having breadsticks to help fill me up.
Until, one day I got brave enough to see if a Bob's Red Mill pizza crust recipe could be instead transformed into a breadstick, AND to swap out the eggs it calls for.
Turns out–you can, AND it makes BOMB breadsticks. (And gluten free vegan orange rolls too…)
I had my mother over after the photo shoot and she said she feels like these were more tender and soft then even her recipe–which uses all NORMAL ingredients.
I just want to have these breadsticks with everything now–spaghetti, soups, curry–anything that needs dipping basically.
I hope you'll love these gluten free breadsticks recipe too!

How do you deem Bob's Red Mill as allergy safe?
Both of my boys have allergies to: peanuts and tree nuts. One can have almonds and hazelnut, and the other can just have hazelnut, otherwise everything else they are very anaphylactic to. We get the re-tested every year and their prick test results are ginormous.
Many people ask how I feel comfortable using their mixes, knowing that they also produce nut flours. I personally emailed them, and this is what they responded with:
"We do process the following tree nuts in our GF facility: almonds, cashews, coconut, hazelnuts, and macadamia nuts. The chance of cross contact would be incredibly slim. Each facility follows Good Manufacturing Practices and follows allergen control strategies to minimize the potential of cross contact between food allergens. We clean our machinery thoroughly with high-pressure air and vacuums between each production run, inspecting and validating cleanliness before a new product is introduced. When a new product is introduced, we flush the lines, donating or discarding the first 20 pounds of product per lot before beginning the new packaging process."
I trust their cleaning procedures. If ever in doubt, call and talk directly to them. Whenever I've done that, I always feel better when speaking with the company one and one.
I understand if that doesn't feel comfortable to you, and you'd rather not use it–you do what is best for you! I always go off label alone when labeling things "top 8 free" or otherwise. If that doesn't work for you, that's OK too!

How are these breadsticks gluten free?
I use Bob's Red Mill gluten free pizza crust mix, which is certified gluten free. I have not tried this recipe with other brands or mixes. Here are the ingredients in the Bob's Red Mill gluten free pizza crust mix, according to their site:
Ingredients Mix: Brown Rice Flour, Potato Starch, Whole Grain Millet Flour, Whole Grain Sorghum Flour, Tapioca Flour, Potato Flour, Cane Sugar, Xanthan Gum, Sea Salt, Guar Gum. Yeast Packet: Yeast, Sorbitan Monostearate, Ascorbic Acid.*Manufactured in a facility that also uses tree nuts and soy
I have found this mix at specialty/health food stores, Walmart and of course Amazon.
Why do you use a mix versus making breadsticks from scratch?
Trust me, I'd love to be able to just use my homemade gluten free mix and call it good. But, I have found when it comes to bread, it really takes quite a bit of ingredients and types of flours to pass off as just regular ol' wheat flour. If you look at the label on the mix it has six types of flours and starches. I'd rather not have to buy all of those ingredients and measure them myself. While I look cooking from scratch, because of the sheer volume of cooking and baking I have to do all of the time due to our food allergies, I really appreciate when I can cut corners. Bob's mix allows me to do that, and for me, that's a win! This is not sponsored at all!

How can these gluten-free breadsticks be vegan?
The mix that I use, Bob's Red Mill gluten free pizza crust, states on their website that it this product is certified gluten free, kosher and vegan.
I use a vegan butter for the topping, and use a vegan egg replacer: aquafaba, so there are no animal products in it. If you only need it to be gluten-free, then use regular butter and regular eggs.
What vegan egg replacer do you use in these soft breadsticks?
There are lots of vegan egg replacers, and they all have their purpose depending on what type of recipe it is. I chose aquafaba (the liquid found in a can of cooked chick peas/garbanzo beans) because it has a nice elasticity and stretchiness to it. Since this dough would be rolled and shaped, I didn't just want an egg replacer that would add moisture and bind, but one that would work with the pliability of dough. I have not tried this recipe with other ones, as I found this one to work perfectly.
If you need to use up the chickpeas from the can, you can check out this Chickpea Salad by fellow blogger Healthy Seasonal Recipes.

Are these breadsticks top-8-free?
I go by label alone when determining if something is free of a certain ingredient. Though we have many severe food allergies, we have always been fine to do that.
As long as you use a vegan butter that is also soy free (Earth balance has one, but unfortunately it is not on Amazon, so I can't link to it), then this recipe, by ingredient listing, is top-8-free and very allergy friendly.
If your comfort level dictates that you find out more about the manufacturing process to determine if this is right for you (more than the email I listed above) feel free to call and personally speak to Bob's, Earth Balance and whatever brand of aquafaba you use to determine if this will work for you individual needs.
What Ingredients are Needed in these Gluten-Free Breadsticks?
These homemade breadsticks need these ingredients:
DRY INGREDIENTS:
One 16-oz package of Bob's gluten-free pizza crust mix (the active dry yeast packet will be included in this mix)
Salt
Additional gluten-free flour for rolling it out on *
Italians seasoning
LIQUID INGREDIENTS:
2 eggs or 6 Tablespoons aquafaba
Olive oil (any kind will do, feel free to use extra virgin)
Warm water
Non-stick spray of choice
Melted butter (or vegan butter)
Garlic cloves, minced
Optional: marinara sauce for dipping (we like Prego!)
*For the dusting/rolling I just use any all purpose flour I have laying around. I always have some form of gluten-free flour blend in my pantry because I bake so much. Any brand should do. Even a single ingredient flour, like: rice flour or tapioca starch would work. I've never tried almond flour because I feel like it adds an unnecessary taste and my son is allergic to nuts as well.
Some people like to add sesame seeds or poppy seeds to their breadsticks, but I don't care to (plus it's also a top allergen). If you prefer sesame seeds, you can of course add those.

How do you store these gluten free vegan breadsticks?
I find these are best eaten the day of. If you must keep them, then do so at room temperature in an air-tight container, or at least covered in saran wrap.
What topping do you put on your breadsticks?
Really, anything goes. I like a buttery, herby topping, but you can really put whatever you want. For best results, I wouldn't recommend leaving them plain, because it really imparts so much flavor to brush on additional flavoring. Even a simple olive oil and salt would be fabulous. I did melted vegan butter and an Italian seasoning herb blend, but you can use whatever herbs you prefer. I don't know what brand of Italian seasoning herb blend I use, as it was just one that came in my spice rack I bought long ago. If you need to make a homemade Italian Seasoning you can find one from The Endless Meal.
What Tools Do You Need to Make This Gluten-Free Vegan Breadstick Recipe?
These delicious gluten-free garlic breadsticks needs:
Stand mixer and bowl with paddle attachment (if you don't have one, a large bowl will work)

Instant read thermometer

(not required, but totally recommend having one–helps ensure your warm water is the right temperature)
Measuring cups and spoons
Rolling pin
Pizza cutter (not required, but helps cutting the dough, if not a large, sharp knife)
Baking sheet / cookie sheet / baking tray
Plastic wrap
Basting brush/pastry brush

Do you have more Italian dinners that would pair well with these breadsticks?
I absolutely love Italian food, and just because you can't have wheat, dairy or eggs doesn't mean you have to go without comforting pasta dishes. Here are some great recipes that would pair so nicely with these breadsticks that make the perfect side dish:
If you're looking for another gluten-free homemade bread, my yeast bread, this gluten-free dairy-free bread recipe (egg free option too!) gets great reviews!
Do You Have a Video Showing Off These Gluten Free Bread sticks?
Yes I do! I made a Tiktok video, which is a short and sweet video giving you a general overview of how to make these tender, fluffy breadsticks. Enjoy!
DON'T FORGET TO PIN IT, SO YOU DON'T LOSE IT. BE SURE WHILE YOU'RE THERE TO CHECK OUT THE THOUSANDS OF OTHER DIET SPECIFIC POSTS I HAVE ON MY PINTEREST!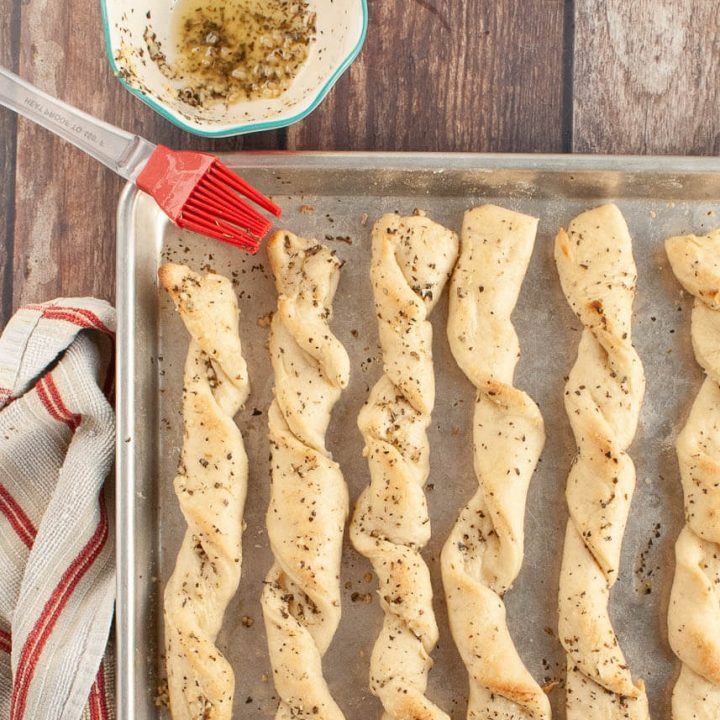 Gluten Free Herbed Breadsticks (Vegan option too!)
Super tender, perfectly puffy gluten free vegan breadsticks. You are going to die when you see how these taste just like the real thing!
Ingredients
BREADSTICKS:
HERBED BUTTERY TOPPING:
TOOLS NEEDED:
Instructions
Preheat oven to 425 degrees F.

Put warm water + yeast packet contents in your mixing bowl and let sit for five minutes.

Add aquafaba and olive oil to the yeast mixture.

Next add the salt and pizza mix. Mix for 2 minutes until well combined. (If you have a stand mixer, I like to use that, if not, knead by hand with greased hands.)

Turn the dough out onto a clean surface that has been heavily dusted with gluten free flour. Dust the top of the dough with extra flour, as well as your rolling pin to prevent sticking. If it's sticking, add more flour. Roll it out into a uniform rectangle.

Use a pizza cutter to make even strips.

Place the stripes onto a greased and rimmed baking sheet, twisting as you lay it down (optional, but prettier).

Once all the dough is twisted, cover with plastic wrap allow to rise for 20 mins somewhere warm--I like to do it on top of my preheating oven.

When done rising, remove saran wrap and bake for 15 minutes, or until just starting to brown and dough is cooked through.

In a small, microwavable bowl, melt the vegan butter. Stir in the Italian seasoning. Using a pastry brush, brush on top of cooked breadsticks.

Serve warm, with marinara sauce, if desired. Keep leftovers in an air tight container and warm before re-serving.
Notes
Don't forget I have a cookbook and two e-cookbooks for more recipes!
See above the recipe card for additional info, substitution tips or general FAQ
*Our allergies, while severe and that get re-tested frequently, are such that we can go strictly by what's on the label. I do not call companies to see what things are derived from, or call manufacturers to see about potential cross contact. If your allergies require you to do so, please do your own homework. I cannot assure you of any ingredient's safety, only you can do that. I simply share what works for our family.
**If you are going to feed this to someone with food allergies, and you yourself do not have food allergies, I HIGHLY recommend having them check every single brand and ingredient you are using, to ensure they're OK with each part of the recipe. And, to make sure you've talked to them about how to avoid cross contamination in your kitchen.
Nutrition Information:
Yield:

5
Serving Size:

1
Amount Per Serving:
Calories:

482
Total Fat:

20g
Saturated Fat:

8g
Trans Fat:

0g
Unsaturated Fat:

11g
Cholesterol:

28mg
Sodium:

1125mg
Carbohydrates:

60g
Fiber:

4g
Sugar:

3g
Protein:

15g