No gluten free blend of this or that, no pre-mixed, expensive substitutes. Just the real deal: cornmeal.
Thank goodness for friends. Am I right?
When Carter was first diagnosed, I sometimes felt alone. Thankfully, that didn't last long. I was so incredibly blessed to find a local support group that transformed my experience.
Once I was plugged into wiser moms who had dealt with this longer I felt I had tapped a spring of knowledge and experience. They had recipes, tips and pure empathy.
If you experience food allergies, or any kind of disease, I highly recommend you reach out, because it will help you reach higher and feel better than ever!
My dear friend and allergy-rock-star mom, Julie, gave this to me. The first time my husband tried it, he said it tasted like "true, down home country cornbread."
The best part–it has no flours! No gluten free blend of this or that, no pre-mixed, expensive substitutes. Just the real deal: cornmeal.
Also, there are no crazy egg substitutes–just applesauce. This pantry-friendly side-dish is a go to. We love it with honey or homemade jam on top. We eat it with soups, or fried chicken…or sometimes for breakfast.
It's so moist, it seriously feels more like corncake, then cornbread.
Thank you, Julie!!!
Also, I was fortunate enough to be able to go on a local station, KSL, to showcase this recipe for their news. If you'd like to watch a step-by-step video of this recipe, click on the picture below.
If you're looking for a sweeter cornbread, that's more like a corn CAKE, try my pumpkin cornbread.
What other gluten free vegan side dishes do you recommend?
Side dishes make such a difference in dressing up a dinner. I love a good side dish to help fill everyone up and make the main dish stretch a little bit more. Here are some of my other favorite gluten free side dishes: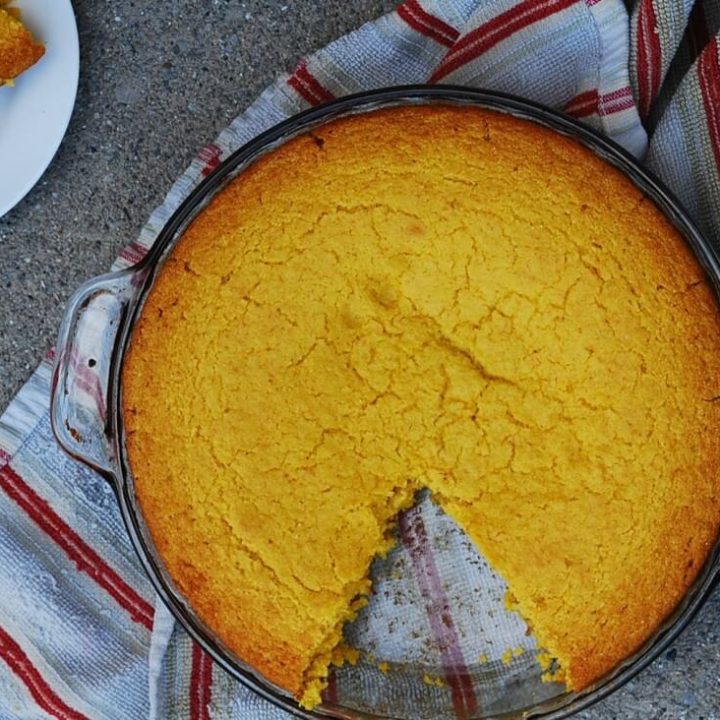 THE Best Top 8 Free Cornbread (GF, Vegan, Allergy Friendly)
Gluten free, vegan, allergy friendly & top 8 free cornbread. No gluten free flour mixes needed. So good, it's been on TV!
Ingredients
1 Tablespoon apple cider vinegar
2 Tablespoon baking powder
1 tsp salt
1/2 tsp baking soda
1/4 cup sugar
one 15-oz can sweet corn, undrained 
1/4 cup applesauce
Instructions
Preheat oven to 420.
Mix the vinegar with the milk, and set aside.
Combine dry ingredients and mix very well.
In your blender, combine the oil, applesauce, and corn. Pulse until it reaches your desired consistency. (I prefer mine totally smooth, but some prefer more of a rustic texture with the corn kernels more noticeable).
Then pour the wet (both the blender and vinegar-milk mixture) into dry and mix until just mixed. Pour into a greased 8×8 dish and bake for about 25 minutes. Let cool at least 15 minutes before trying to cut, or it will crumble.
Nutrition Information:
Yield:

8
Serving Size:

1
Amount Per Serving:
Calories:

235
Total Fat:

6g
Saturated Fat:

3g
Trans Fat:

0g
Unsaturated Fat:

2g
Cholesterol:

2mg
Sodium:

759mg
Carbohydrates:

44g
Fiber:

4g
Sugar:

10g
Protein:

5g