Creamy, comforting and loaded with flavor this Instant Pot Loaded Potato Soup can be adjusted for just about any diet–regular, dairy free, gluten free or vegan. No matter how it's done it's full of flavor & perfect for cold nights.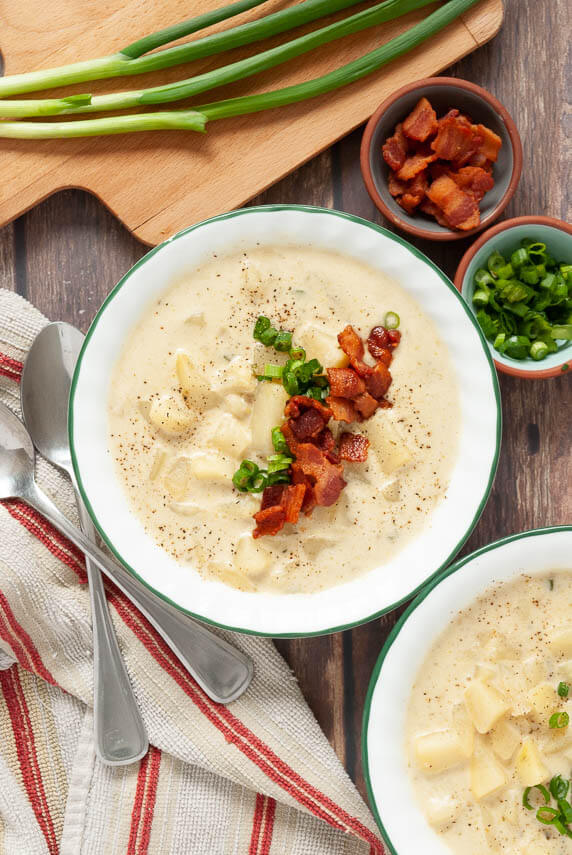 This post contains affiliate links. None of the products mentioned are sponsored.
Trust me. I'm an Idahoan. I would know potato soup–right? Haha.
I used to make loaded potato soup all the time when my son was a baby. It's such a hearty, comforting soup, but then my son was diagnosed with a severe dairy allergy, so I just figured we'd never enjoy it again.
We went wayyy too many years without it until I decided–ENOUGH. There has to be a way to make it without heavy cream, and for it to be delicious dairy free! So, I set to work. And, after studying many versions of loaded potato soups online, I think mine is the perfect combination of all their best parts.
Here are all of the frequently asked questions to make sure you can make this like a pro! Feel free to skip this part and go to the recipe, if you don't have any questions. I'm here to help!
Does this loaded potato soup have cream cheese or heavy cream in it?
Yes it has cream cheese! Many potato soups use heavy cream, but I find cream cheese makes it thicker. I don't like a runnier soup. Plus, cream cheese is easy to switch out for those that need a dairy-free version. (The best heavy cream substitute is coconut milk, whose taste would throw this soup off.)
I also don't use heavy cream because it could curdle in the instant pot. So, that's why I cook everything in broth, and then add the cream cheese once it's done cooking.
What type of potatoes do you use for this instant pot loaded potato soup?
Really, any potato will do. The most typical potato that you'll find in potato soup is the regular brown (also called Russet) potato. You could also use yellow or red potatoes–whatever you have on hand, or if you have a preference of one over the other. If your yellow or red potatoes are smaller than a typical brown potato, you'll need to increase the amount of potatoes to make sure you have what is called for in the recipe.
How do you make this a dairy free potato soup?
Easy! Like I said, my goal was for this to be a dairy free potato soup, but I also wanted it versatile enough to be able to have dairy if people could eat dairy.
The only thing you have to do in my recipe is omit the typical cheese people put as a garnish (trust me–it's so flavorful you won't miss it, I made sure of that!) And use a dairy free cream cheese–there's quite a few options out there. If you miss the cheese as a garnish, there are also lots of dairy free cheese out there.
What dairy free cream cheese do you recommend?
We love Tofutti cream cheese and Go Veggie. Those are both made of soy, so if you also can't do soy, there is Daiya which is made of coconut. If you use coconut based cream cheese, then this soup is considered TOP EIGHT FREE (also known as free of the top eight allergens), so it's great for those with limited diets who still want a rich soup. I can find all of these cream cheese substitutes at natural grocery stores.
If you don't need it to be dairy-free, simply use your favorite brand of regular cream cheese!
What goes well with this baked potato soup?
Rolls are always my go-to side with soups. Cornbread is also a classic soup side dish. I have an allergy friendly cornbread recipe too.
If you need gluten-free rolls, that can be tough to find. Our two favorite brands are:
Both rolls and the cornbread are gluten free & vegan! The rolls can be hard to find in stores since they both just came out, so sometimes we'll toast up some Schar ciabatta rolls (gluten free but has soy), and those do in a pinch too.
How do you make this instant pot loaded potato soup gluten free?
If you need this soup to be gluten free like we do, it's pretty simple! The only ingredient that I've found that might have hidden gluten in it (since everything else is a single ingredient) is the broth. Sadly, wheat is often a filler, thickener or binder in broths. See the next question for which gluten free broth I recommend.
What broth do you use in this potato soup?
I've always been a bouillon girl. I find it is often more flavorful than broth and I hate paying for water and carrying home big containers of broth. So, I use Orrington Farms broth base. One jar lasts for quite some time, since you only need to add 2 teaspoons to every cup of water.
If you want to make homemade broth from leftover rotisserie chicken bones, I have a recipe for instant pot bone broth in my allergy friendly instant pot cookbook or check out this recipe from my friend FoolProof Kitchen's homemade Chicken Stock.
How do you make loaded potato soup vegan?
Easy! Simply use a vegan broth, like Orrington Farms Vegan Broth Base, and a dairy-free cream cheese, like Tofutti (see above), and then use a vegan bacon crumble on top. Everything else is naturally vegan. You'll have a hard time believing it's vegan as it's soo flavorful!
Can you make this loaded potato soup in the slow cooker instead of the pressure cooker?
Yes! There are directions for it in the recipe card below.
How do you store leftover creamy potato soup?
We rarely have much left, but when we do, I put it in an air tight container and keep it in the fridge 2-3 days. It's best if you leave the garnishes–the bacon and green onions/chives off of it and re-garnish it after it's been reheated.
What vegetables do you use in loaded potato soup?
Potatoes
Cauliflower
Onion
Optional: celery
Obviously, you want to use potatoes, but hear me out–I really think cauliflower makes or breaks a potato soup recipe. While I don't love chowing down on cauliflower, it adds a richness to this soup. Think about it, when cauliflower is raw/plain it intrinsically has more of a taste to it than plain potatoes.
But, obviously my kids wouldn't eat this soup if they knew it had cauliflower in it. So, I use one bag of frozen cauliflower (making less of a trace so they don't see me chopping it, and because #lazymom) and that way it adds an extra layer of flavor.
When the soup is done, you're welcome to leave the cauliflower tops in the soup since they're tender, or take them (they float on the top of the soup) and blend them as the recipe calls for to help thicken the soup, and to hide them from the kids.
I don't call for it, but celery would also be a lovely vegetable to add to the mix along with the onions.
What other soup recipes do you recommend?
Man, oh man do I love soup. It's the only thing that gets me through the cold winters here in Idaho. Here are our other family favorites:
**Remember–I have ten instant pot soup recipes in my allergy friendly instant pot cookbook.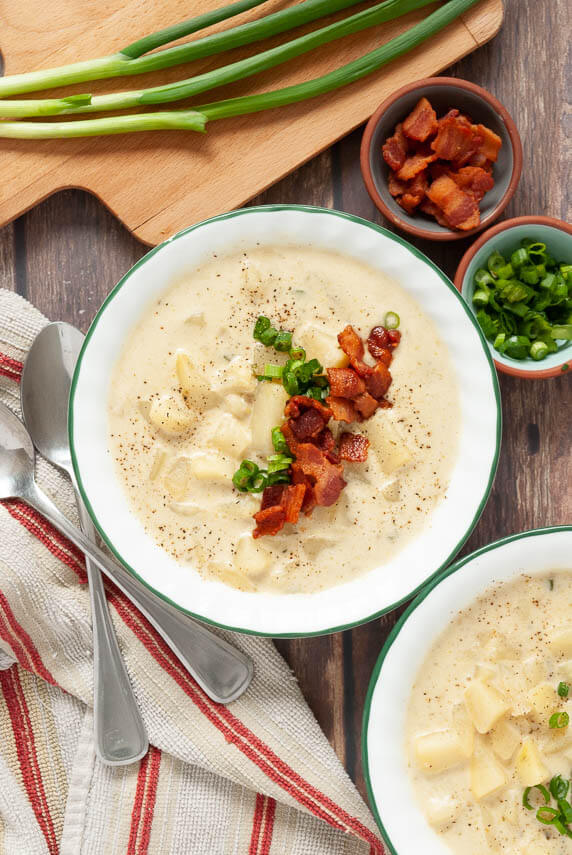 Instant Pot Loaded Potato Soup (Gluten Free, Dairy free & Vegan Directions Too!)
Additional Time:
20 minutes
Creamy, comforting and loaded with flavor this Instant Pot Loaded Potato Soup can be adjusted for just about any diet--regular, dairy free, gluten free or vegan. No matter how it's done it's full of flavor & perfect for cold nights. 
Ingredients
One 12-oz package of frozen cauliflower tops
6 large russet potatoes, washed, peeled & cubed
One 12-oz package of bacon
1/2 large yellow onion, diced finely
1 Tablespoon cornstarch
1/2-1 tsp salt (wait to add until end, depending on how salty your bouillon is)
1 tsp garlic salt
1/2 tsp black pepper
1/2 tsp dried parsley
4 green onions, diced
Additional green onions or fresh chives for garnish
Optional garnish: cheddar cheese shreds (dairy or non-dairy)***
Instructions
INSTANT POT DIRECTIONS:

1. Hit "saute" on your instant pot. Once hot, add chopped bacon (so you don't have to crumble it later and to prevent it from curling while cooking.)

2. Cook the bacon until crispy.

3. Remove the bacon crumbles and set aside, then remove most of the grease, leaving about 2 Tablespoons of the grease in the bottom of the instant pot.

4. Add the diced onion, garlic salt, pepper, parsley and seasoned salt and cook until the onion is softened.

5. Once the onion is softened, add in the cornstarch and stir to combine.

6. Turn off the "saute" function.

7. Add in the frozen cauliflower, potatoes, green onions, water and bouillon (or equal amounts of broth if using that.)

8. Close the lid, and move the valve (if you have this type of model) to sealing.

9. Hit "manual/pressure cook" and make sure the setting is set to "high". Use the plus or minus buttons until you reach 8 minutes.

10. It will take about 10 minutes to come to pressure; then once it hits pressure, it will count down backwards from 8 to 0 ( 0 is also known as Low--once it hits Low it will start to count up to let you know how long it's been on low. For example "L:12" means it's been on low for 12 minutes.)

11. Once the 8 cooking minutes are up, move the valve to quickly release the pressure. This will take around another 10 minutes.

12. Open the lid and ladle out 1-2 cups of the broth. Now is also the time to scoop out the cauliflower if you're wanting the soup to be extra creamy (or to hide it from your kids). Put the cream cheese, ladled out broth and the cauliflower into a blender and blend until smooth.

13. Pour the contents from the blender into the soup and stir to combine.

14. Taste and add salt to your liking. I use 1/2 to 1 tsp.

15. Serve with the reserved crumbled bacon and additional chopped green onions/chives.

SLOW COOKER DIRECTIONS:
1. On the stove top in a pan over medium high heat, fry the bacon until crispy. Remove the bacon to a paper towel, crumble and save for later.

2. Remove all but about 2 Tablespoons of grease.

3. Add the diced onion and stir over medium heat until softened. Once softened, add the cornstarch and mix until combined.

4. Place the onion & cornstarch mixture in the slow cooker. Add the frozen cauliflower, cream cheese, potatoes, garlic salt, pepper, parsley, seasoned salt, green onions, water and bouillon (or same amount of broth.)

5. Cook on low for 4-6 hours, or until potatoes are soft.

6. Taste and add salt to your liking. I use 1/2 to 1 tsp.

7. If desired for adding thickness and/or to hide the cauliflower, scoop out the cauliflower (usually floats near top) along with a cup or two of broth and place it in a blender. This is also a good time to grab any leftover cream cheese chunks that haven't melted and blend that too. Once everything is creamy, add it back in and stir well.

8. Serve and garnish with additional green onions/fresh chives and the reserved bacon crumbles on top.
Notes
My favorite blender for things like this is a Blendtec.
***Since we cannot have dairy, I made this soup flavorful enough to not need the typical cheese garnish on top. If you can do dairy, feel free to add it back in. If you like dairy-free cheese shreds, you can also use those. I just find them expensive, hard to find and often disappointing, so we leave them off.
Nutrition Information:
Yield:

4
Serving Size:

1
Amount Per Serving:
Calories:

1090
Total Fat:

51g
Saturated Fat:

22g
Trans Fat:

0g
Unsaturated Fat:

25g
Cholesterol:

142mg
Sodium:

3824mg
Carbohydrates:

111g
Fiber:

13g
Sugar:

11g
Protein:

47g
DON'T FORGET TO PIN IT, SO YOU DON'T LOSE IT. WHILE THERE, BE SURE TO CHECK OUT MY OTHER ALLERGY FRIENDLY PINTEREST BOARDS.