Edible allergy-friendly Christmas craft for the win! These adorable melted snowmen cookies use egg free royal icing on top of gluten-free vegan sugar cookies to ensure even more kids can enjoy Christmas cookie decorating! These holiday cookies are free of: wheat, gluten, dairy, egg, soy, peanut, and tree nuts, making them top-8-free!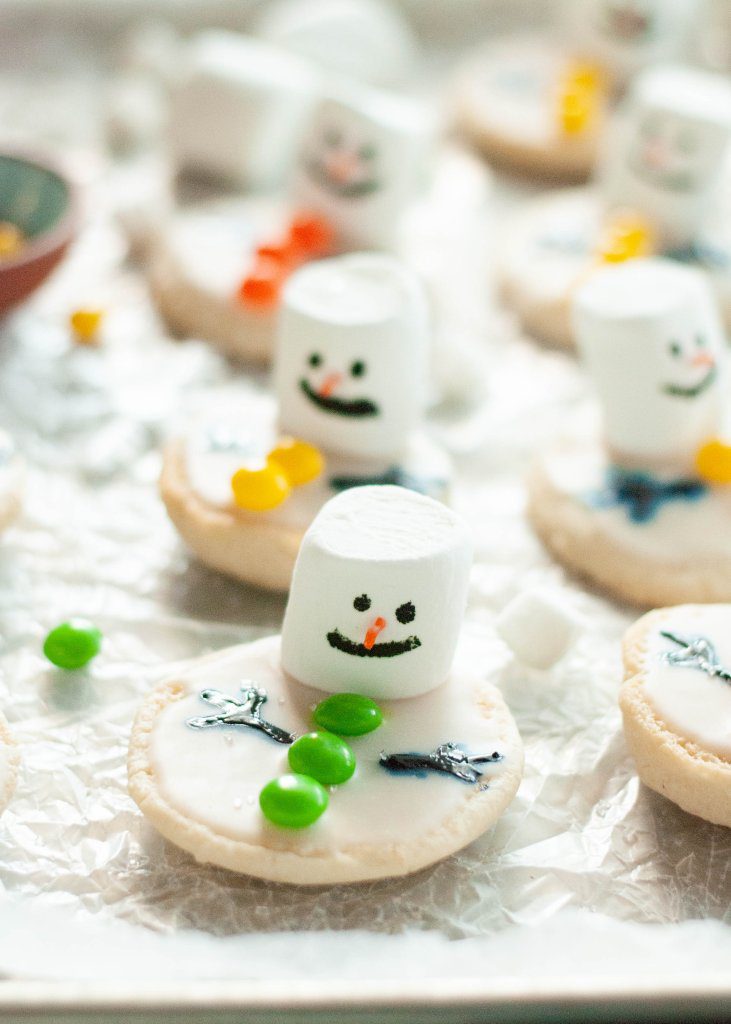 This post contains affiliate links.
Why I love these gluten free vegan snowman cookies
I think making sugar cookies with kids in December is pretty much essential. However, I don't love making tons of buttercream, and having to dye it all, because it just ends up a big mess with little helpers. They end up pipping way too much for the cookie to even be edible and sprinkle wayyyy too many sprinkles. While fun for them, it ends up in a big cleaning fest for me.
So, I wanted something a bit simpler. Royal icing does the trick, because you can't pile it on. And, giving them just the right amount for each snowman, ensures not a lot of product ends up going to waste (or on the floor.)
They feel accomplished, because it's pretty easy to make theirs come out like yours, and all in all–I think it's a win-win. Plus these melted snowmen cookies are just so darn cute!
My biggest issue was finding an egg-free royal icing that still dried hard, so that you can pipe the arms on top of it. I think I found a pretty good substitute that just uses pantry staples. You can make it thicker or thinner, to your preference. Enjoy and I hope you make lots of fun memories making these. We've made them twice so far and love them every time.

How do you make egg-free royal icing?
My son has an egg allergy, so using the typical meringue powder (which is made of eggs) in royal icing was a definite no-go. Thankfully, I found Tips from a Typical Mom had a recipe I just slightly tweaked. Using powdered sugar, rice milk, corn syrup and vanilla extract you still get a nice, white frosting that dries hard and is great to decorate with. The corn syrup helps give it that elasticity it needs for decorating and spreading.
While many people use ziploc baggies to pipe this on, or use toothpicks to spread it, because we're just covering a circle, in a single, flat color, I just used the back of a spoon. But, you can dye this and use it however you like, on any kind of shape or cookie you're making for your vegan or egg-free family!
Are your cookies gluten-free vegan?
Yes they are! I simply used my allergy friendly roll out sugar cookie dough that I've had on the blog for years (and that has tons of great reviews!) and cut it into circles. The cookie dough uses no: wheat, gluten, dairy, egg, soy, peanuts or tree nuts!
Are marshmallows allergy-friendly?
Anytime I post a recipe with marshmallows I get someone angry because I have yet to find a marshmallow that is both VEGAN and soy free. Please post below if you know of one. I'm sorry–I have no control over commercially created marshmallows.
Most marshmallows, like Kraft, for example have these ingredients: "Corn Syrup, Sugar, Modified Cornstarch, Dextrose, Water, Contains Less Than 2% Of Gelatin, Tetrasodium Pyrophosphate (Whipping Aid), Natural And Artificial Flavor, Blue 1." So, according to my observation, there are none of the top 8 allergens.
However, if you want a vegan marshmallow (so no gelatin) then the vegan brand I know of, Dandies, has these ingredients: "Tapioca syrup, cane sugar, tapioca starch, filtered water, carrageenan, soy protein, natural vanilla flavor." So, they do not have gelatin, but now they have soy.
The only marshmallow I've heard of that might let you avoid both soy and gelatin is Smashmallow. Which, I believe are square, but might work in a pinch.

What materials do you need to decorate the melted snowmen?
For the head: I like to use large marshmallows. I have yet to find a marshmallow that isn't allergy-friendly (see above).
For the eyes and mouth: You could pipe melted chocolate, with a small piping bag, but for ease I buy edible markers, because I have small children. It almost instantly dries and I don't have to worry about it smudging like it would if we used melted chocolate. Do whatever you prefer. I find my edible markers at Hobby Lobby or Amazon. I know not everyone loves food dye, so don't come at me if you're one of those. I figure around the holidays it's worth it to make these fun creations they'll remember. If not, you do you.
The Bakerpan markers list their ingredients as:
Purified Water, Propylene Glycol, FD&C colors: Red #40 or #3, Blue #1, Yellow #5 or #6, Citric Acid and Sodium Benzoate as preservatives. Sugar, Gluten and Nut free.
For the buttons: You could use safe chocolate chips for the buttons, or any small, round colored candy. We like Skittles, but go crazy with whatever candy you prefer.
For the arms: You could go rustic and use gluten-free pretzels. But, we like to pipe them on. Just make sure the royal icing has set before you do this. We use squeezable gel. You could do it in whatever color you like. The Wilton Black Decorating Gel Tube lists their ingredients as:
Sugar, corn syrup, water, cornstarch-modified, carrageenan (thickening agent, salt, citric acid, sodium benzoate (preservative. artificial color: FD&C red, #40, RD&C Blue #1, FD&C Yellow #5
I have seen other brands of piping gel, so use whatever works for you. I've found it both at Walmart and Amazon.
For the nose: I just buy regular sprinkles, and pick out the orange ones. If you shove it in the marshmallow, it should stay. I usually get the Great Value Rainbow Sprinkles mix at Walmart. It does have soy lecithin, but most people with a soy allergy can safely eat soy lecithin. Ask your allergist for your own personal situation. Or, use any orange candy you prefer!
Are there other egg-free holiday treats?
Yes! Every single recipe on my site is egg-free for my egg allergic son. All of my recipes are also always gluten free. If you don't need a recipe to be gluten-free, you can simply swap in regular flour 1:1 and omit the xanthan gum (if called for.)
The same goes for dairy. All of my recipes are dairy-free. If you only need egg-free Christmas goodies, then simply swap back in regular dairy at 1:1.
I hope that the variety of Christmas goodies on my site helps you once again enjoy traditional Christmas treats, but without the allergens! Here are some of our favorites:
Egg Free Royal Icing + Melted Snowman Cookies
Additional Time:
20 minutes
CUTE melted snowmen cookies use egg free royal icing on top of gluten-free vegan cookies to ensure even more kids can enjoy Christmas cookies
Ingredients
COOKIE DECORATIONS:
Orange sprinkles (or other orange candy for nose)
EGG-FREE ROYAL ICING:
2 Cups powdered sugar
1/2 teaspoon vanilla extract
Optional: Ziplock bags & Toothpicks
Instructions
Make the sugar cookies according to directions. Allow to cool.

When ready to assemble, make the frosting (I wouldn't recommend making it ahead of time).

In a mixing bowl, place all of the ingredients to the royal icing. Whisk, until smooth. You may need a little more or less rice milk, depending on the thickness you want. If it gets too thin, you can add a little more powdered sugar and corn syrup to thicken it back up. You don't want it too thin, otherwise the toppings will slide right off. (Also--you can use another dairy-free milk instead of rice milk, I just like it best because it has the least after taste compared to other non-dairy milks.)

(If you're using the egg-free royal icing for other decorating, it's usually wise to do a thicker frosting for the border, and then make a thinner consistency for flooding.)

Take either a ziploc bag and toothpicks (or, since this is a simple shape, I just use the back of a spoon) to evenly spread the royal icing over the top of the sugar cookie.

Next, add your decorations to complete the snowmen's head, eyes, nose, mouth, buttons and arms.

Make sure you place the marshmallow and buttons on before the royal icing sets, so that they'll stick to it.

You'll want to wait to pipe the arms until the royal icing has set.

Keep covered, room temperature for 1-2 days.
Notes
For questions, see the post above.
**If you are going to use this for gingerbread houses, I wouldn't. I wouldn't even use regular royla icing. The BEST way to assemble a gingerbread house is with glue. That stuff will hold together faster and better than any frosting. Use the royal icing for decorating, but save yourself the hassle and use burned sugar. You can see how here.
Check out my other Christmas treats.
*Our allergies, while severe and that get re-tested yearly, are such that we can go strictly by what's on the label. I do not call companies to see what things are derived from, or call manufacturers to see about potential cross contact. If your allergies require you to do so, please do your own homework. I cannot assure you of any ingredient's safety, only you can do that. I simply share what works for our family
**If you are going to feed this to someone with food allergies, and you yourself do not have food allergies, I HIGHLY recommend having them check every single brand and ingredient you are using, to ensure they're OK with each part of the recipe. And, to make sure you've talked to them about how to avoid cross contamination in your kitchen.
Royal icing adapted from: Tips From a Typical Mom's Royal Icing without Egg Whites or Meringue Powder
Nutrition Information:
Yield:

12
Serving Size:

1
Amount Per Serving:
Calories:

103
Total Fat:

1g
Saturated Fat:

0g
Trans Fat:

0g
Unsaturated Fat:

1g
Cholesterol:

1mg
Sodium:

13mg
Carbohydrates:

25g
Fiber:

0g
Sugar:

23g
Protein:

0g
DON'T FORGET TO PIN IT, SO YOU DON'T LOSE IT. WHILE YOU'RE THERE, CHECK OUT MY OTHER DIET-SPECIFIC PINTEREST BOARDS.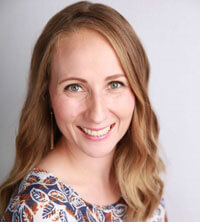 Hi! I'm Megan, a mom to four kids, two with multiple food allergies & one with EOE. I'm a published cookbook author that constantly tweaks recipes to make them allergy friendly–it's an addiction. I share every recipe & tip with you, to help you eat like you did before food allergies & dietary restrictions. You can still be awesome, even with food allergies!