Sugar cookie bars are made for I'm too lazy to roll out and frost individual cookies. These gluten-free vegan sugar cookie bars can also be made in one bowl! (VIDEOS INCLUDED!) Plus, bars are double the thickness of rolled cookies #winning. These soft sugar cookie bars are topped with a sweet non-dairy vanilla buttercream, making these a perfect addition to any celebration. These are also free of: gluten, dairy, egg, soy, peanuts & tree nuts, making them top-8-free as well!

My obsession with sugar cookie bars started years ago before we had any dietary restrictions thanks to Six Sister's Stuff. They had me hook, line and sinker! I still sometimes make them for family and friends. After the success of my chocolate chip cookie bars, I started to fantasize about tweaking it to achieve sugar cookie bar status.
Sugar cookies are just such a beloved, classic cookie. The addition of food coloring and sprinkles make them an ideal chameleon for any time of year. I just loved the green frosting–because it's perfect for St. Patrick's day, or for Easter because it reminds me of the fresh grass springing up.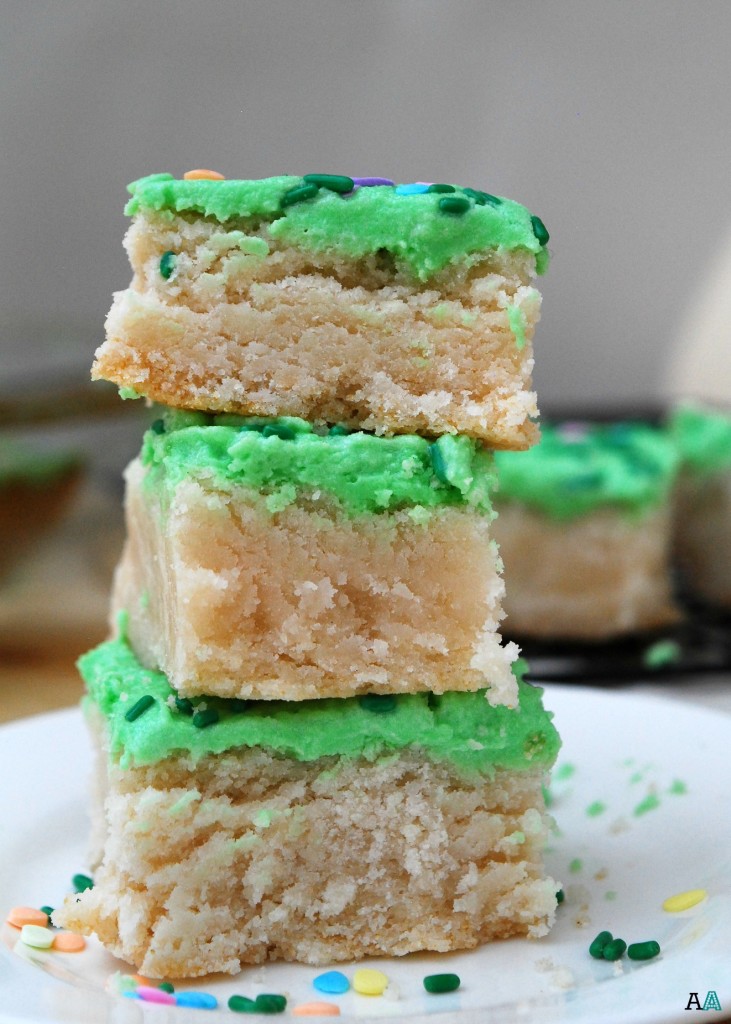 I love spring because it's when we're able to finally play outside after months of being cooped inside. I live in Utah, and while our past few winters haven't been terrible, I look forward with anticipation for warmer weather. I've always been this way, but since having kids I'm even more so. I notice such a difference when they can run around and expend their energy outside. The great thing about spring is that it's warm enough to play outside, but not too hot so you can still bake. I always wonder if I'd enjoy spring as much as I do now if we ever move away from somewhere that has winter. Winter can be long, but it SURE makes you appreciate spring!
I just let my son have a "cookie party" as he calls it with these cookies (aka sharing it with a friend). He got his favorite neighbor, his partner in crime, and they put the three-wheeler down long enough to eat enjoy this thick, delicious cookie. I love my little test subjects!
I hope you, and any test subjects or guests you have also enjoy these Gluten Free Vegan Sugar Cookie Bars for a sweet treat this spring.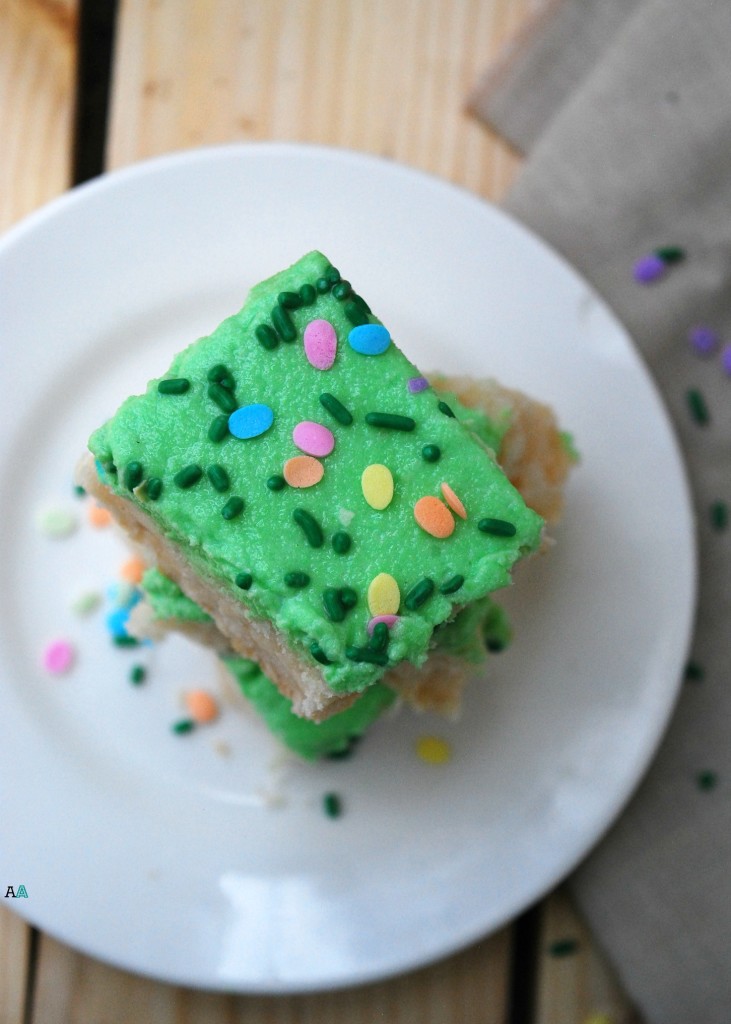 If you'd like to see a video demonstration of how to make these Gluten Free Vegan Sugar Cookie Bars, I had fun showing Fox13's The Place how to make these, and share a few food allergy tips as well! To see the video, click on the still photo below, or watch it from my Facebook page: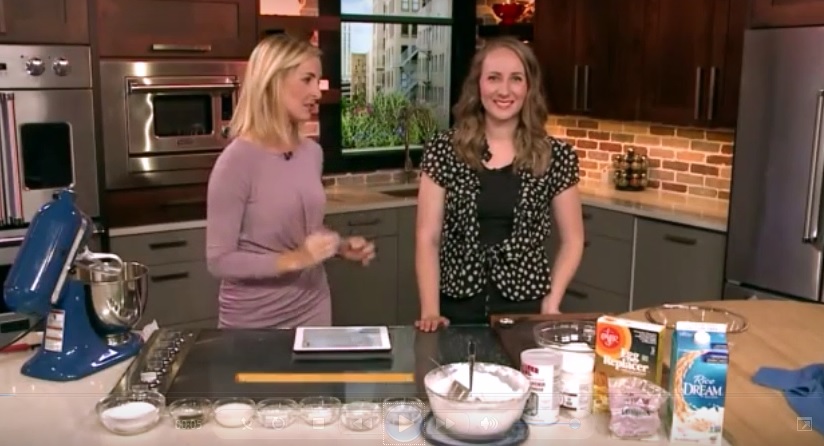 I love sugar cookies especially around Christmas. Honestly–these gluten-free vegan sugar cookie bars are great any time of the year, as you can dye the frosting to match any season or holiday. Here's a fun and easy way to decorate them for Christmas time. Simply keep the frosting white and top with your favorite red, white and green sprinkles:
And just because I love these Gluten Free Vegan Sugar Cookie Bars SOOOO much, I also did an overhead video showing you just how to make it, in a quick 1-minute video to prove how truly easy and fail-safe this no-roll, one bowl sugar cookie recipe is! Watch it on my Youtube here, or below:
Want more gluten free vegan cookies?
Because my son has an allergy to wheat, dairy and eggs, all of my baking is gluten free and vegan! You can look at my gluten free vegan cookie recipe index, or here are some of our favorite cookies to whip up that you'll love too:
Gluten-free Vegan Sugar Cookie Bars (No roll, one bowl!)
Additional Time:
20 minutes
Much easier than rolling out individual sugar cookies, and twice the thickness. Topped with a dairy-free "buttercream" these soft top 8 free bars are delicious!
Ingredients
COOKIE INGREDIENTS:
1 cup sugar
2 tsp. vanilla
1 tsp. salt
1 and 1/2 tsp. double acting baking powder
Instructions
Preheat the oven to 350 degrees fahrenheit. In a stand mixer, with the paddle attachment beat shortening until soft. Add in the sugar and cream for two minutes. Add the vanilla extract and all of the rice milk until smooth.
With the stand mixer on a slow speed, slowly add the dry ingredients one at a time starting with the salt and going all of the way down the list. Mix until blended.
Pour the batter into a greased 9x9 square pan, pressing down to flatten and fill the space. Bake for 18-20 minutes, or until the edges are slightly golden brown. Allow to cool in the pan.
While the cookies are cooling, make the frosting by creaming the shortening and coconut oil in a stand mixer with the paddle attachment. Once mixed, add the vanilla, salt, and 1/2 cup of the powdered sugar. Then, alternate a bit of the rice milk with 1/2 cup of the powdered sugar until you've used all of them and the frosting is creamed. Add in coloring, if desired. Frost the cookies and cut into bars.
Nutrition Information:
Yield:

12
Serving Size:

1
Amount Per Serving:
Calories:

286
Total Fat:

18g
Saturated Fat:

7g
Trans Fat:

0g
Unsaturated Fat:

10g
Cholesterol:

10mg
Sodium:

229mg
Carbohydrates:

29g
Fiber:

0g
Sugar:

20g
Protein:

1g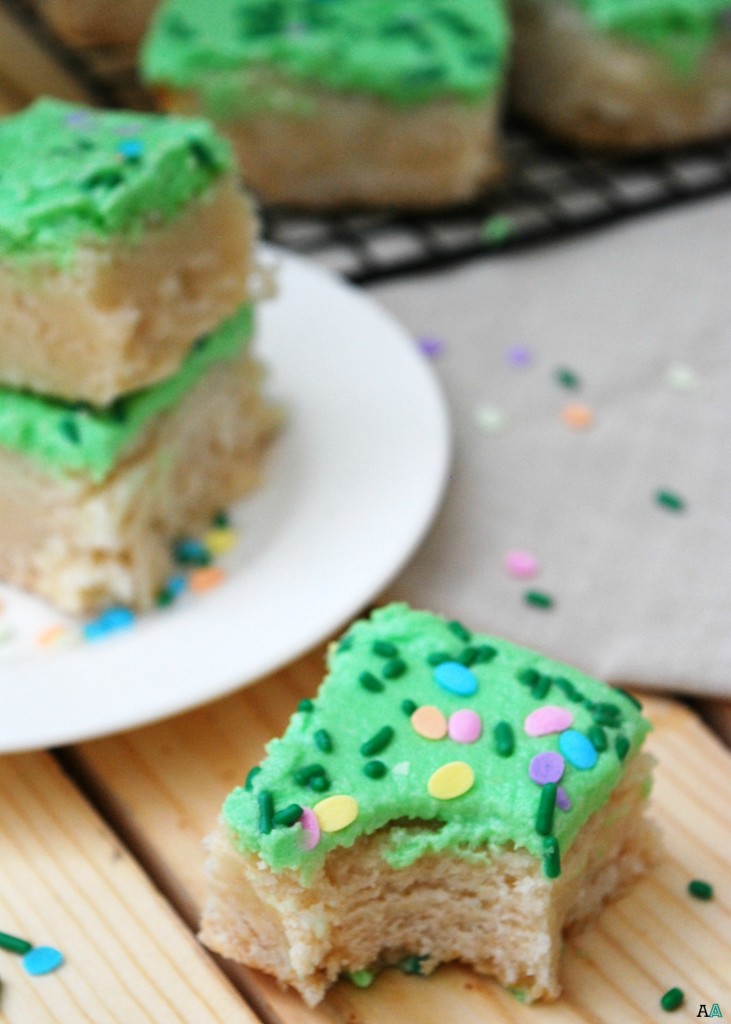 Gluten Free Sugar Cookie Bars adapted from: my chocolate chip cookie bars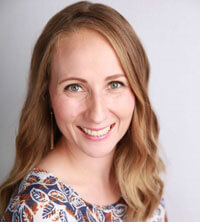 Hi! I'm Megan, a mom to four kids, two with multiple food allergies & one with EOE. I'm a published cookbook author that constantly tweaks recipes to make them allergy friendly–it's an addiction. I share every recipe & tip with you, to help you eat like you did before food allergies & dietary restrictions. You can still be awesome, even with food allergies!