An easy, one dish meal that helps you stick to those healthy eats New Year's goals. Made with a protein powerhouse, this meatless dish is filling, especially with all of the yummy toppings that you can use to personalize it.
I know many people use New Year's as a chance to try out different diets. Whether that's going gluten free, dairy free, or trying out vegetarianism or veganism it's a fun time to explore different ways of cooking. This recipe fits into all of the categories above and fits just about any picky eater.
One obstacle to trying new things is finding the time and energy to make that goal stick. That's why I have an easy, one pan meal to help you out!
The reasons I found this recipe is because one of the things I miss most from my wheat and dairy days are enchiladas. Besides having my son's top allergens, they can also be calorie laden. I love this lightened up version that still packs a lot of flavor without dripping in cheese and calories.
You'll be surprised how filling this is. I always eat with my eyes, so I filled my bowl to the brim and wasn't able to finish it. I might even half the recipe next time, except then I wouldn't have as many yummy leftovers.
To switch things up the next day, I like to put the leftovers in a soft corn tortilla with guacamole. It makes a wonderful filling. Bowl or tortilla, this is a versatile meal.
Garnish with your favorite toppings, or let your kids add their own to customize it to your own palate. We love olives, guacamole and some green salsa on top.
I was super fortunate to be able to go on live TV and demo this on a local station, KSL. If you'd like a video of this recipe, click the photo below.
TO SEE MORE ALLERGY FRIENDLY TEX MEX RECIPES, CHECK OUT SOME OF THESE FAMILY FAVORITES:
30 Minute Enchilada Quinoa Bowl (GF, DF, Top 8 Free, Vegan Option)
A nod to the classic enchilada with all the flavors without the calories, gluten, dairy or animal products!
Ingredients
1 tablespoon olive oil
2 cloves garlic, finely minced
1 poblano chile, seeded and finely diced (about 1/3 - 1/2 cup)*
2 cups quinoa, well-rinsed and drained
2 1/2 cups low-sodium chicken broth (if vegan, use vegetable broth)
16 ounces tomato sauce
1 (15-ounce) can black beans, rinsed and drained
1 teaspoon salt
1 teaspoon chili powder
1/2 teaspoon dried oregano
1 teaspoon ground cumin
2 cups frozen corn kernels
1-2 tablespoons fresh lime juice (from about 1 medium lime)
1/2 cup chopped cilantro
Optional toppings: avocados, non-dairy sour cream, chopped tomatoes, olives, green salsa etc.
Instructions
In a 12-inch nonstick skillet with a lid, heat the olive oil over medium heat and add the garlic and poblano chile. Cook for a minute or two, stirring constantly. Add the rinsed and drained quinoa, broth, tomato sauce, beans, salt, chili powder, oregano and cumin and stir to combine.
Bring the mixture to a simmer over medium-high heat, reduce the temperature, cover the skillet, and continue simmering for 20 minutes until most of the liquid has been absorbed and the quinoa has popped open and is tender. Regulate the heat during cooking if the mixture is sticking to the bottom of the skillet.
Uncover and stir in the corn, and cilantro. Cook for about 5 minutes or until heated through. Add additional salt and pepper to taste if needed.
Sprinkle the top with lime juice and serve with optional garnishes if you'd like: avocados, non-dairy sour cream, chopped tomatoes, olives, green salsa etc.
Notes
*An anaheim pepper will also work.
Adapted from Mel's Kitchen Cafe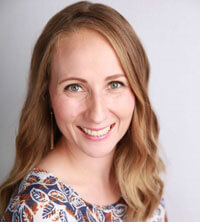 Hi! I'm Megan, a mom to four kids, two with multiple food allergies & one with EOE. I'm a published cookbook author that constantly tweaks recipes to make them allergy friendly–it's an addiction. I share every recipe & tip with you, to help you eat like you did before food allergies & dietary restrictions. You can still be awesome, even with food allergies!