A rich cream sauce made of dairy free sour cream, white wine, mustard, caramelized onions and mushrooms makes for a divine comfort dish. Simple, yet dresses the chicken up for a 30 minute or less dinner. Great for weeknights, or save it even for a date night in…it's that impressive! This Gluten & Dairy Free Creamy Mustard Chicken is adapted from the beloved Ina Garten's Chicken Thighs with Creamy Mustard Sauce, but has been made to be: gluten, dairy, egg, peanut and tree nut free–with a soy free option!
This post contains affiliate links.
Why I love this creamy mustard chicken
We all have chicken in the freezer, but chicken can get old unless you can dress it up. Consider this a Vera Wang dress for dressing up your chicken.
This cream sauce is TO DIE FOR. Deep flavors come from caramelizing onions and mushrooms, then deglazing the pan with white wine and the lush cream sauce comes from two kinds of mustard plus a dairy free cream cheese. I love the sauce so much, that I am sure to dip my green beans in it too, so as not to waste a drop.
I also have an extra affinity for this because for years we had to avoid mustard for my son's EOE. So, to have mustard back in my diet is so lovely and I'll never take it for granted again.
And while this looks, and most importantly, tastes impressive it can be done in under 30 minutes!

What kind of chicken can I use for this creamy mustard chicken?
I prefer chicken breasts, but the original recipe calls for chicken thighs. Feel free to use thighs or breasts depending on your preference. Whatever cut of chicken you use, just ensure to cook it long enough so that a meat thermometer inserted to the thickest part reads 165 degrees F.
How do you make this creamy mustard chicken dairy free?
Thankfully, there are several options for making this delicious entrée dairy free. I prefer to use Tofutti sour cream to thicken and enrich the sauce. This is made of soy. In a pinch, I've also used their cream cheese with very similar results.
If you can't do soy, you could sub in a dairy free cream cheese, like Daiya's coconut based cream cheese. I have yet to find a coconut based sour cream.
If you can't do soy or coconut, there's also Good Karma's sour cream, though I haven't had a chance to personally try this.
If you CAN do milk products, feel free to use regular sour cream.

Is this creamy mustard chicken gluten free?
Yes, this dish is naturally gluten free. There are no ingredients that contain gluten. Just to be safe though, always read through each individual label in case a product's recipe has changed, or if you're using products different than mine.
What is good to serve with this Gluten & Dairy Free Creamy Chicken?
I love, Love, LOVE green beans with it. It tastes a lot like a green bean casserole base. Asparagus or broccoli would also work great. This would also be delicious over my dairy free mashed potatoes. I also love to serve it with my instant pot mushroom rice.
Do I have more gluten & dairy free chicken dinners?
Why yes I do! My son has food allergies to both wheat and dairy, so every single one of my 200+ recipes on my site are gluten free and dairy free. Here are just some of our favorite chicken dinner recipes:
Do you have a video showing how to make Creamy Mustard Chicken?
Yes I do! I made a TikTok video because I like how short and succinct those videos are. By watching this video, it should give you a good, general overview of what it looks like to make this Creamy Mustard Chicken. Enjoy!
Gluten & Dairy Free Creamy Mustard Chicken
Additional Time:
5 minutes
A rich cream sauce made of dairy free sour cream, white wine, mustard, caramelized onions and mushrooms makes for a divine comfort dish. An allergy friendly spin on an Ina Garten classic.
Ingredients
2 chicken breasts, butterflied
2 Tablespoons olive oil, separated
1 cup halved and thinly sliced yellow onions (approx 1 onion)
8 oz halved white button mushrooms
9 ounces dairy free cream cheese (see post above for options)
1 Tablespoon Dijon mustard
1 clove garlic (1/2 tsp minced)
1 tsp dried parsley 
1 and 1/2 tsp salt
S&P to taste
Instructions
Butterfly and salt and pepper each side of the chicken breasts. Set aside.
Thinly slice the onions and halve the mushrooms.
Heat 1 tablespoon olive oil in a large skillet over medium heat. Add the onions and mushrooms.
Cook over medium, until the onions are caramelized and the mushrooms are tender. Remove them from the pan and set aside.
Add the remaining tablespoon of oil and add your chicken in one layer. Cook until the side is light golden brown. Flip. Cook chicken through to a temperature of 165 degrees F.
Remove the chicken.
Deglaze the pan by adding the wine, stirring up any brown bits leftover from the cooking of the meat or vegetables. Lower the heat to medium low and add the, dairy free cream cheese, Dijon mustard, whole-grain mustard, garlic, parsley and 1 and 1/2 teaspoon of salt to the skillet and stir over medium heat until combined. Taste and adjust S&P to liking.
Return the chicken, the onions and mushrooms and add any juices the chicken has released to the skillet, and coat evenly. Serve hot.
Great with my mushroom rice & green beans.
**For a smoother/kid friendly sauce, as shown in the pictures see the directions in my notes.**
Notes
**While I love eating the texture of the sautéed mushrooms and onions, my young kids do not. So, after step 7 when the sauce has been heated through and combined, I take the onions, mushrooms and the sauce and add it to my blender. I blend it until it's a smooth, creamy sauce and pour that on top of the chicken, as shown in the pictures.
Adapted from Ina Garten's Chicken Thighs in Creamy Mustard Sauce
Nutrition Information:
Yield:

4
Serving Size:

1
Amount Per Serving:
Calories:

433
Total Fat:

31g
Saturated Fat:

14g
Trans Fat:

0g
Unsaturated Fat:

14g
Cholesterol:

115mg
Sodium:

800mg
Carbohydrates:

13g
Fiber:

2g
Sugar:

7g
Protein:

25g
DON'T FORGET TO PIN IT, SO YOU DON'T LOSE IT. BE SURE TO ALSO CHECK OUT MY OTHER ALLERGY FRIENDLY PINTEREST BOARDS.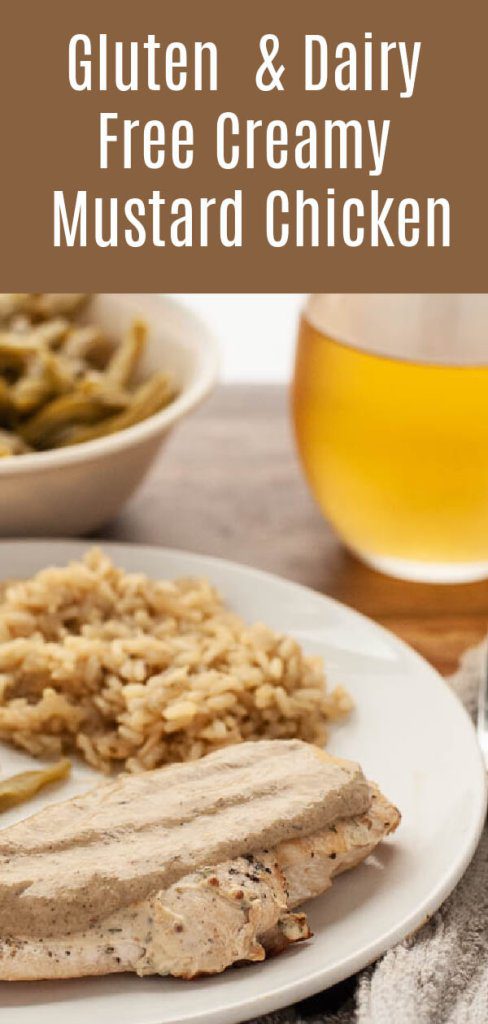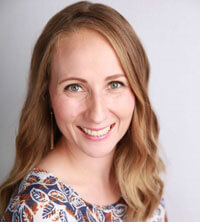 Hi! I'm Megan, a mom to four kids, two with multiple food allergies & one with EOE. I'm a published cookbook author that constantly tweaks recipes to make them allergy friendly–it's an addiction. I share every recipe & tip with you, to help you eat like you did before food allergies & dietary restrictions. You can still be awesome, even with food allergies!