This dish soothed my soul when I was half a world away from home.
You see, I lived in China for a semester teaching English. Bless their souls, the school cooked for us since we lived on campus. But, "cooked" might be a bit of an exaggeration. Their chef coulda used some help! Let's just say that I came home looking and feeling starved. Silver lining–it was a great pre-wedding diet since I got married five months later.
When I couldn't handle the mystery meat any longer, I'd take money out of my travel fund to splurge. I'd walk probably half a mile each way to what my co-teacher's and I called "The Rice Man". (I know, our nomenclature skills were top-notch.)
This humble Chinese man, who worked out of a tent on the side of the road, made the best Fried Rice that side of the Great Wall. While it screamed "health code" it also was DELICIOUS.
It tasted divine, and I would savor every greasy, grain of rice. It'd make me feel a little less homesick since my mom made fried rice all while growing up. Plus, I find it's hard to be upset when you are satisfied and full. Bless than man! I hope he truly overcharged us, as it was worth every yuan!
I still like to try my hand at eating it with chopsticks, but my skills have vastly degraded since coming home. Whether you eat it with chopsticks, a fork, spoon, or your hands you'll be sure to like it. Plus, with so many customizable add-ins, it's sure to please anyone, even "The Rice Man" would approve.
Gluten Free Ham Fried Rice (Dairy, Egg, Fish, Shellfish, Peanut and Nut Free)
Total Time:
1 hour
10 minutes
Gluten free ham fried rice that isn't just flavored with soy sauce, but a homemade seasoning too. Flexible and easy to adjust for whatever is in your fridge.
Instructions
Directions:

Boil water and add rice. Reduce heat to low, cover, and cook for 45 minutes. (Note: brown rice takes much longer to cook, but is well worth it nutrient wise. If you're in a hurry, use white rice.) This step can be done even up to 2-3 days in advance (in fact, the rice won't stick together as much if it's leftover and chilled.)

Heat oil over medium heat and saute onions, carrots, mushrooms, peas and romaine until carrots are tender. Add cooked rice, soy sauce, and seasoning to taste (you won't even come close to using all of it; save the rest for future fried rice or use as you would seasoning salt.
Notes
This can be tailor-made to fit picky appetites.  While I find it a good way to sneak in veggies, you can omit any of them, use less or more as you please.  Just be sure to adjust the seasoning and soy sauce to taste!
Also, I like to get my ham cut as thick as they will cut it at the deli.  I get one large slab.  Thankfully, my grocer uses a separate slicer for meat and cheese.  Be sure to ask if you have dairy allergies.  I also ask them to change into fresh gloves before preparing mine.  If you don't trust your deli, I've used ham lunch meat in a pinch.
Lastly, my husband and I adore scrambled eggs in ours.  Thankfully, my son is not contact or airborne reactive to eggs.  I make it in a separate pan, with a separate spatula and just toss some on our individual plates.  Totally go with what you're comfortable with.
Nutrition Information:
Yield:

4
Serving Size:

1
Amount Per Serving:
Calories:

482
Total Fat:

23g
Saturated Fat:

4g
Trans Fat:

0g
Unsaturated Fat:

17g
Cholesterol:

69mg
Sodium:

2468mg
Carbohydrates:

54g
Fiber:

18g
Sugar:

16g
Protein:

22g
Adapted from Our Best Bites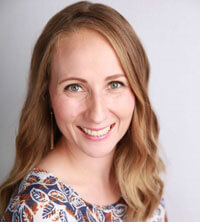 Hi! I'm Megan, a mom to four kids, two with multiple food allergies & one with EOE. I'm a published cookbook author that constantly tweaks recipes to make them allergy friendly–it's an addiction. I share every recipe & tip with you, to help you eat like you did before food allergies & dietary restrictions. You can still be awesome, even with food allergies!