A quick and easy weeknight meal. Using just one pot, and less than thirty minutes you have a complete Tex-Mex meal including: chicken, rice, and beans all in a flavorful green chili sauce.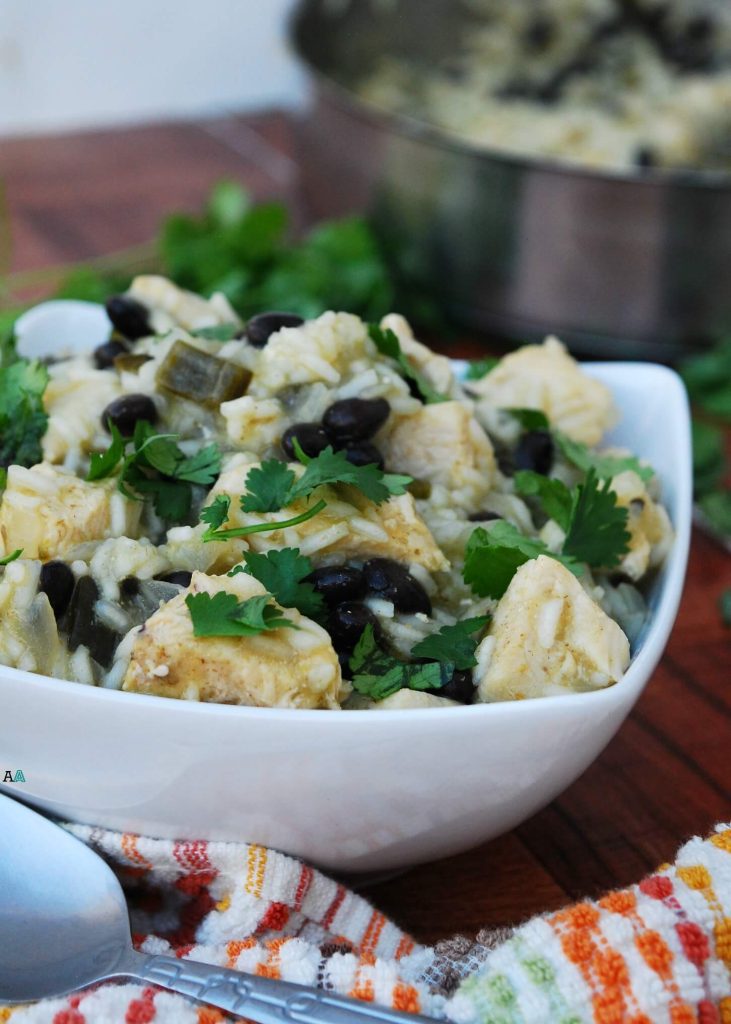 This post contains affiliate links.
I was going to do a dish for St. Patrick's day, but I'm not a huge fan of traditional Irish food. So, I thought the next best thing would be a green dish. So…this is kind of a stretch, but I love me some Tex-Mex! So, we'll do a green chili recipe, if you'll allow me to stretch the whole "St. Patrick's day/green" thing. I guess we can at least say it doesn't have any green food coloring in it. 🙂
My family has been enjoying this recipe for over two years. It's spread to even my sister making it too. It's just too flavorful and easy not to love. Dice a few veggies, add some chicken and rice, and then simmer. EASY PEASY!
I was originally drawn to this recipe because it was a Tex-Mex recipe that naturally didn't call for cheese. It seems most Tex-Mex dishes are dripping in cheese. So, I figured this one must be flavorful enough to not call for cheese…and it was!
I gravitate to one pot meals because I loathe dishwashing, especially since I don't have a dishwasher. The less dishes, the better!
I also love one pot meals because that means I don't have to worry about thinking of a side dish. A complete meal with one recipe is the best!
With no crazy ingredients, my kids gladly eat this too. #momwinning
If you're wanting to make this cheaper, the original recipe called for chicken thighs, which is a less expensive cut of chicken. However, I enjoy chicken breasts more, so you'll see that's what I called for.
Enjoy this "green" dish during St. Patty's season, or all year round like we do!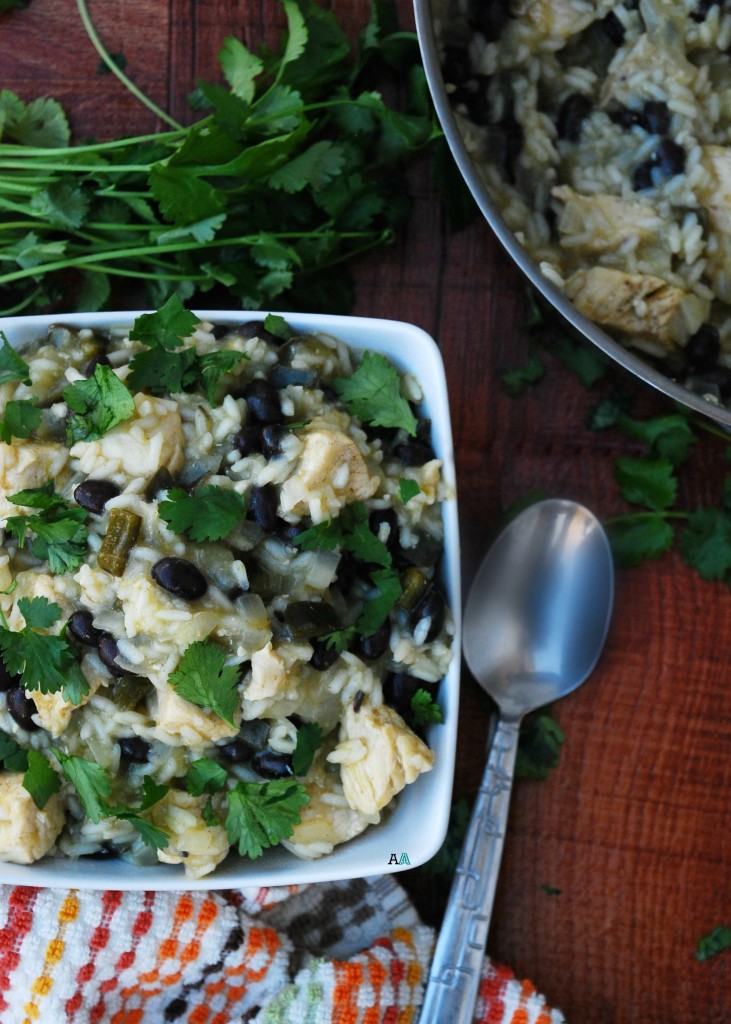 LOOKING FOR MORE GLUTEN FREE TEX-MEX RECIPES?
Nothing is more satisfying than some good tex-mex recipes, especially when they're allergy friendly and gluten free! Here are some of our other favorites:
And, there's even more tex-mex recipes in my allergy friendly cookbook! It has tex-mex soups, homemade refried beans, several kinds of tacos, Mexican rice and more!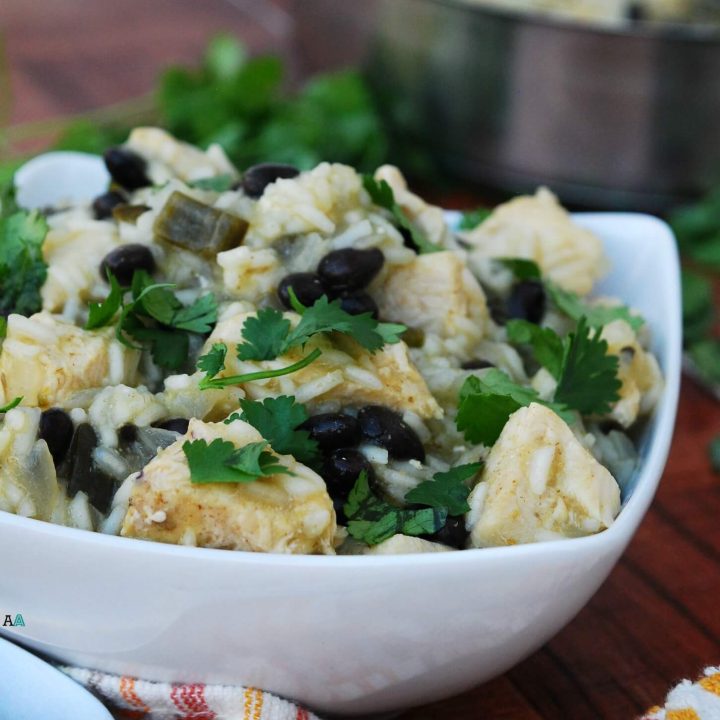 Gluten Free One Pot Green Chili Chicken & Rice
A quick and easy weeknight meal. Using just one pot, and less than thirty minutes you have a complete Tex-Mex meal including: chicken, rice, and beans all in a flavorful green chili sauce.
Ingredients
2 large chicken breasts, cubed (thighs work too!)
Kosher salt and coarsely ground black pepper, to taste
2 Tablespoons olive oil
1 medium yellow onion, finely chopped
1 poblano chile, stemmed, seeded, and chopped (use more or less according to your heat preference)
3 cloves garlic, minced
1 teaspoon ground cumin
1 cup white rice
1/2 cup chopped fresh cilantro
Instructions
Heat 1 tablespoon of oil a 12″ skillet (non-stick preferred) over medium-high heat. When very hot, season chicken with salt and pepper and add the cubed chicken and cook for about 5 minutes or until golden on one side . Transfer the chicken to a plate and set aside.
Add the remaining 1 tablespoon of oil to the pan and allow to heat for about a minute. Add the chopped onions and peppers and cook for about 5 minutes or until the onions are translucent. Add the garlic and cumin and cook for about 1 more minute. Add the enchilada sauce, water, and rice and bring to a boil. Place the chicken, brown side up, on top of the rice. Reduce heat and cover. Cook for at least 20 minutes, stirring about every 5 minutes to prevent the rice from sticking to the bottom. When the rice and chicken are cooked through, it's done (higher elevations will take longer, maybe even twice as long, so plan accordingly.)
Stir in the drained beans and garnish with cilantro. Serve.
Leftovers keep well, refrigerated in an air tight container for 2-3 days.
Notes
*Anaheim peppers also work well. If you cannot find a canned green chili sauce that works for your allergies, you can make one homemade. The blog: One Lovely Life has an easy recipe.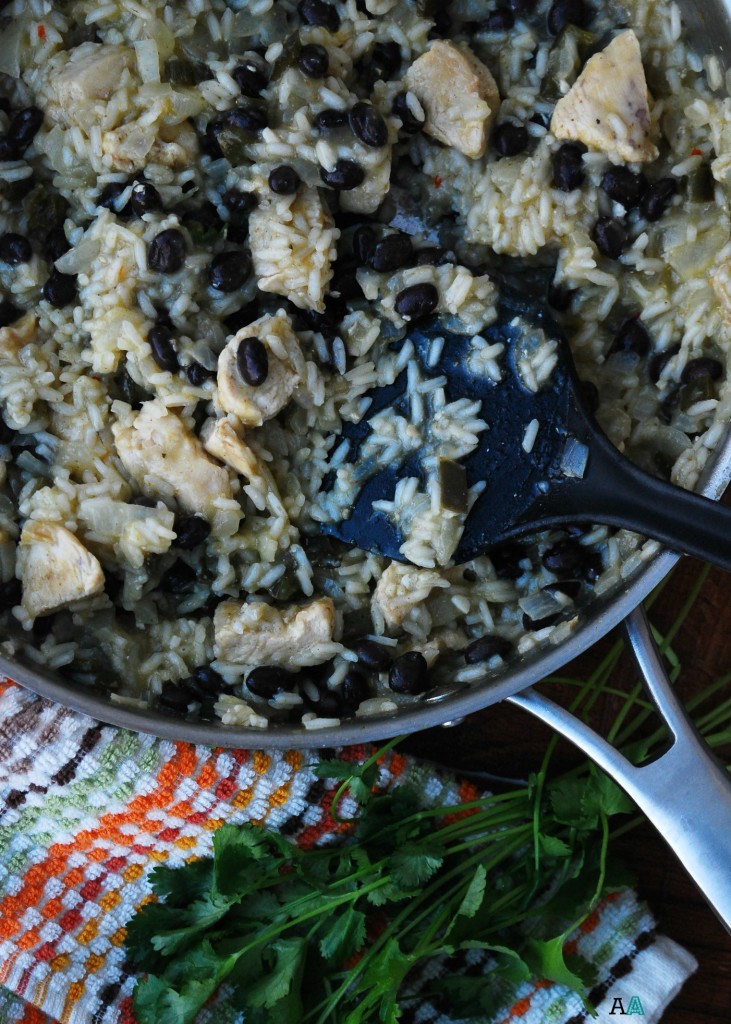 Adapted from: Our Best Bites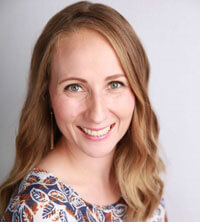 Hi! I'm Megan, a mom to four kids, two with multiple food allergies & one with EOE. I'm a published cookbook author that constantly tweaks recipes to make them allergy friendly–it's an addiction. I share every recipe & tip with you, to help you eat like you did before food allergies & dietary restrictions. You can still be awesome, even with food allergies!