Quick, packed with flavors AND veggies. This gluten free LO mein will be the HIGH of your week.
Have I professed my love for Asian food yet? Granted, this is more Asian-American, but still! They don't use dairy and it's SO EASY to swap in gluten free noodles. It makes me do heel clicks when I only have to make simple substitutions instead of feeling like a mad scientist trying to tweak a recipe to work for my family.
I also love that this is another meat-free recipe too, and that's loaded with veggies! In fact, I tell my boys that the water chestnuts are chips (since they're so crunchy) and they gobble them right up! I'm sure you could throw in additional veggies; it's great for cleaning out the refrigerator.
Add to the fact that you are using two canned veggies, so there's less chopping and I'M SOLD!
Hope your family enjoys this gluten free lo mein as much as we do. It's definitely eaten at least once a month in our rotation!

Here are some other gluten free Asian dishes that you'll love:
Gluten Free Lo Mein (Vegan & Other Allergen-free Options Too!)
Ingredients
NOODLES:
1 Tablespoon olive oil
2 cups mushrooms, sliced
1 red bell pepper, julienned
2 carrots, chopped
1/2 cup snow peas
3 cups baby romaine or spinach
SAUCE INGREDIENTS:
Instructions
1. In a small bowl, whisk together the sauce ingredients; set aside.
2. In a large pot of boiling water, cook noodles according to package instructions; drain well.
3. Heat olive oil in a large skillet or wok over medium high heat. Add garlic, mushrooms, bell pepper and carrot. Cook, stirring frequently, until tender, about 3-4 minutes. Stir in snow peas and spinach until the spinach has wilted, about 2-3 minutes. (Really any vegetable will do, even frozen ones, so clean out that fridge!)
4. Stir in the noodles, water chestnuts, corn and soy sauce mixture, and gently toss to combine. You want everything cooked before you add the noodles, because you don't want the noodles to continue to cook since g-free noodles can become gummy very quickly!
5. Serve immediately. Store leftovers in an air tight container for 2-3 days.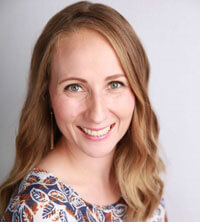 Hi! I'm Megan, a mom to four kids, two with multiple food allergies & one with EOE. I'm a published cookbook author that constantly tweaks recipes to make them allergy friendly–it's an addiction. I share every recipe & tip with you, to help you eat like you did before food allergies & dietary restrictions. You can still be awesome, even with food allergies!