If you love Rice-A-Roni, you'll love this homemade instant pot mushroom rice pilaf. You get the benefits of whole grain brown rice, but with the ease of the instant pot–which makes it soft, and cook much faster. Full of onion, garlic and herbs, this tasty side dish might just upstage your main dish. This mushroom rice has options to be free of: gluten, wheat, dairy, egg, peanuts and tree nuts; with a vegan option too!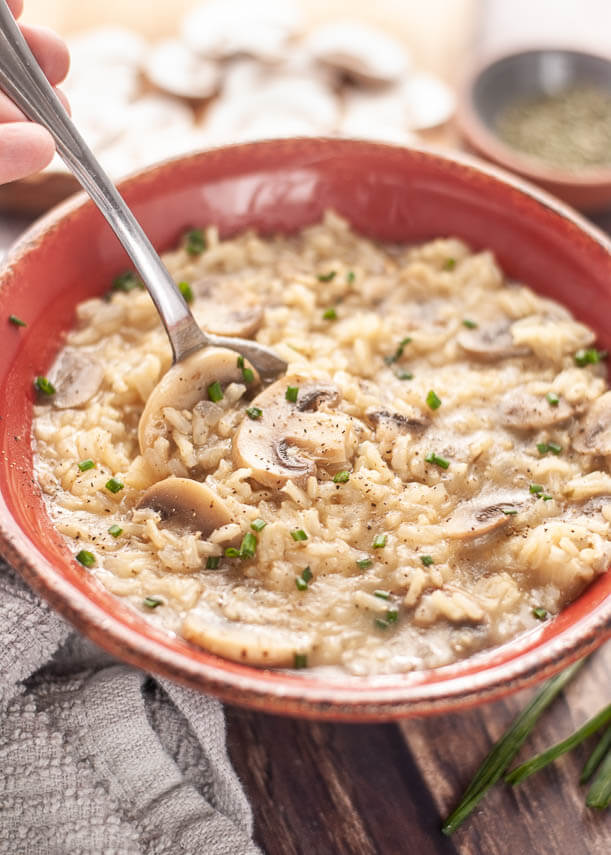 This post contains affiliate links.
I think I might have kept Rice-A-Roni in business during my college days. I'd whip up a box along side some chicken and that was about as fancy as it got for me during my collegiate years. If you think I won my husband over with my cooking, you'd be wrong. He really took a leap of faith not knowing whether he'd eat well with me by his side. He really lucked out that I became obsessed with cooking after we got married!
Unfortunately, due to our son's multiple food allergies and my husband's gluten intolerance, we can no longer enjoy Rice-A-Roni. I know, sad day! But, that doesn't mean we don't enjoy an herby rice side dish. I just had to learn how to make it myself. And, thankfully it's not much harder, and doesn't involve watching a pop of boiling water thanks to the instant pot.
Another bonus? Now, I can use whole grain brown rice–which isn't in the original Rice-A-Roni; which has more nutritional value than plain white rice. And, the customization is really endless, you can play around with the herbs, even use a cooking wine or add in additional vegetables.
Since rice was my son's only safe grain for quite awhile (he has many food allergies) rice was a frequent visitor to our dinner table. And since it was the only grain, I wanted to make sure he was getting as much nutrition as he could from it…which is why we switched to brown rice. I know brown rice has a bad rep, as many say it's not as soft as white rice. But, I'm telling you, pressure cooking brown rice helps it be just as delicious as white rice!
Before you start cooking, let's go over some frequently asked questions about how to make instant pot mushroom rice:
What is rice pilaf?
Rice pilaf is another way of saying that you're cooking rice in a stock or broth, and usually with added herbs. Basically, it's like saying you're kicking rice up a notch, which is always a good thing in my book. In my recipe below we'll use garlic, onion, mushrooms, parsley, thyme, broth, Worcestershire sauce, dairy-free butter (or regular if you can do it!) and fresh chives.
Is Rice-A-Roni gluten free?
Unfortunately, no. They use wheat as a thickener, and some varieties use semolina, which is like a short wheat pasta (often looks like spaghetti that has been cut into several pieces.) You can see their ingredient list to their Chicken & Mushroom Rice below. Some rice pilafs also use orzo, which is another grain that is not gluten-free.
Is Rice-A-Roni dairy free?
No, Rice-A-Roni is not dairy free, at least not the flavors that I looked at. Most are outright not dairy-free, with flavors like: Cheddar Broccoli or Herb & Butter, but even some of their flavors that don't seem like they'd have it, like their Chicken & Mushroom, have it. Here are the ingredients to their Chicken & Mushroom Rice-A-Roni, as listed on their website:
Rice
Wheat flour
Salt
Mushrooms*
Sugar
Partially Hydrogenated Palm Oil
Autolyzed yeast extract
Hydrolyzed soy protein
Onions
Corn syrup
Monosodium glutamate
Natural flavor
Chicken broth*
Chicken fat
Turmeric [color]
Sodium caseinate
Parsley*
Garlic*
Ferric Orthophosphate
Niacin
Disodium guanylate
Disodium inosinate
Ferrous sulfate
Turmeric extract [color]
Thiamin Mononitrate
Soy lecithin
Folic acid
Riboflavin
* Dried
CONTAINS SOY, MILK AND WHEAT INGREDIENTS
Thank goodness for FALCPA (the food labeling law) because it doesn't look like there is dairy outright, but my guess is that it's in the chicken broth, which is why they have a "contains" statement at the end to warn you that milk is in the recipe somewhere. Please check their latest production, to make sure their recipe hasn't changed. Taken from: https://www.ricearoni.com/products/Rice-A-Roni/Chicken_and_Mushroom in November 2019.

How do you cook brown rice in the instant pot?
Normally, plain brown rice cooked in the instant pot requires:
2 cups brown rice
2 and 1/2 cups water
1 Tablespoon olive oil
Pinch of salt
You cook that for 24 minutes on high pressure and voila–easy, cooked brown rice. But, because we're wanting a rice pilaf, and because it has the added mushrooms in it, you'll see my rice pilaf plays with the amounts a bit.
Is Worcestershire sauce gluten free?
No, most varieties of Worcestershire sauce are not gluten free. This is because one of the ingredients in Worcestershire is soy sauce, and many soy sauces use wheat. So, you have to look for a bottle that outright says it's gluten free, or be savvy at reading labels. I like Heinz Worcestershire sauce, because the soy sauce portion of the label just says "water, salt, hydrolyzed soy protein, corn syrup, caramel coloring". You can find it at your local grocer, or on Amazon. Here are all of the ingredients to Heinz Worcestershire sauce:
Distilled white vinegar
Water
Molasses
High fructose corn syrup
Salt
Soy sauce (water, salt, hydrolyzed soy protein, corn syrup, caramel coloring)
Natural flavorings
Caramel coloring
Anchovies
Polysorbate 80
Soy flour
Garlic extract
If you don't need it to be gluten free, go ahead and use whatever brand you prefer.
Be sure to visit their site to see if their recipe has changed since this blog post was posted in November 2019. As always, I go strictly off labels, and if you need more information, you'll need to contact the manufacturer directly.
Is this mushroom rice allergy friendly?
If made with vegan butter, an allergy friendly broth–you'd be surprised at how broths and bouillons throw in wheat or dairy in their ingredients. Then use gluten-free Worcestershire sauce and boom, it's quite allergy friendly! If done this way this side dish will be: gluten, wheat, dairy, egg, peanut and tree nut free; and possibly vegan too if you use vegetable broth!
Warning: because Worcestershire has anchovies in it, this would not be OK for those who have fish allergies. Worcestershire could simply be omitted from the recipe if that is the case. Though, if you can, I'd recommend it, as it has that umami taste to it. You could sub out soy sauce 1:1. Or, if you can't do soy, I might also consider swapping in equal amounts of coconut aminos, to still give it that salty flavor.

How do you make mushroom rice vegan?
Making mushroom rice be vegan is quite simple, since most of the ingredients are grains and vegetables to begin with. Just make sure to use a vegan broth, and then use vegan butter at the end to finish it. Really, any vegan butter brand should do that works for your dietary preferences.
If you don't need it to be vegan or dairy free–go ahead and use your favorite broth, and regular butter at the same ratios.
What goes well with mushroom rice?
Really any protein goes well with mushroom rice:
fish
meatloaf
chicken
pork chops
turkey
…you name it. It's very complimentary and works well with many flavors. If you really love mushrooms like I do, then it's great with my 30 Minute Chicken & Mushroom Marsala or, my Creamy Mustard Chicken. You can even have mushroom rice as part of your Thanksgiving dinner, since it's such a simple grain that could work with so many dietary restrictions if made my way.
If you're needing a grain free option, check out how to make cauliflower rice from fellow blogger Kristen.
What's the benefit of cooking brown rice in the instant pot versus the stove top?
Once I got my instant pot I've never looked back. Making brown rice on the stove isn't hard, but it does take a more watchful eye and several steps. You have to turn your stove to high, wait for the water to boil, and then add your rice, then turn the heat down to a simmer, and wait for FORTY FIVE MINUTES. That's awhile to wait for a side dish.
Whereas, with the instant pot, you just dump the ingredients in, close the lid and then you don't touch it again. Plus, it only takes 25 minutes of cook time. Granted, it has to get up to pressure and then release, so you're looking at about 35 minutes total, but that still knocks off ten whole minutes, which, when you have hungry children makes a big difference! Plus, I feel like the instant pot makes very soft brown rice, which is a huge plus!
My favorite instant pot is this model. Did you also know I wrote an allergy friendly instant pot cookbook?
Looking for more tasty side dishes?
Try these favorites of ours: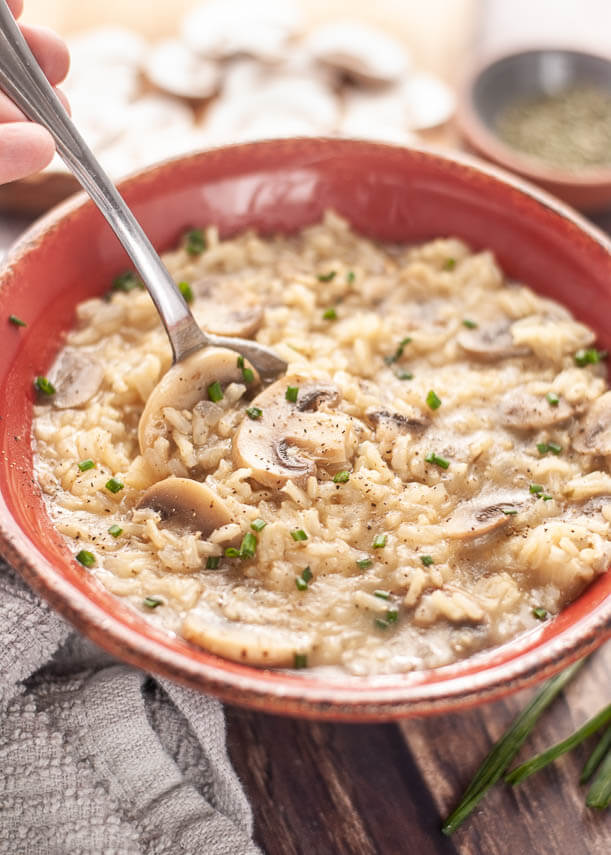 Instant Pot Mushroom Rice
Additional Time:
5 minutes
If you love Rice-A-Roni, you'll love this homemade instant pot mushroom rice pilaf. With the benefits of whole grain brown rice, but with the ease of the instant pot--which makes it soft, and cook much faster. Full of onion, garlic and herbs, this tasty side dish might just upstage your main dish. This mushroom rice has options to be free of: gluten, wheat, dairy, egg, peanuts and tree nuts; with a vegan option too!
Instructions
Wash the mushrooms and remove any dirt and debris, then slice finely and let dry on a paper towel while you prep the rest of the ingredients.

Dice the onion finely.

Plug the instant pot in and add the olive oil. Hit "saute". Once hot,, add in the onion, mushrooms and garlic and cook until they're softened, stirring frequently.

Turn the instant pot off (so that the saute function doesn't keep going while you add the rest of the ingredients.)

Add the rest of the ingredients (Worcestershire, thyme, parsley, salt, pepper, rice and broth), except for the butter and chives .

Hit "manual" or "pressure cook" (they mean the same thing, it just depends on your model.) Then use the plus and minus buttons until you reach 25 minutes.

Once the timer is done, move the valve to "release" and quickly release the pressure.

Open the lid and add the butter and stir until it's melted.

Taste and adjust the S&P as needed.

Let the rice sit for 5-10 minutes, the starch from the rice will thicken the dish as it cools.

Garnish with chives or green onions.

Serve and enjoy.

Store leftovers in an air-tight container for 2-3 days.
Nutrition Information:
Yield:

6
Serving Size:

1
Amount Per Serving:
Calories:

97
Total Fat:

5g
Saturated Fat:

2g
Trans Fat:

0g
Unsaturated Fat:

3g
Cholesterol:

5mg
Sodium:

408mg
Carbohydrates:

12g
Fiber:

1g
Sugar:

2g
Protein:

2g
Be sure to pin it so you don't lose it. While there, check out my other allergy-friendly Pinterest boards.