When I found out my son couldn't have dairy, I figured we'd never have mashed potatoes ever again. Thank goodness I was wrong! These Dairy-Free Garlic Parsley Mashed Potatoes are the creamy side dish you've been missing (also gluten free!).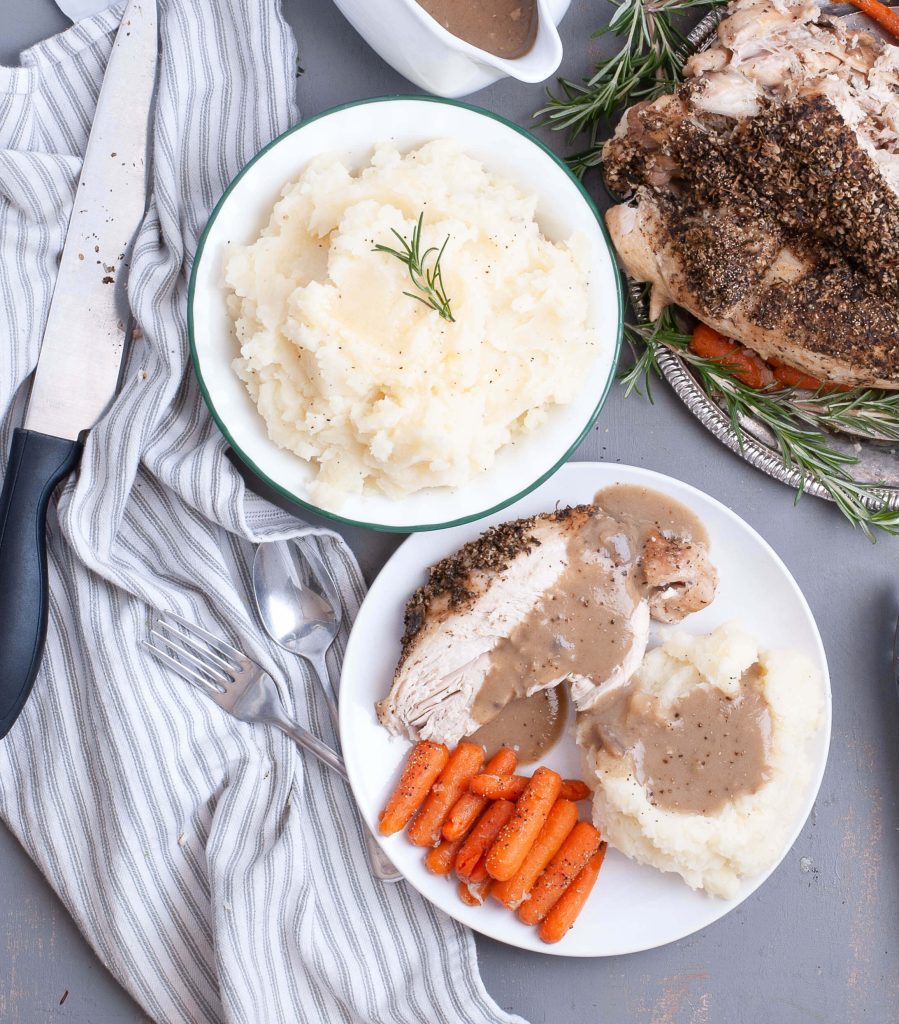 This post contains affiliate links.
While I'm not a huge potato fan, you sometimes need mashed potatoes in your life. It's just inseparable from certain main dishes. You just need that creamy side to sop up gravy, or your favorite pan sauce.
Dairy free mashed potatoes bring me back to my childhood to Sunday dinners. They're warm and comforting. Add in some extra flavor from chicken bouillon, garlic and parsley and they're fabulous!
If you'd rather them plain, without the addition of the garlic & parsley (you crazy person you!) you can just omit those two ingredients. Either way, you'll have luscious dairy free mashed potatoes.
With Thanksgiving around the corner, I thought I'd better share our favorite way to make dairy-free mashed potatoes. My sister, who has no allergies, says she prefers my mashed potatoes to hers. I'm sure you'll enjoy it too!
In fact, I have an entire DAIRY FREE THANKSGIVING MENU complete with sides, turkey and pies! If you have leftover mashed potatoes, you can make leftover mashed potato cakes by A Dash of Megnut
And, if you'd like an instant pot version, you can get it in my allergy-friendly cookbook.
Show me other dairy-free potato dishes!
Let's get some other crave-worthy carb recipes that are also milk-free. (Hint, everything on my site is milk-free, as my son has a milk allergy.) Here are some of our other favorite potato recipes: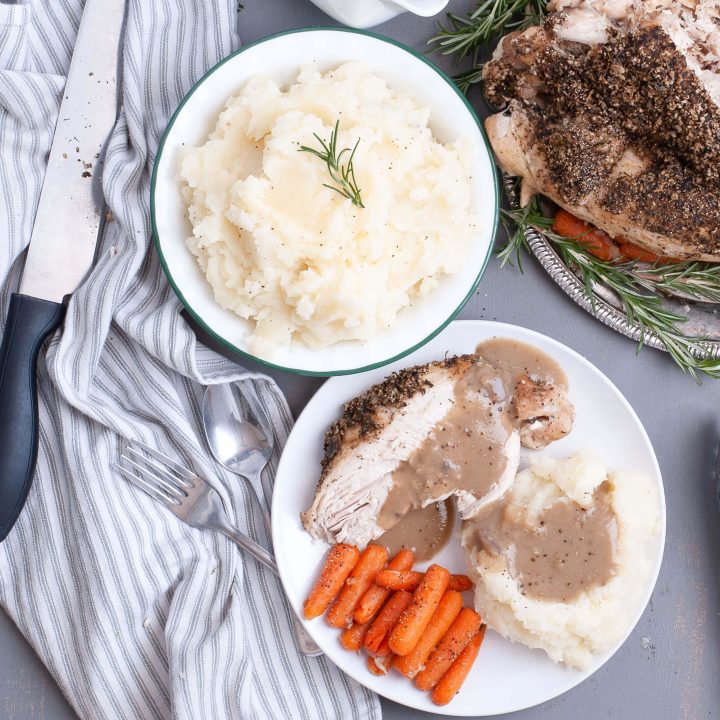 Dairy-Free Garlic Parsley Mashed Potatoes (Top 8 Free, Vegan too!)
Potatoes just the way you remember them, but without the traditional ingredients.
Ingredients
5 large russet potatoes (I typically find you want one potato per person)
Water
1 Tablespoon salt
2 Tablespoons olive oil
1 teaspoon dried parsley
1 teaspoon garlic salt
Instructions
Wash and peel potatoes (I like to keep a little skin on for ease and for a more rustic looking dish). Cube and place in stock pot. Cover with water and add the salt. Bring to boil, and boil until fork tender. Typically 15ish minutes.
Drain the potatoes, reserving 1 Tablespoon of the awesome starchy-leftover-water. Pour into a bowel. Add in the rest of the ingredients, and blend until smooth. A stand mixer or hand mixer will both work well. Add in the rice milk 1 Tablespoon at a time, until you reach the desired consistency.
Serve warm.
Notes
*Any non-dairy milk should work, I just prefer rice because it's nut free, and because I feel like it has the least after-taste to it, leaving only the taste of the delicious potatoes.
**If you need the dish to be vegan, be sure to swap out the chicken bullion for a vegetable one.
If you're making this as part of a Thanksgiving meal, check out my complete Thanksgiving menu for food allergies.
For gluten and dairy free dinner ideas to go with these potatoes check out my cookbook: An Allergy Mom's Lifesaving Instant Pot Cookbook.
*Our allergies, while severe and that get re-tested yearly, are such that we can go strictly by what's on the label. I do not call companies to see what things are derived from, or call manufacturers to see about potential cross contact. If your allergies require you to do so, please do your own homework. I cannot assure you of any ingredient's safety, only you can do that. I simply share what works for our family
**If you are going to feed this to someone with food allergies, and you yourself do not have food allergies, I HIGHLY recommend having them check every single brand and ingredient you are using, to ensure they're OK with each part of the recipe. And, to make sure you've talked to them about how to avoid cross contamination in your kitchen.
Nutrition Information:
Yield:

5
Serving Size:

1
Amount Per Serving:
Calories:

332
Total Fat:

6g
Saturated Fat:

1g
Trans Fat:

0g
Unsaturated Fat:

5g
Cholesterol:

1mg
Sodium:

1717mg
Carbohydrates:

64g
Fiber:

7g
Sugar:

4g
Protein:

8g