Sneak blended up apricots in the classic jello for an extra serving of fruit in this kid-friendly and super easy after-school-snack or light dessert. The fresh fruit flavor is topped with a delicious, dairy-free whipped cream from coconut milk.
I'm throwin' it back to a childhood classic today. I loved jello as a kid, and well…I still do. I love it perhaps because it straddles the fine line between snack and dessert. Heck, my family has even been known to have it as a side dish at dinner. And, no I didn't make this decision in my college days, this comes from my mom!
Now that I have a child in school, I'm having to learn to whip up after-school snacks. I love this recipe because it uses pureed apricots instead of plain water to give it an extra burst of flavor–and an extra serving of fruit. Don't get me wrong–I like fruit in jello in whole pieces (I'm talking to you mandarin oranges!), but sometimes it's nice to have something cold and creamy without any extra texture.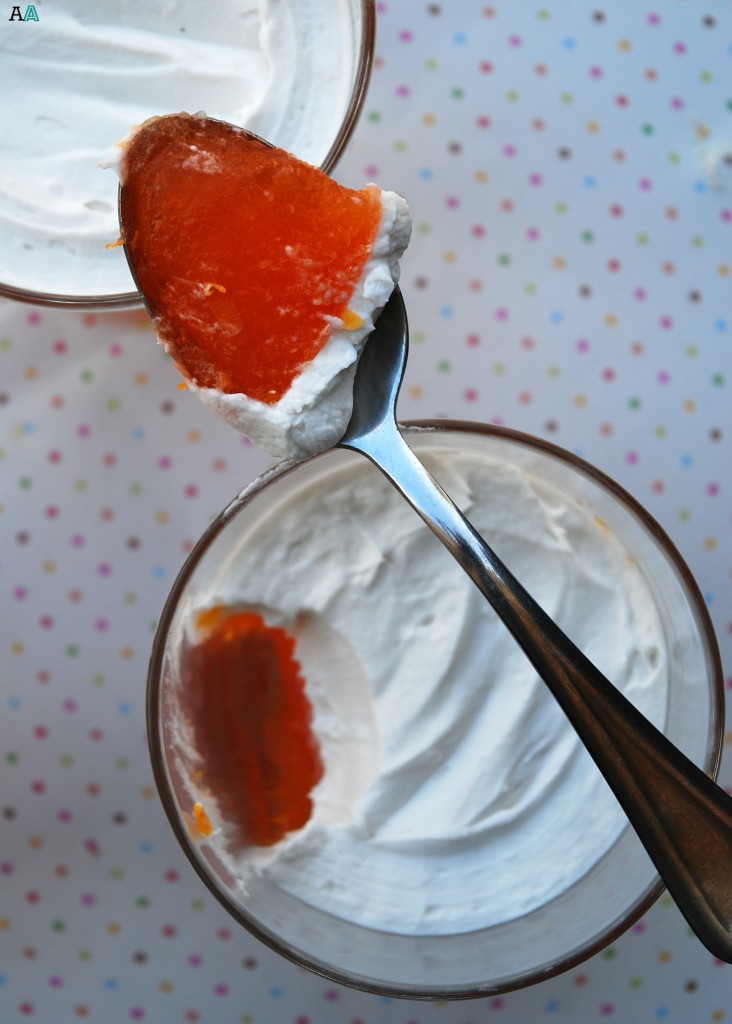 I love that this uses apricot jello and canned apricots because I feel it's not a flavor or fruit we get often. Bananas, yes. Apples, yes. But, apricots are something we have a harder time finding let alone eating, so it gives a refreshingly different flavor of sweetness.
The last reason I smile before I plunge another big spoonful in my mouth is because the first time I tried this was from one of my best friends, Stacey. We were trying to be adults and have a dinner party–me with my husband and her with her boyfriend. I asked her to bring a side dish, and this is what she brought. She is famous for this and I'm so glad she was OK with me featuring it here. It's a loved family recipe that she got from her Grandma, Deanne Ottesen. There's nothing like recipes that have been shared and enjoyed by family and friends!
I hope you, your kids, or both enjoy this for an after-school snack; or, to satisfy a late-night craving all by yourself in the light of the refrigerator–I won't judge.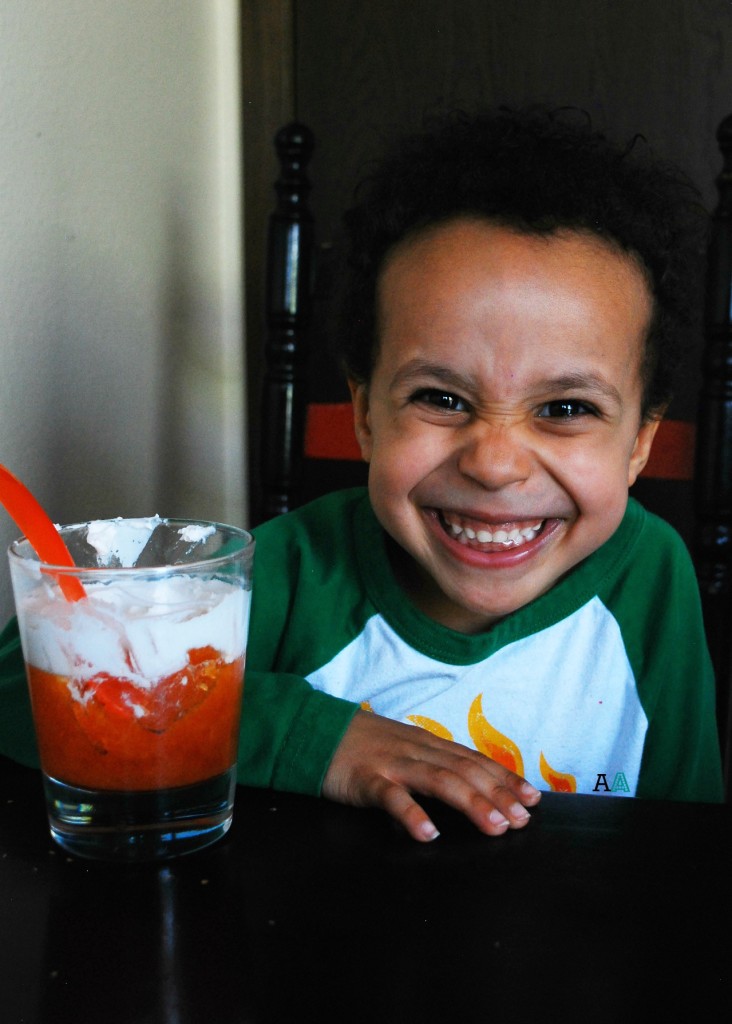 Looking for more allergy friendly JELL-O recipes?
I love JELL-O because it adds such a good burst of flavor. You'll love the way the JELL-O packets work in these recipes:
And, if you REALLY love apricot recipes–I'd recommend checking out my Apricot Glazed Pork Chops.
Do you have a video showing how to make the vegan coconut whipped cream?
Yes, I do! I like to use TikTok because their videos are short and succinct. This general overview should give you a good idea of how to make the coconut whipped cream. I also have the video saved to my Instagram Highlight Bubbles. Enjoy!
Double Apricot Jello with Whipped Coconut Cream
Total Time:
3 hours
20 minutes
A sweet jello, with a secret serving of pureed fruit, topped with freshly whipped coconut cream for a dairy-free and top eight free snack or light dessert.
Ingredients
JELLO:
1 cup of boiling water
WHIPPED COCONUT CREAM:
1 tsp vanilla
2 Tablespoons powdered sugar (or more, to desired sweetness)
Instructions
Puree, either in a blender or food processor, the can of apricots (including the liquid in the can).
Boil 1 cup of water, and add the jello powder. Mix well.
Next, add one cup of the apricot puree and stir.
Pour into individual cups and allow to cool 2-3 hours, or until set.
While they cool, take the cold coconut cream and dump out the water, only keeping the thick cream that has settled at the top.
Beat the cream with the vanilla and powdered sugar (more or less to taste) until it has a thick consistency and holds stiff peaks. Once jello is set up, either pipe or spread the cream on top of the jello and enjoy!
Notes
*You'll notice this is exactly how you make regular jello, only instead of adding cold water, you're adding the apricot puree. Super simple!
Also, I always keep a can of coconut cream in my fridge, because I never know when I'll want a dollop of fresh coconut cream, that way I'm not having to wait 24 hours. I'd highly recommend this! You can try to do it sooner than 24 hours, but I wouldn't recommend it as the fat/cream needs time to separate from the water so it can easily be divided. If it has too much water it won't hold its shape (but will still taste yummy if you're desperate).
Lastly, you find the canned coconut milk (not the cartons) in the Asian isle, and I often have a hard time finding apricot jello, so peach can do in a pinch.
Nutrition Information:
Yield:

4
Serving Size:

1
Amount Per Serving:
Calories:

175
Total Fat:

7g
Saturated Fat:

6g
Trans Fat:

0g
Unsaturated Fat:

1g
Cholesterol:

5mg
Sodium:

120mg
Carbohydrates:

25g
Fiber:

2g
Sugar:

18g
Protein:

3g
Adapted from: Deanne Ottesen