If you have Celiac disease, food allergies, or any other kind of intolerance it can make holidays, especially one like Thanksgiving which is so food centered, difficult. There is no need to fear though! I have compiled the turkey, mashed potatoes and all the trimmings (yes, even several pie options!) for you. Just because you have multiple food allergies doesn't mean you can't find easy, delicious Thanksgiving recipes that are free of: gluten, dairy, egg, soy, peanuts and tree nuts. Some of these are vegan too! Look below to see The Complete Thanksgiving Menu for Food Allergies and see what I'll be serving my own family and how we won't be missing out or compromising on taste!
Why this post? Well–I know you'll see tons of round ups floating around right about now. I love those! However, the they have limitations. While it's a great way to see a bunch of recipes in one place–the blogger has not taken the time to try and test all of the recipes they're showing off because they include recipes from all sorts of bloggers. I decided to only feature my own, because I can say they're tried, tested and true. These are all recipes I frequently serve to my family and these recipes make appearances at our own Thanksgiving and Christmas meals. I hope you'll enjoy!
If your guests need something to munch on while you finish up your thanksgiving for food allergies, you can never go wrong with a veggie platter. But, I used to avoid veggie platters because I didn't want it without ranch. Which used to feel impossible, since we have a dairy allergy. Little did I know I could make dairy-free ranch dip with only THREE store bought ingredients. It's life changing.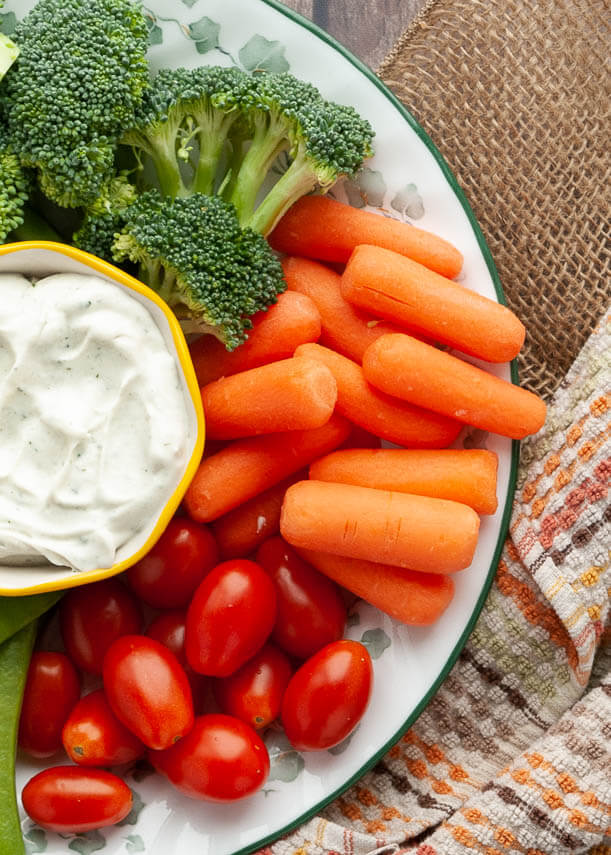 The real star of the show. Be sure to purchase one that can fit in your slow cooker, and then thaw it 1-2 days before Thanksgiving in your fridge. You'll want to pop this in your slow cooker at least 7 hours before the meal. Click here for my Crock Pot Herb Turkey Breast with Blender Onion Mushroom Gravy (Allergy-friendly!).
OK, now you have your gluten & dairy-free turkey, grain-free gravy and carrots all with my turkey recipe above. Now, you need some thick & creamy mashed potatoes to with it. You can do this towards the end when the turkey is almost done cooking, just give yourself enough time for the potatoes to boil, which can take a little while. You need these dairy-free mashed potatoes (these mashed potatoes are also vegan!) to be flavorful and smooth. My Dairy-free Garlic Parsley Mashed Potatoes (Top 8 free, vegan too!) will do just the trick this Thanksgiving.
Next up, I love, Love, LOVE me some asparagus. It's tender, long stems scream elegance over regular vegetables. Thankfully for you–I have two equally good recipes. It really just depends on how hands on you want to be. If you are a bacon lover like me, and don't mind cooking up some bacon, I'd go with my Asparagus with Bacon and Red Onion Vinaigrette (GF, DF, Egg, Soy, Peanut/Tree nut free, top 8 Free). Or, if you'd rather something simpler, you can go with my Roasted Garlic Balsamic Asparagus (GF, DF, Egg, Soy, Peanut, Tree nut Free, Top 8 Free, Vegan). Either way it's a win!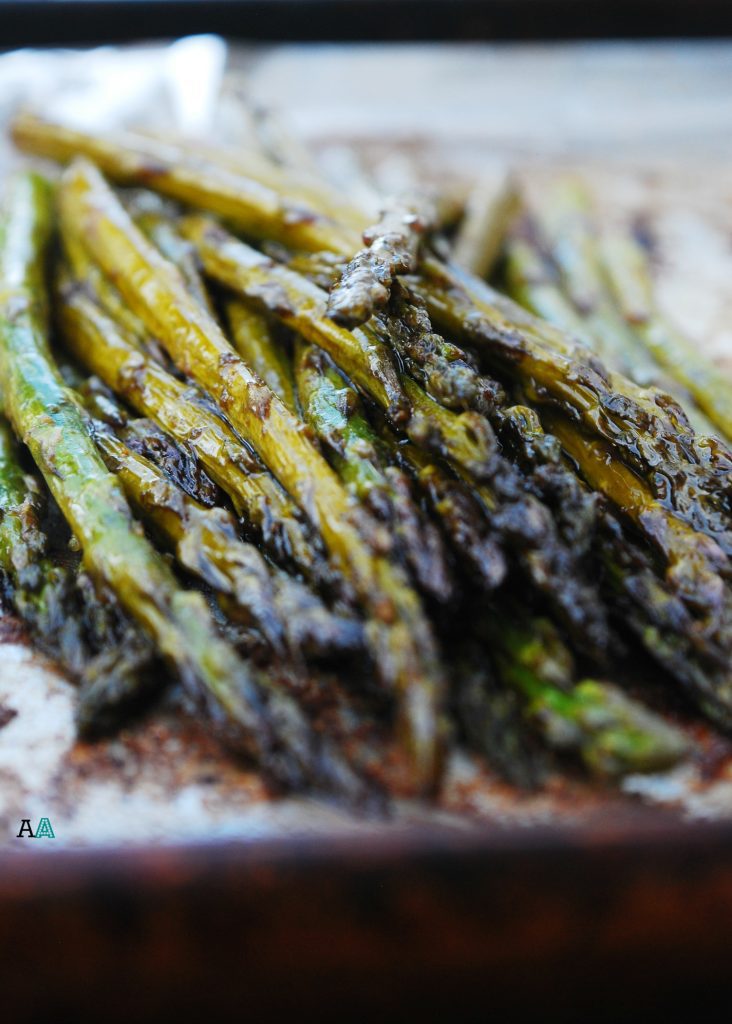 Now here's where we come to the polarizing part. I think you need some type of greens to round out all the pie you're about to inhale. I know some people don't care for Brussels Sprouts, but I'm telling you–adding sweet bursts of craisins and caramelizing them with brown sugar will make you a believer! Just take a leap of faith and try my Brown Sugar Brussels Sprouts with Craisins (GF, DF, Egg, Soy, Peanut/Tree nut Free, Top 8 Free, Vegan). These are done on your stove top, so you can free up your oven too!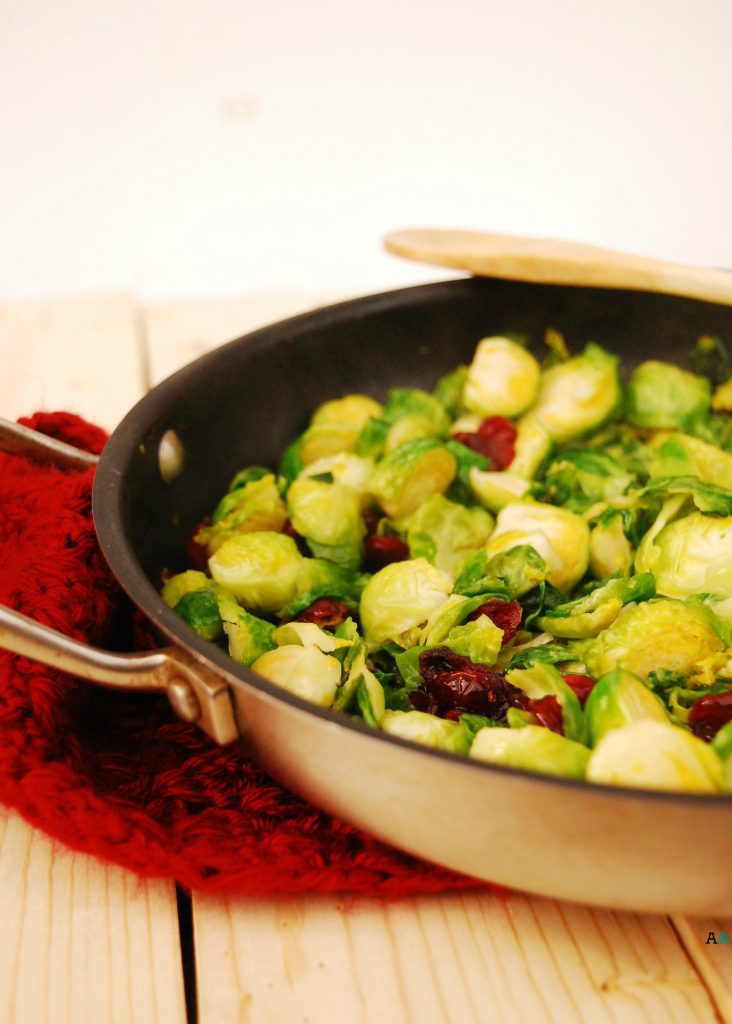 With all of the green veggies you've got going on for your allergy-friendly Thanksgiving, don't forget about the orange ones too! Yes, you've got carrots–but I was thinking more along the lines of something sweeter, like sweet potatoes. My husband might die if I didn't serve these. I think he likes them because honestly, they're almost like dessert with the brown sugar and marshmallows on top. I love it because it's as simple as putting everything in the slow cooker and then mashing them at the end and topping with marshmallows. I have two slow cookers, and I use the large one for the turkey and the small one for this. It's almost like forgetting about this side until it's serving time–which is the best kind of side to have! Click here to get my Slow Cooker Sweet Potato Casserole (GF, DF, Top 8 Free, Vegan option).
Don't forget about the green beans! If you don't like the typical canned kind that are soft and almost mushy–try oven roasting them. It keeps a great texture when you cook them this way. Plus–making a bacon, garlic and brown sugar glaze elevates them even further! No need for a creamy, typical green bean casserole when you can have this adult version instead. Check out my: Oven Roasted Garlic, Bacon & Brown Sugar Green Beans. There's even a video!
And, if you're looking for a classic green bean casserole, the I've got you covered. It's creamy and so flavorful. And, it has option for a gluten free topping or none at all. It's gluten free and vegan and you will LOVE it! Make sure your table includes my: Gluten Free Vegan Green Bean Casserole.
OK, now what about a salad you say? Well, if I'm going to have a salad I want lots of texture. I'm talking crisp apples, crunchy bacon, salty pumpkin seeds and a sweet pink dressing. We have this salad for every Thanksgiving and Christmas and I look forward to it EVERY.SINGLE.TIME. I know most salads hide behind some type of cheese topping to be good, but you won't miss the cheese in this dairy-free green salad! This can be done the day before, just wait until right before to add the apples (so they don't turn brown) and don't add the dressing until right before serving so the spinach doesn't wilt. Click here to get my: Apple Bacon Spinach Salad with Sweed Red Onion Vinaigrette (GF, DF, Egg, Soy, Peanut & Tree nut Free, Top-8-Free)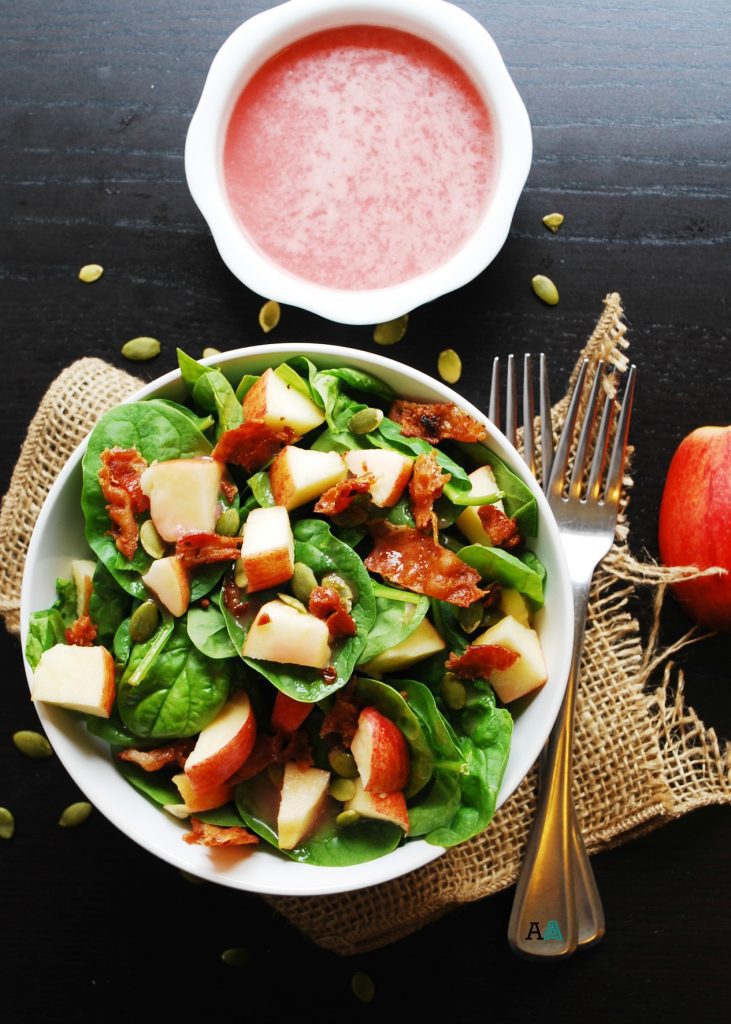 Lastly, you need some type of bread to fill in any leftover cracks that may be hiding in that super satisfied tummy of yours. I have yet to develop a gluten-free, vegan roll that I like to make. But, I don't hate the ones by BFREE (their sweet potato ones are probably their best, but I can't find a link to them on Amazon.). I do have a friend who has a Gluten Free Bread Rolls by There is Life After Wheat.
So, we opt for a more southern style approach and do my favorite cornbread. It's my second sons favorite thing, and you really won't miss rolls too much when it's slathered in vegan butter and honey, cranberry sauce or your favorite jam. This cornbread recipe has no specialty flours–just corn and cornmeal. So, don't worry about buying this blend or that type of rice flour. It's so simple and even made in your blender. PLUS–there's a video to watch on the page. Go ahead and check out THE Best Top 8 Free Cornbread (GF, Vegan). If you're looking for a sweeter cornbread, try my pumpkin cornbread. It doesn't taste like pumpkin, but it makes it crazy moist and gives it a beautiful shade. (Second picture.) Or, if you can do eggs, check out the Gluten-Free Crescent Rolls from my friend Chandice.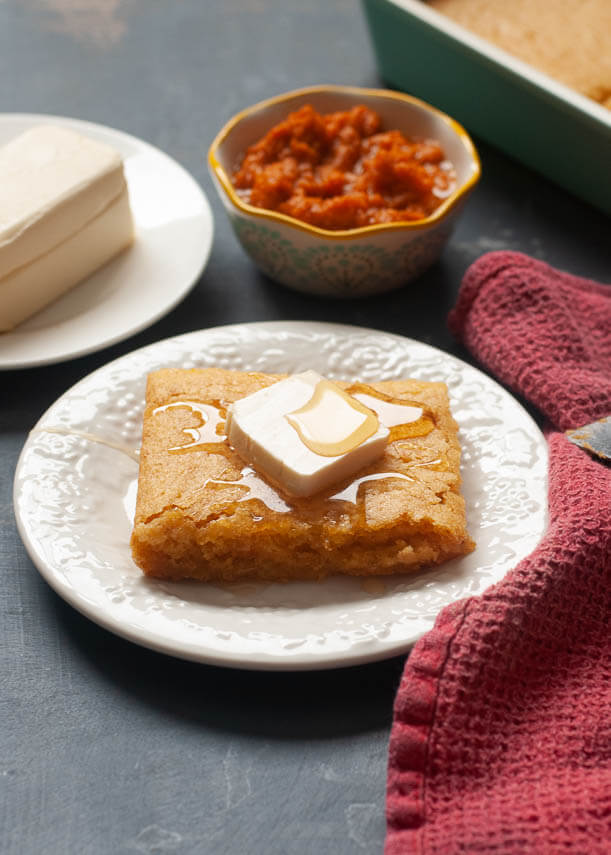 If you're looking for cornbread that is thick and sweet–more like a Cornbread Cake then check out this gluten and dairy free version!
What about a drink to wash down all of that allergy-friendly goodness? I'd recommend making this Slow Cooker Apple Pear Cider (Gluten, dairy, egg, soy, peanut & tree nut free; top 8 free; vegan) the day before and then keeping it in pitchers to serve either warm, or cold. This is a fruity and very seasonal drink that both kids and adults can enjoy that's non-alcoholic. I love it because it's got lots of spice and can warm guests up right when they arrive.
What about Thanksgiving desserts you say? Don't worry–just because you have multiple food allergies doesn't mean you can't dive into delicious pies! I'll admit–I'm not a traditional pie person, so you won't find regular pumpkin, cherry or apple here. But, if you're like me and like cream pies, no bake pies and all-around-awesomeness, then continue on my friends!
Do you miss pudding pies? Do you wish you could make a dairy-free chocolate pudding pie? Well, guess what?! You can! This pie satisfies all of my chocolate dreams without any of the allergens. Go pin this recipe right now: Gluten & Dairy-free Triple Chocolate Pie (Gluten, dairy, egg, peanut & tree nut free; vegan)
Crust made from gingersnap cookies; a soft, custardy pumpkin filling and a crisp crumble topping make three layers of fall heaven. Perfect for any autumn day, or the star of Thanksgiving desserts–this treat will not disappoint. This triple threat is allergy friendly and made without: wheat, gluten, dairy, egg, peanut or tree nuts. It's also vegan! (Soy free option included.) You'll love my Gluten Free Vegan Pumpkin Crumble Pie.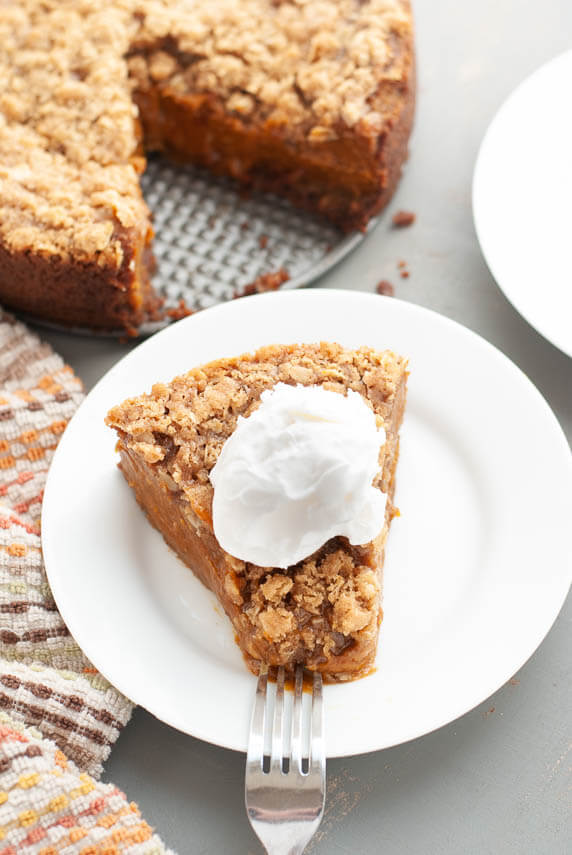 Is it hot where you live? Do you need a frozen pie to cool down? Or, are you just sick of baking pies? Well, then this make-ahead Frozen Raspberry Pie (Gluten, dairy, egg, peanut & tree nut free; vegan) is for you. It's basically like raspberry ice cream with a chocolate cookie crust, which is amazing if you ask me.
If you need a last minute pie, with few ingredients for Thanksgiving THIS IS IT. Basically gluten-free flour, sugar, apples and vegan butter–this doesn't fiddle with a filling or having to crimp any kinds of edges like a regular apple pie. Flat and oh-so-holdable you'll be cutting off big wedges for yourself. Topped with a glaze that REALLY makes the apples sing, this no-cinnamon, simply ALL APPLE tart is for apple lovers. Tweaked from Ina Garten's famous apple tart, to make it gluten-free, vegan and top-8-free so all can enjoy no matter their food allergies or dietary restrictions. Get the gluten-free vegan apple tart here.
Confession: I'm not usually a crust kind of gal. Which, is why you won't find traditional pies here. So, if I'm going to have a crust, I want a thick, folded over crust like you'll find in a galette. This hearty crust has cornmeal in it, to make it almost scone-like. It's sweet and amazing and the chocolate strawberry filling ain't bad either. It's rustic and your guests will be oo-ing and ah-ing. Find the recipe here: Strawberry Chocolate Galette (Gluten, dairy, egg, soy, peanut & tree nut free; top-8-free; vegan).
Does a cinnamon sugar cookie crust perk your ears up? What about a cloud-like, fluffy strawberry filling? If this angel-like dessert sounds like your kind of pie, then we should be friends. Check out my: Allergy-friendly No Bake Strawberry Jello Pie (Gluten, dairy, egg, soy, peanut & tree nut free; top-8-free)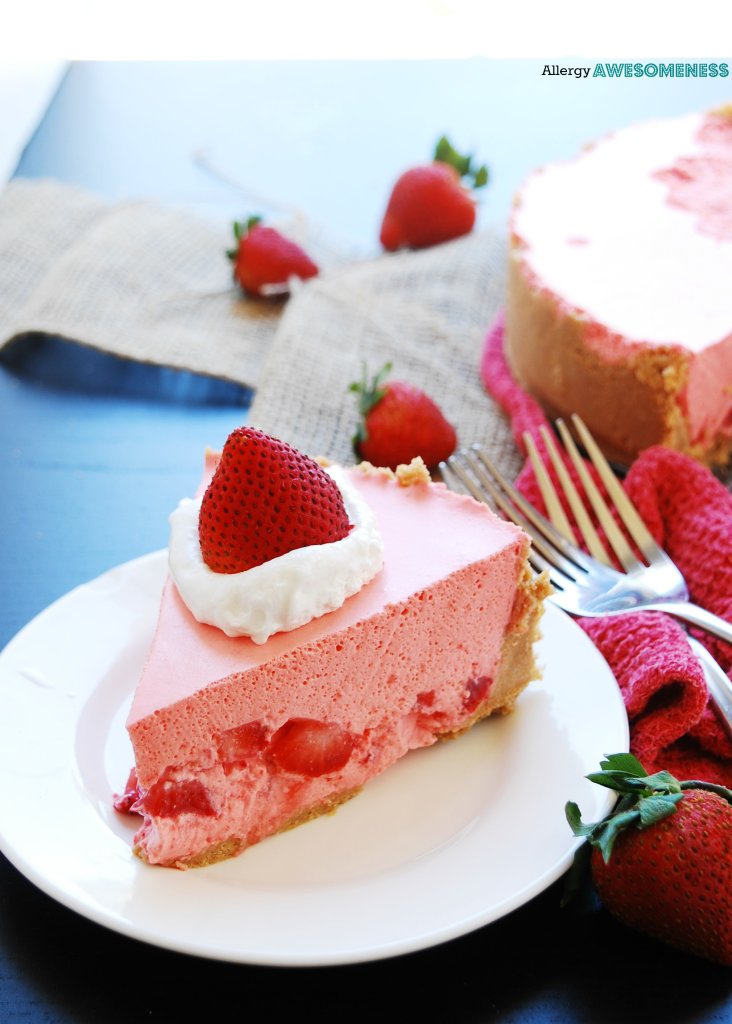 Peaches are one of my all-time favorite fruits. But, I find that peach pies can be lackluster if the peaches aren't perfectly sweet. Thanks to a hack using peach jello, you'll never have to worry about a tart or unripe peach again in your life. The perfectly flavored gel that the peaches sit in elevates this pie to epic status. The shortbread crust and sweet fruit make for pie heaven. Find my perfect peach pie recipe here: Allergy-friendly Peach Pie (Gluten, dairy, egg, soy, peanut & tree nut free; top-8-free)
As I've already mentioned, I'm a bit of a non-traditionalist when it comes to pies. So, if you really want to be a rebel, try making pie bars! Scrap the circular and go for the square! For once, a lemon pie filling that doesn't use eggs! And, the dairy-free cream cheese topping rounds out the tartness of the lemons for the ultimate allergy-friendly dessert. Go get the recipe here: Gluten-free Vegan Lemon Pie Bars (Gluten, dairy, egg, peanut & tree nut free)
And, any Thanksgiving round up, whether allergy-friendly or not, would not be complete without pumpkin pie. But, you know me–if you haven't noticed any themes in my Thanksgiving menu, it's that I love bacon, crock pots and no-bake pies. So, of course, my pumpkin pie is a mousse. Find my creamy Allergy-friendly Pumpkin Mousse Pie (Gluten, dairy, egg, peanut & tree nut free; vegan) here.
Ever since my son was diagnosed with nut allergies I have longed for pecan pie. Thankfully, I've found out that you can make pecan pie without any nuts. Simply use oatmeal, and you can still have that sticky, caramel filling, and flaky pie crust, but with oats instead of pecans. And to really take it over the top, spread a layer of chocolate on the crust before adding the filling. This pie is also known as Poor Man's Pecan Pie, Faux Pecan Pie, Mock Pecan Pie, Black Bottom Oatmeal Pie or No Nut Pecan Pie.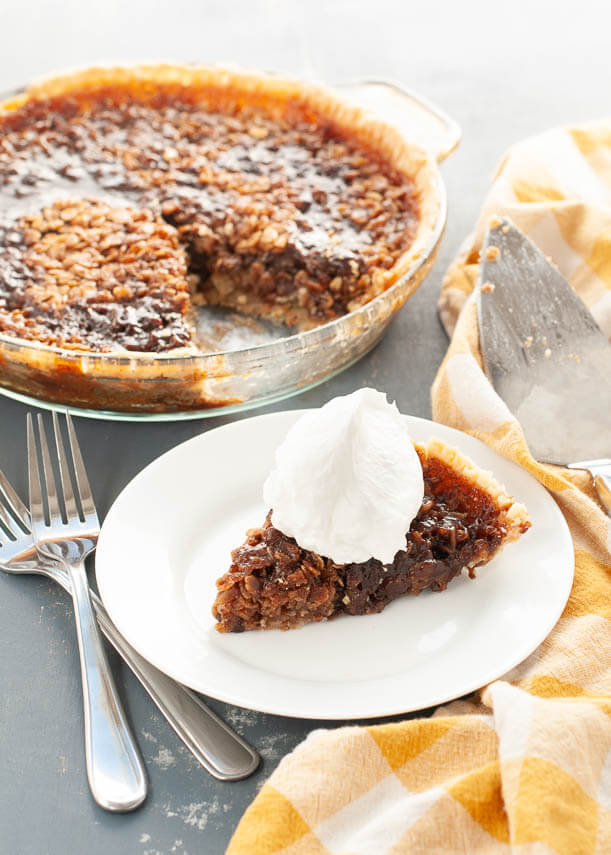 If you're more of a cheesecake person and not a pie person, this no bake vegan chocolate cheesecake is a rich, decadent dessert you'll fall in love with. Thick and creamy, all without any dairy or eggs! It's a modern miracle. Extra chocolatey thanks to using both cocoa powder and melted dairy-free chocolate chips this will fulfil all your chocolate cravings. It's also easily made gluten-free as well for those who need that too. I entered it into a regular pie contest and it won second–no one knew it was vegan!
And, if you're not into pie and would rather cake (it's a hard toss up!) then I'd really recommend my gluten free vegan pumpkin cake with cream cheese frosting. It's perfectly spiced and the vegan cream cheese is so sweet and so good!
Cool, creamy and minty this peppermint pie recipe is going to become your favorite pie for all your holiday get togethers. The refreshing mint paired with a chocolate cookie crust just couldn't get any more delicious! I've listed the recipe for both regular ingredients and for those with gluten and dairy allergies like us–so you can make it for whatever guests you may be having.
I have never developed a recipe for cranberry sauce, since it's not something we often eat, but a fellow blogger: That's Low Carb has a Keto recipe you can check out for Low Carb Cranberry Sauce.
By all means, no pressure to make all of these. I know I'll have to pick and choose since we're only have two guests and so I'll be pairing down. I hope this just helps you realize that you can have a plethora of divine dishes even if you have food restrictions or food allergies. I hope that whether you host your Thanksgiving, or attend somewhere else that you can feel safe, loved and most of all grateful for the blessings we're all so freely given.
From my family–which I am most grateful for, and love cooking for and taking the time to figure out all of these recipes for–to your family, Happy Thanksgiving! Love–the Lavins
DON'T FORGET TO PIN IT, SO YOU DON'T LOSE IT! ALSO, BE SURE TO CHECK OUT MY OTHER ALLERGY-FRIENDLY PINTEREST BOARDS.