If you like raspberry sorbet and a chocolate cookie crust, you'll love this gluten free vegan frozen raspberry pie. Made with coconut cream, dairy-free vanilla yogurt and loads of raspberries this is the perfect no-bake, cool-off, summer kind of treat that you make in your blender. This treat is also: gluten, dairy, egg, peanut and tree nut free; and vegan.
Here's my frozen dessert like I promised in my last Facebook Live video. If you haven't watched it, I raided the frozen aisle at my grocery store and found quite a few dairy-free options to help keep you cool this summer. Be sure to watch it.
Let's celebrate we've almost made it to July! And, if you're like Utah the temps are still climbing! I've finally given in and run my AC pretty much 24/7–which is why I needed a no-bake dessert right about now.
Every Wednesday my friend Julie and I get together for a play date. Our kiddos run around one of our yards and we sit and girl chat. Isn't girl chat the best? I firmly believe women need other women. Unfortunately, we've had to miss it the last few weeks, so I brought this pie to celebrate we were back together, and well…after giving away a few slices to her neighbors we polished it off (with the help of our kiddos, mind you). It was the best addition to an already fun afternoon. So, whether you've got a girls' date too, or you even want to take this to a 4th of July get-together this weekend, you'll be sure to impress! Julie said it definitely deserved a high-five, so there you go!
And, I adore raspberries, don't you? There's just something special about that dainty little red berry. Unfortunately my husband is not a berry fan because of the seeds. I get that–I was like that growing up. So, I was pleasantly surprised that my Blentec blender beat the daylights outta the berries that it pretty much pulverized the seeds so I didn't strain it. There was only a little grain left here or there. But, if your blender doesn't do this and you hate seeds–just strain it and it will be seed-free for you or your picky husband.
But what about cross contamination? Be warned that the Glutino cookies do have a may contain statement that reads: "May contain milk, eggs, peanut and tree nuts". I personally called their number yesterday, and according to the person I talked to they put that statement if the facility uses those ingredients at all. He did assure me that they have rigorous protocols where they will completely stop production and clean the machines for hours and test it before starting a new run, so I felt OK eating the cookies. Please, feel free to call them yourself, make sure you get the same response and eat at your own discretion and level of your own food allergies.
Now, go grab your blender, and get to work for this cool, creamy raspberry pie!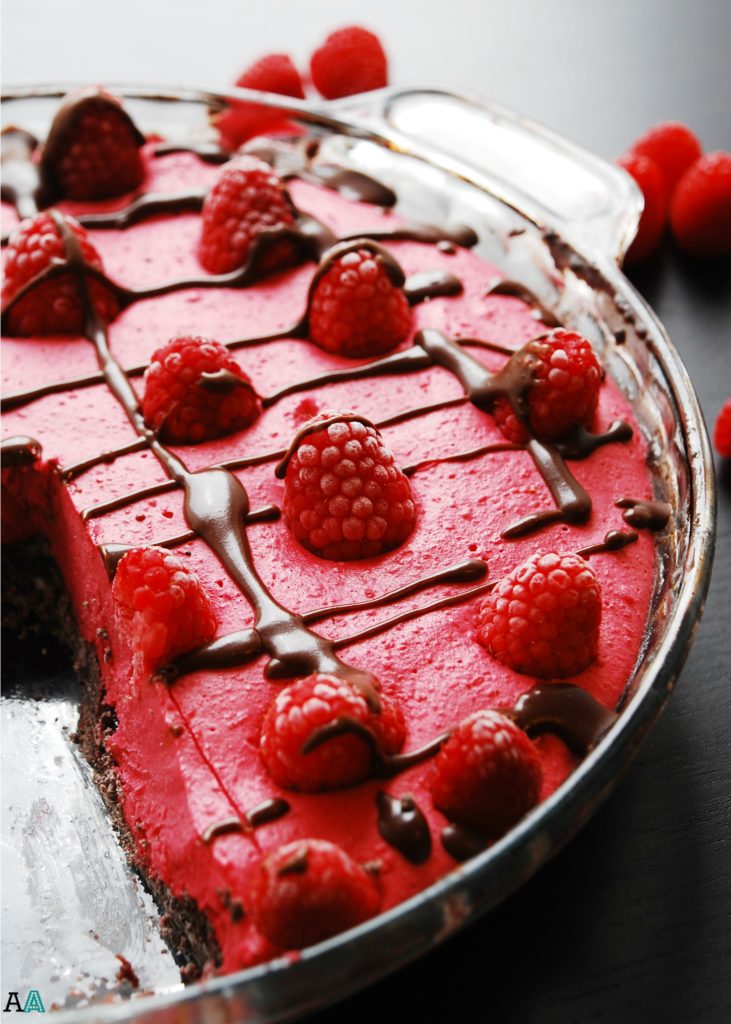 DO I HAVE OTHER ALLERGY FRIENDLY PIES?
Yes I do! Whether you want some fruit pies for the summer, or you're here during the Thanksgiving holiday, I have some great options for you. I think you'll love these as well:
If you can do nuts, there's a frozen Vegan Snicker's Pie by fellow blogger, Salted Plains you can check out too.
And, if you're looking for another raspberry recipe, I ADORE this Raspberry Fluff.
Do you have a video showing how to make the vegan gluten free frozen raspberry pie?
Yes, I do! I like to use TikTok because their videos are short and succinct. This general overview should give you a good idea of how to make this frozen raspberry pie. I also have the video saved to my Instagram Highlight Bubbles. Enjoy!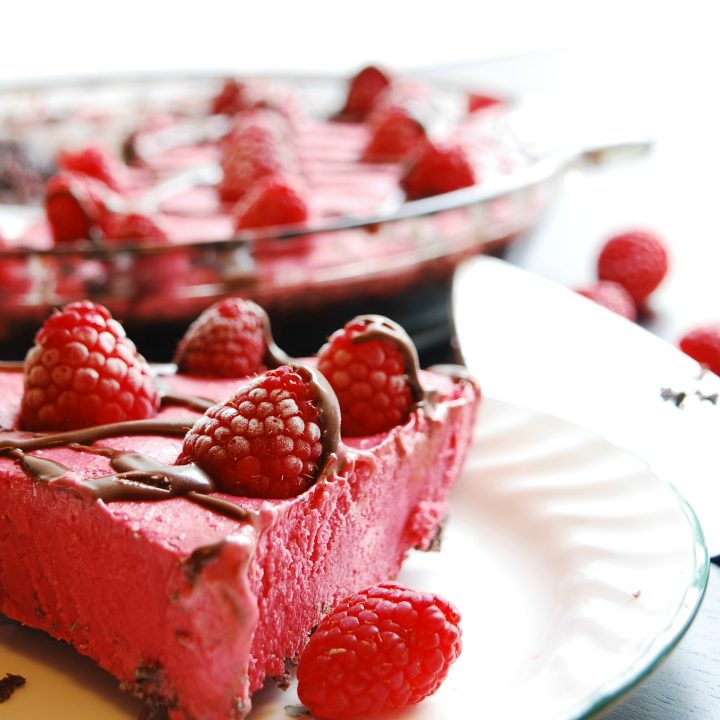 Gluten Free Vegan Frozen Raspberry Pie
Yield:
1 pie or about 8 slices
Total Time:
5 hours
15 minutes
If you like raspberry sorbet and a chocolate cookie crust, you'll love this frozen raspberry pie. Made with coconut cream, dairy-free vanilla yogurt and loads of raspberries this is the perfect no-bake, cool-off, summer kind of treat that you make in your blender. This treat is also: gluten, dairy, egg, peanut and tree nut free; and vegan.
Ingredients
FILLING:
One 12-oz frozen package of raspberries
1 Tablespoon lemon juice
3/4 cup sugar
1 cup CHILLED, full fat, canned coconut milk (found in the Asian section)*see note
One package of 5.3 oz non-dairy vanilla yogurt**see note
CRUST:
One 10.5 package Glutino Chocolate Vanilla Crème Cookies (21 cookies) see the post above for cross-contamination statement
4 Tablespoons softened coconut oil, or softened vegan butter***
OPTIONAL TOPPING:
Fresh raspberries
3 Tablespoons of dairy-free chocolate chips
3 Tablespoons coconut oil
Instructions
*THE NIGHT BEFORE, PUT THE CANNED COCONUT MILK IN THE FRIDGE*
When ready to assemble, put the cookies and coconut oil/vegan butter in your blender. Blend until your desired consistency. Some people like it to be more like a sand mixture that they can then press into the pie pan. I went ahead and let mine go until it was liquid, so I could pour it into the pie pan. Either will set up fine. Once it's poured into the pie pan, put the pie pan in the freezer to set up while you make the filling. (You can also do this in a food processor).
Wash your blender out and then put the frozen raspberries, lemon juice, yogurt, chilled coconut milk and sugar in your blender and puree until smooth. Depending on if you want seeds, strain the mixture. I found my Blendtec blender beat it so thoroughly that the seeds were pretty much pulverized.
Get your pie pan out of the freezer and pour the filling over the crust, smoothing the top.
Place fresh raspberries on top and place back in the freezer for 5-7 hours, or until it has totally frozen and is set up. (This is optional, sometimes I don't have fresh raspberries to garnish it with and it's still delicious, just not as pretty.)
Once you're ready to serve, take it out of the freezer to thaw for a few minutes. While it's thawing, put the dairy-free chocolate chips and the 3 Tablespoons of coconut oil in a microwave safe bowl. Cook for about 30 seconds, or until the chocolate chips have melted. Stir well and then drizzle over the top of your pie. (Also optional, I don't always do this.)
Enjoy!
Notes
*Nothing is worse than wanting to make something and not have a chilled can of full fat coconut milk in your fridge and having to wait. So, I ALWAYS keep at least one can in my fridge since I use it so often. I'd recommend getting in this habit if you plan to bake dairy-free or vegan often.
Open your chilled can of coconut milk and measure out 1 cup of the thick, white part that has settled near the top. Do not use the water that has gathered in the bottom (save it for a smoothie!). It's very important that you've let the can chill overnight, otherwise it will not be separated like this.
**I've used both Silk (soy based) and So Delicious (coconut based) yogurts and both work well.
***If you use coconut oil for the crust, please note that coconut oil is very temperamental when it comes to temperatures. It will become very hard when cold and melt when hot. So, when you freeze this, the crust will be very hard to cut into if you use coconut oil, so you'll need to let it thaw quite a bit in order to cut through the crust.
Nutrition Information:
Yield:

8
Serving Size:

1
Amount Per Serving:
Calories:

347
Total Fat:

23g
Saturated Fat:

18g
Trans Fat:

0g
Unsaturated Fat:

3g
Cholesterol:

7mg
Sodium:

37mg
Carbohydrates:

34g
Fiber:

3g
Sugar:

29g
Protein:

3g
Pie filling tweaked from: Butter With a Side of Bread and crust recipe taken from: Glutino.com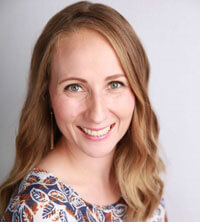 Hi! I'm Megan, a mom to four kids, two with multiple food allergies & one with EOE. I'm a published cookbook author that constantly tweaks recipes to make them allergy friendly–it's an addiction. I share every recipe & tip with you, to help you eat like you did before food allergies & dietary restrictions. You can still be awesome, even with food allergies!