Chewy, fudgy and the best of two classic desserts, these gluten-free vegan chocolate chip cookie brownies, also lovingly known as brookies, will make your dessert indecision a thing of the past. This allergy-friendly treat is free of: gluten, dairy, egg, soy, peanut & tree nuts. It's top-8-free too!

Growing up my mom baked a lot. I have many fond memories of sitting in the tall chairs that faced the stove and talking with her while watching her make something delicious. Because of that, I've always had a huge sweet spot for baked goods.
My husband on the other hand is a candy man. He can eat handfuls and handfuls of candy.
Unfortunately, now he's rubbed off on me and I can pretty much down either something homemade or something from the gas station. It's bad! There is basically only a handful of sugary things I don't enjoy anymore. Someone send help.
So, don't mind me if I want a super sweet, doubly delicious dessert combining not just brownies but chocolate chip cookies too. Because, YOLO!
The brownies are perfectly chewy and the buttery (don't worry though–dairy free!) chocolate chip cookies on top just make for a divine dessert.
I liked to marble these a bit, by pressing the dough flat in my hands and laying it on top of the brownie. You could also simply put a smooth layer on top, but I just think it's so pretty with little rivers of brownies poking out on top. Because I chose to marble it instead of layer it, I had probably 1/4 of a cup of chocolate chip cookie dough left. My kids gladly obliged eating it, and man was it good all on its own! One of the few perks of eating egg free is no guilt cookie dough devouring.
We've been having a lot of leftovers lately since we're moving next week and trying to clean out our fridge and pantry (EEK! I can't wait…and I also can, because moving is going to be the death of me!), so I am so grateful I made these so that I can have some bribery to talk my kids into eating that leftover chili…AGAIN. "But if you eat a good dinner, you can have a brookie!"
Honestly, my kids and I have inhaled these gluten free vegan brookies so fast, and because my husband has been working so much (and taking two classes) that I don't even think the poor guy has had any. Good thing I can just give him some of the leftover Starburst jelly beans and he'll be satisfied (mostly because he won't know what he's missing out on!).
So, if you need an impressive dessert, these gluten-free vegan brookies are the dessert to bring to a party…and I promise you no one will know they're so allergy-friendly. The texture is spot on with crisp edges and a fudgy center–just like the kind my mom used to make.
PS–did you notice the bit of grease on the paper bag? That's when you know it's good! BAM! A little grease never hurt nobody, and before you go feeling all guilty about it…it's coconut oil for Pete's sake.
And lest you think it might be difficult to make two batters, they both are super simple. I made the brownie one first, and then didn't even rinse out my kitchenaid and made the chocolate chip cookie dough in the same mixing bowl. And, since the brownies have to bake for 10 minutes first, you can make the cookie dough while the brownies are cooking, so you'd be standing around waiting for them to cook anyways! It's really no additional time! And, you'll already have out a majority of the ingredients anyways. So…have I convinced you yet to make these top-8-free brookies yet?? Huh? Huh?
Did I mention it's almost my birthday? I think this could almost count instead of my birthday cake, because this is going to be really hard to top!
I hope you and your food allergic family can also enjoy these gluten-free vegan brookies!
If you need some other variations: If you need a paleo version, check out these paleo brookies from Perchance to Cook. If you can have dairy, check out these Dulce De Leche Brownies by my friend Amanda at Eat At our Table. And if you can have eggs and almond flour, check out these Protein Brownies by my friend Texanerin.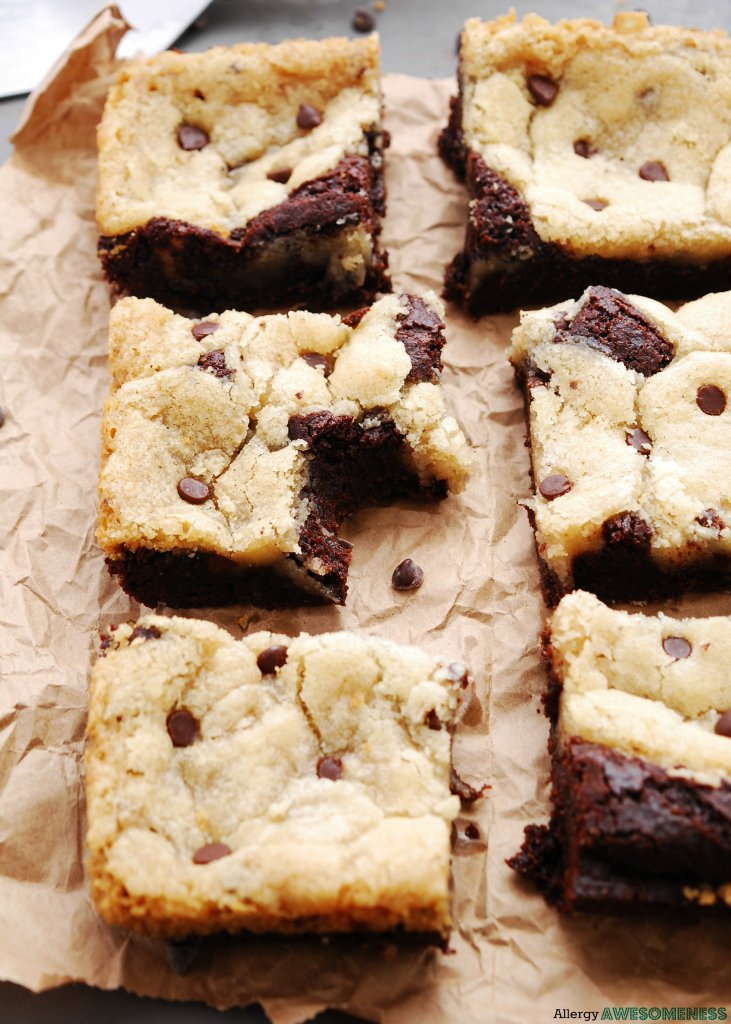 Gluten-free Vegan Chocolate Chip Cookie Brownies (AKA Brookies)
Chewy, fudgy and the best of two classic desserts, these gluten-free vegan chocolate chip cookie brownies, also lovingly known as brookies, will make your dessert indecision a thing of the past. This allergy-friendly treat is free of: gluten, dairy, egg, soy, peanut & tree nuts. It's top-8-free too!
Ingredients
BROWNIE LAYER:
3/4 cup sugar
3/4 teaspoon baking powder
1/4 teaspoon salt
1 teaspoon vanilla extract
CHOCOLATE CHIP COOKIE LAYER:
1 stick vegan butter (1/2 cup)
3/4 cup white sugar
2 Tablespoons brown sugar, packed
1/2 teaspoon vanilla
1/2 teaspoon baking soda
1/4 teaspoon salt
Instructions
Preheat oven to 350 degrees F.
In a mixing bowl combine the dry ingredients for the brownies: gluten-free flour, sugar, cocoa powder, baking powder, xanthan and salt.
Next, add the melted coconut oil, the flax eggs and the vanilla. Stir to combine. The dough will be thick, be sure you mix well.
Smooth batter evenly with greased hands into a greased 9x9 baking dish.
Bake for 10 minutes (or more, depending on how gooey you like them.)
While the brownies are baking, make your chocolate chip cookie dough layer.
In the same mixing bowl (the brownie batter should have come out cleanly, if not, they will mix together anyways,) mix the vegan butter and the sugars. Cream until they're fully mixed.
Next, add the rest of the wet ingredients: Ener-G egg and vanilla.
Add in the baking soda, xanthan and salt and mix well.
Next add in your gluten free flour and combine.
Finish by stirring in your chocolate chips.
After the brownies have cooked, pull them out and layer the cookie batter on top. I did this by grabbing about a Tablespoon's worth at a time, and pressing it in between my hands to flatten it and then layering it on top of the brownie mixture. Be careful as the brownies are hot! You can either marble it like I did, so you have some brownie showing through, or use all of the dough and make a thicker layer. My kids were happy to eat about the 1/4 cup of leftover cookie batter I had.
Bake for the final ten minutes.Or until the top is golden brown and the edges are set--may vary depending on ovens.
This is the hard part, but allow the brookies to cool completely before cutting and enjoying. Note that it will puff up a bit while cooking and will settle a bit while it cools.
Keep covered room temperature for 1-2 days--if they can last that long!
DON'T FORGET TO PIN THIS, SO YOU DON'T LOSE IT! ALSO, BE SURE TO CHECK OUT MY OTHER ALLERGY-FRIENDLY PINTEREST BOARDS!
---
If you're looking for more allergy-friendly brownies and cookies…look no further:
Triple Layer SunButter Brownies (Top 8 Free!)
Brownie Sundae Cups (Top 8 Free!)
Black and White Cookies (Top 8 Free!)
Allergy-friendly Homemade Oreos (Top 8 Free!)