Fudgy, marshmallow-y, and chocolaty–could there be a better dessert? These Allergy-friendly Mississippi Mud Brownies are three layers of pure bliss. Free of: wheat, gluten, dairy, egg, soy, peanuts and tree nuts with a vegan option!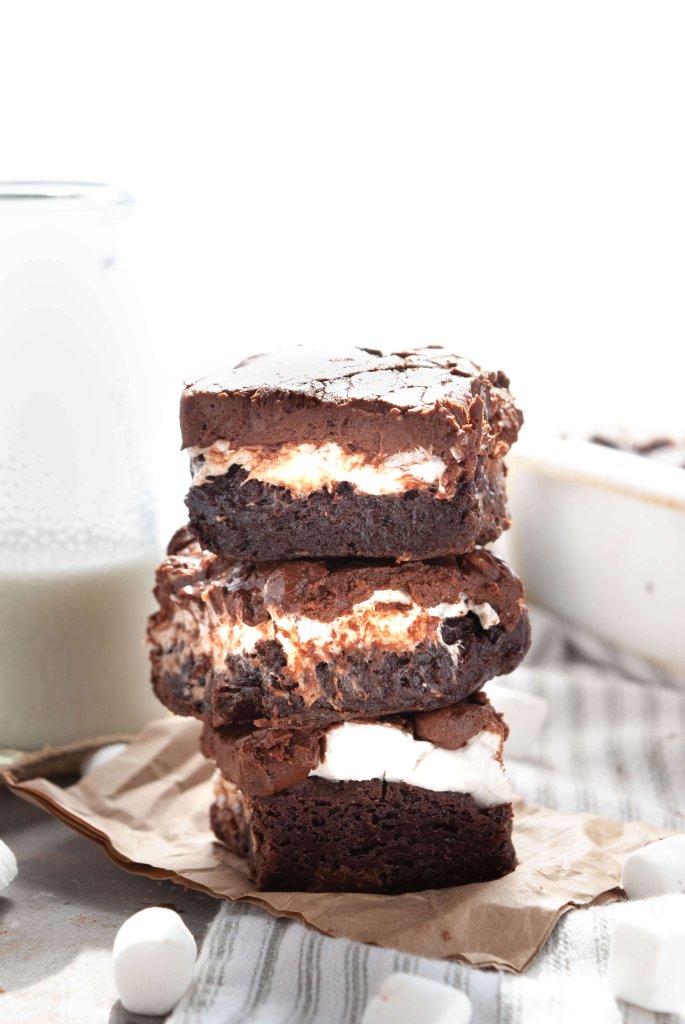 This post contains affiliate links.
My mom used to make these ALL the time growing up, and they were one of my favorite desserts. Chocolate and marshmallow are already a stand out combo–but add to that HOMEMADE CHOCOLATE FROSTING and it takes it to the highest level of dessert goodness.
If you haven't already tried my original allergy-friendly brownies–I've never had someone try them and not love them. I constantly get emails of people saying that they not only inhaled them, but that they took them where there were people without food allergies and they loved them too! They're so rich and fudgy. So, why ruin perfection? I pretty much stuck with the brownie recipe for the base, just taking out a little oil, to make sure they weren't too oily to be able to add on the layers. Because of this, you'll really have to stir since the dough isn't very wet.
Now it comes to the tricky part: the marshmallows! These brownies can be top-8-free, or they can be gluten-free vegan…but unfortunately I do not know how to make them both. Regular marshmallows, like Kraft, have gelatin in them–thus making them non-vegan. If you're new here–I bake gluten-free vegan because my son has wheat, dairy & egg allergies–but we can do meat and gelatin. Though we do love a good meatless recipe–which you'll find lots of in my recipe index. Click here to see which marshmallows are dairy free and see an ingredient comparison chart of the top brands.
But, vegan marshmallows, like Dandies, have soy in them. I know–it's quite the conundrum. As soon as I find someone that makes vegan/top 8 free/soy free marshmallows I will be sure to update the recipe. I'm sorry! I know it's hard when options are limited, but I don't feel like making homemade marshmallows when there's already three steps to this recipe (although easy steps!). If you ever find one, be sure to direct message me and let me know!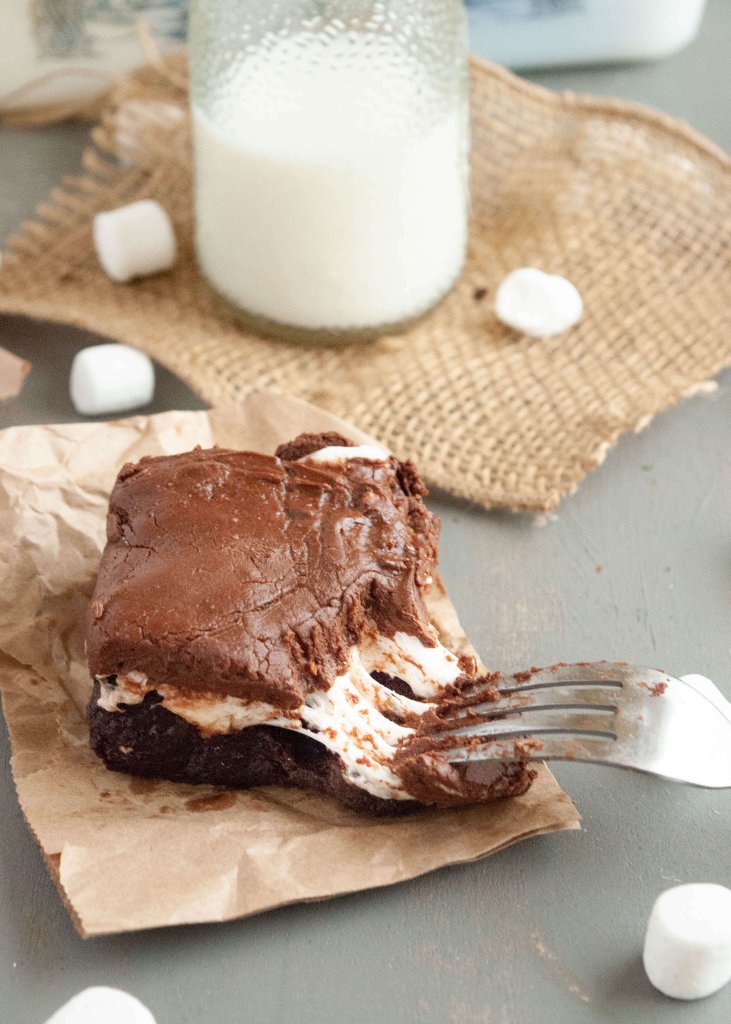 Onto the cherry, er, uh…the frosting on top. This is my absolute favorite chocolate frosting. Notice I didn't say my favorite dairy-free chocolate frosting. It's my all-time favorite frosting–even if my family didn't have food allergies! I love to make it and eat it sandwiched between graham crackers. I almost fight my kids to lick the bowl and almost always save some extra for myself. I honestly enjoy this better than regular chocolate buttercream. When I now have regular buttercream, made with real butter, the butter flavor is too overwhelming for me. This is the perfect texture and perfect chocolaty-ness.
You'll want to give yourself a bit of time, as the brownies and marshmallows need to cool before you frost them to avoid the frosting melting everywhere. I sped this up by putting it in the fridge, once the glass was cool enough (don't shatter it!). But remember–good things come to those who wait! And boy, oh boy, are these worth the wait!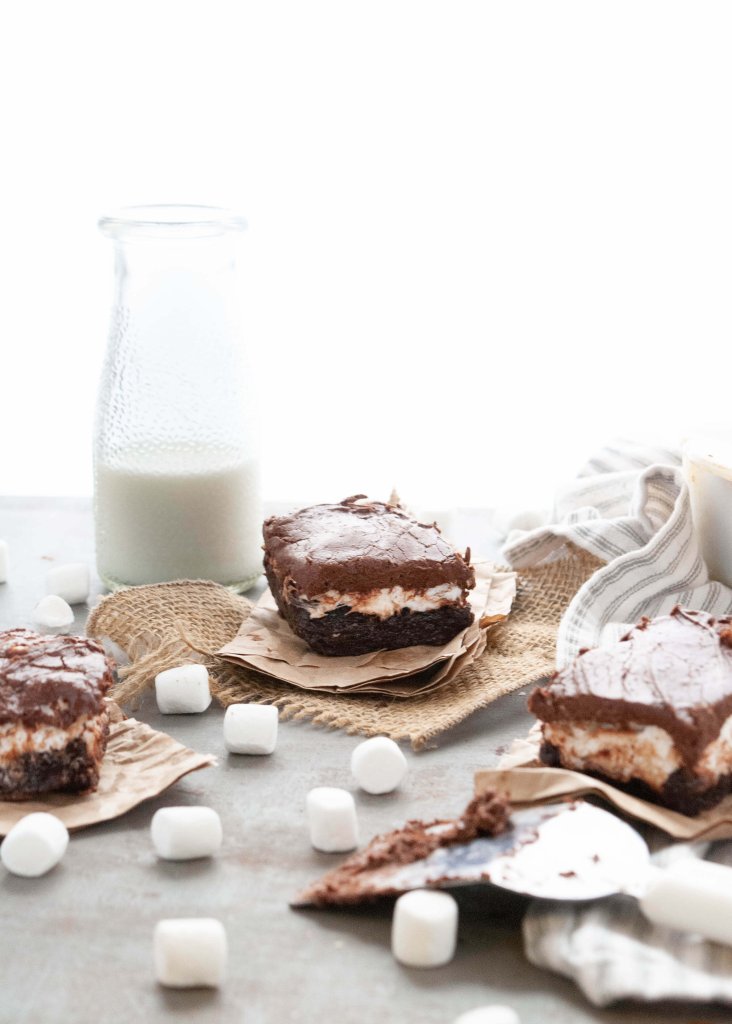 If you're a big brownie aficionado like I am, be sure to also check out my:
Because one can NEVER have too many brownie variations up their sleeves!
I hope that these gluten-free vegan Mississippi mud brownies help those of you who have food restrictions, like my two sons, enjoy a decadent, devilishly good dessert!
Be sure to watch the video attached to this page before starting, to see how to make the brownies, or visit (and subscribe!) to my YouTube channel to see it there (plus many more videos!) And, as always–sharing is caring! Be sure to tell anyone else with food allergies about my page. Thanks!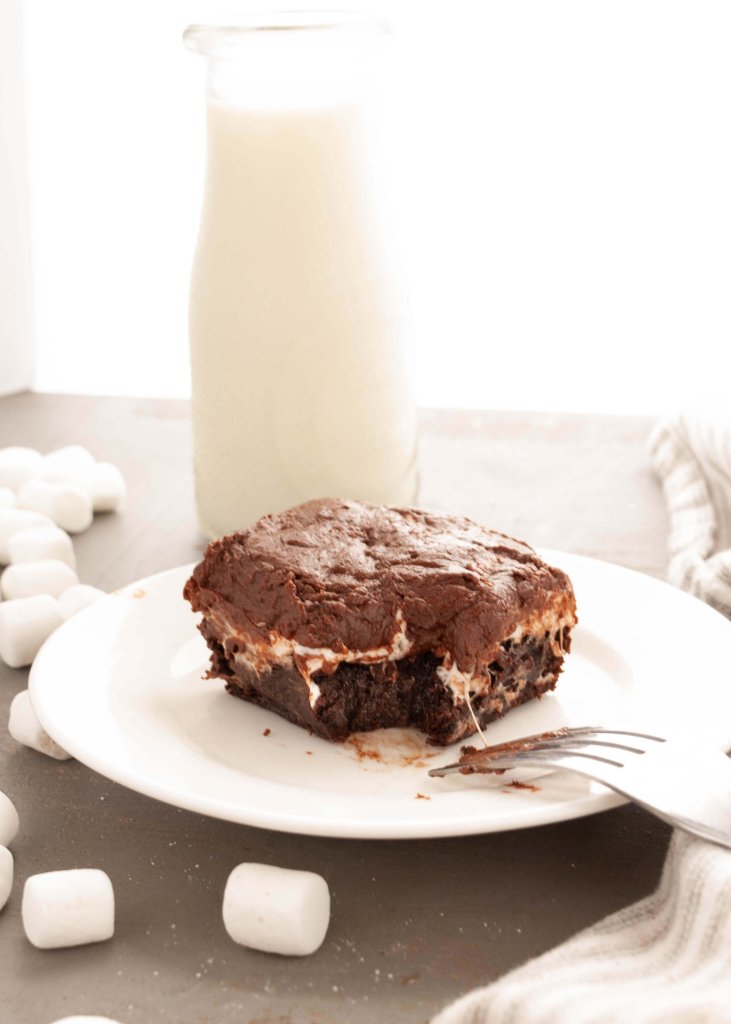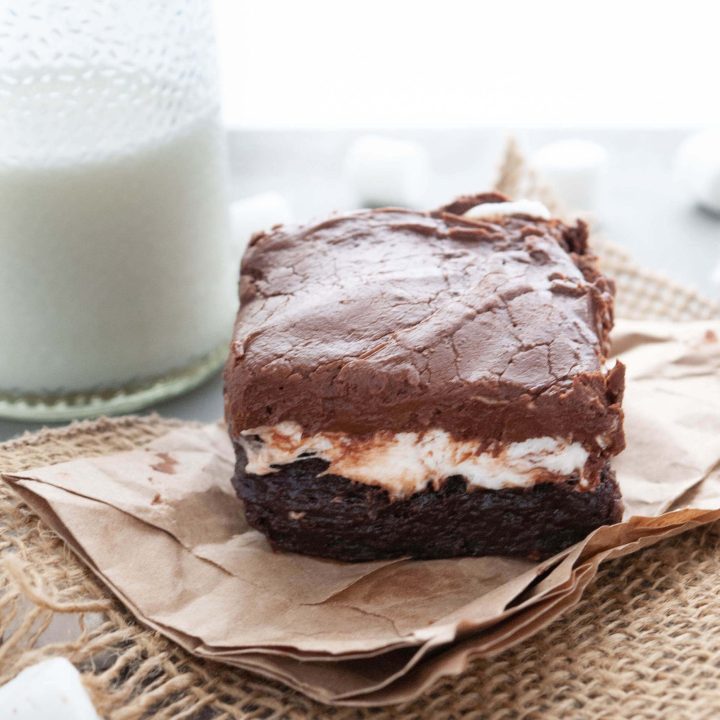 Allergy-friendly Mississippi Mud Brownies (Top 8 free!)
Additional Time:
15 minutes
Fudgy, marshmallow-y, and chocolaty--could there be a better dessert? These Allergy-friendly Mississippi Mud Brownies are three layers of pure bliss. Free of: wheat, gluten, dairy, egg, soy, peanuts and tree nuts with a vegan option!
Ingredients
BROWNIE RECIPE:
1 and ½ cups sugar
1 and ½ tsp baking powder
½ tsp salt
2 tsp vanilla extract
Instructions
Grease a square 9x9 pan. (You could use a 9x13 if you prefer thinner brownies.) Preheat your oven to 350 degrees F.
In a small bowl, combine the flax eggs and warm water. Allow this to sit for a few minutes.
In a large mixing bowl, combine all of the dry ingredients: flour, sugar, cocoa, baking powder, xanthan and salt. Whisk until the cocoa is broken up and incorporated completely.
Pour in the wet ingredients: melted coconut oil, flax egg mixture and vanilla extract.
Stir until everything is mixed well. The dough will be thick and doughy. Use greased, or wet hands, to press into the greased pan.
Bake 20-23 minutes, until the edges and top are crisp. (Granted, I know many people have different degrees of done-ness they like of their brownies. As evidenced in my pictures, I prefer a little gooey.) Please note in my original recipe I say 15-20 minutes, but because of the added soft layers on top, I think these need to be cooked a bit longer for a more firmer base.
While the brownies cook, make the chocolate frosting.
After the brownies are done, immediately cover them in enough marshmallows so no brownie is showing. Turn the oven off, and place the brownies back in the oven and watch closely until the marshmallows are puffed and look gooey enough that they're a solid layer. Remove from the oven to cool completely.
Once cooled, frost and then cut into squares. Or, refrigerate a bit longer to continue to help them set. Will keep 2-3 days if tightly covered.
Notes
See the post above for FAQs.
*Our allergies, while severe and that get re-tested frequently, are such that we can go strictly by what's on the label. I do not call companies to see what things are derived from, or call manufacturers to see about potential cross contact. If your allergies require you to do so, please do your own homework. I cannot assure you of any ingredient's safety, only you can do that. I simply share what works for our family
**If you are going to feed this to someone with food allergies, and you yourself do not have food allergies, I HIGHLY recommend having them check every single brand and ingredient you are using, to ensure they're OK with each part of the recipe. And, to make sure you've talked to them about how to avoid cross contamination in your kitchen.
Nutrition Information:
Yield:

12
Serving Size:

1
Amount Per Serving:
Calories:

296
Total Fat:

14g
Saturated Fat:

9g
Trans Fat:

0g
Unsaturated Fat:

3g
Cholesterol:

20mg
Sodium:

158mg
Carbohydrates:

41g
Fiber:

2g
Sugar:

24g
Protein:

4g
BE SURE TO PIN THIS, SO YOU DON'T LOSE IT. BE SURE TO ALSO CHECK OUT MY OTHER ALLERGY-FRIENDLY PINTEREST BOARDS!
---
Looking for other allergy-friendly brownie recipes? Try these out:
Gluten-free Vegan Chocolate Chip Cookie Brownies (AKA Brookies)
Brownie Sundae Cups (Gluten-free, Vegan, Top 8 Free)
Triple Layer SunButter Brownies (Gluten-free, Vegan, Top 8 Free)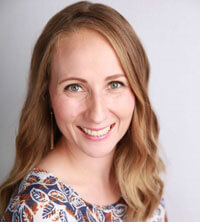 Hi! I'm Megan, a mom to four kids, two with multiple food allergies & one with EOE. I'm a published cookbook author that constantly tweaks recipes to make them allergy friendly–it's an addiction. I share every recipe & tip with you, to help you eat like you did before food allergies & dietary restrictions. You can still be awesome, even with food allergies!