Crispy baked taquitos with the most flavorful chicken & black bean filling. Customizable to make it dairy free, gluten free and even vegan. The one baked taquito recipe you'll ever need. We've been eating these for years and don't plan on ever stopping! #canstopwontstop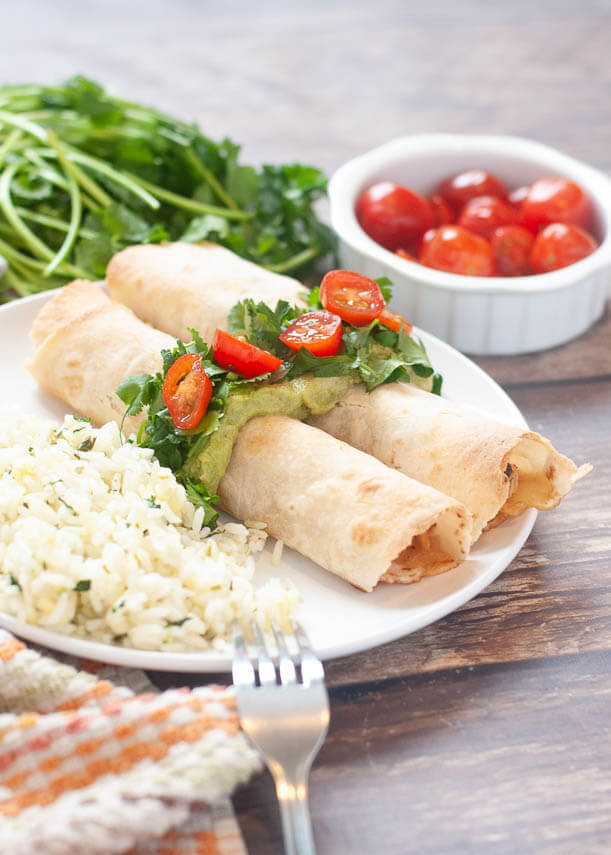 This post contains affiliate links.
You know you love a recipe when you have to fight over the leftovers. My kids always cheer when I announce my that my Gluten Free Baked Chicken Taquitos are on the dinner menu.
I adapted these from a dairy filled version, since I used to make them long before we had kids and they were filled with cheese. I was so worried that these would still be as yummy, since cheese goes hand-in-hand with Tex Mex dishes, but honestly, there are so many spices that there is no lack in flavor or satisfaction. Like Justin Beiber says, they're "yummy, yummy, yummy, yummy, yummy, yummy".
Below are all of the frequently asked questions so that you can adapt them for whatever works best for you, and to ensure that they turn out fabulous every time.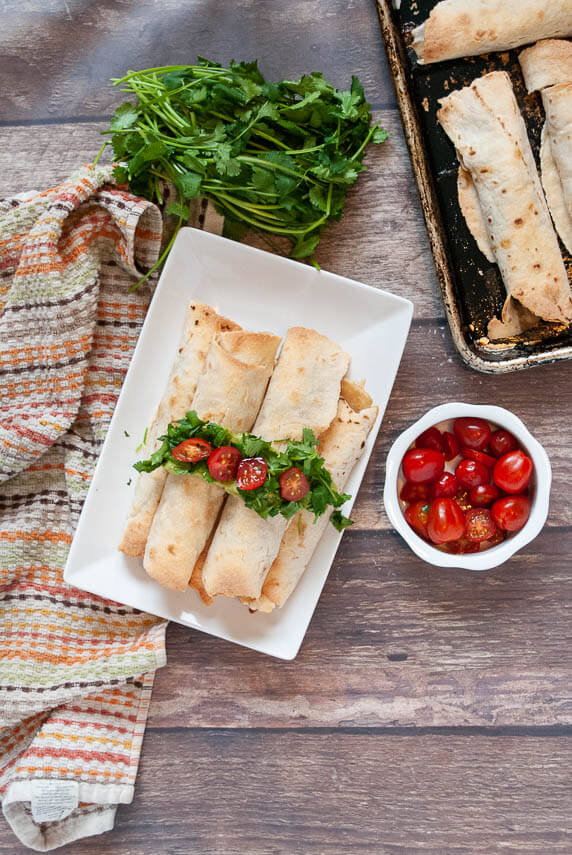 What tortillas do you recommend to make these oven baked taquitos gluten free?
Since my son has a wheat allergy, we have to use gluten free tortillas. You are welcome to use corn tortillas (any brand should do), or you can use a gluten free tortilla like Mission's (shown in the pictures–contains soy). I prefer to use a gluten-free flour blended tortilla like Mission's (totally unsponsored) because I enjoy the larger size (less rolling) and because I feel like it's heartier and holds up better. Just be sure to heat them before rolling them, otherwise they'll crack. You can see a video of how I do this on my TikTok.
How do you keep tortillas from breaking when you're rolling them?
If you're using corn tortillas for your baked chicken taquitos, or a gluten-free tortilla they often break or crack when you're rolling them. To avoid this, take a small stack of tortillas and wrap them gently and lightly in a clean dish towel. Place the dish towel filled with tortillas in your microwave and heat for 20-60 seconds (depending on your microwave). Once heated, the tortillas are much more pliable and able to be manipulated. Also, be sure you're not over filling them. It almost always takes less than you think it will. Only a few tablespoons in a thin line down the middle of the tortilla is plenty to fill it and roll it. Or, you're welcome to heat them in a saute pan or griddle over your stove top–whichever you prefer.
If you're able to use regular wheat tortillas, then they shouldn't give you an issue.
What size of tortilla should you use in these baked chicken taquitos?
There isn't a right or wrong size of tortilla. The classic taquito that you typically see is the size of a small corn tortilla (6-8 inches in diameter). This is why they're sometimes thought of as an appetizer. However, if you want larger ones, you can use burrito sized or any size in between. You'll just need to adjust the amounts of filling to keep them in proper proportion.

What toppings do you put on these chicken taquitos?
Since we have to be dairy free, we love to top them with guacamole, since it still gives that creaminess cheese would have. Other great taquito toppings include:
sour cream* (see below for dairy free option)
freshly minced cilantro
red or green salsa
freshly diced tomatoes
hot sauce
But these are so flavorful, if you're out of condiments, no need to worry! These will be plenty tasty on their own.
How do you make baked chicken taquitos dairy free?
These taquitos are so jam-packed with flavor, that there's no need for cheese. And, if you're really missing cheese, there are plenty of options of vegan cheese.
If you're missing sour cream, there's a sour cream made out of soy that's pretty decent. We choose not to put vegan cheese in it or on top because it's expensive and hard to find and I find unnecessary–but you do you!

What goes with baked chicken taquitos?
When in a pinch, I'll eat these without anything because they have your grain (the tortilla), and plenty of protein because of the beans and chicken.
A staple that usually accompanies taquitos or even tacos is rice. I love to make cilantro lime rice, or mexican rice. I have both of these recipes in my instant pot cookbook for food allergies.
How do you re-heat chicken taquitos?
If you're in a hurry, you can reheat them in the microwave. Just know that they will loose their crispness. If you want to retain that crispy shell, you'll need to re-heat them in the oven or toaster oven until the filling is warmed through. If they start to brown too much before the filling is warmed through, you can cover them in aluminum foil.

How do you make these taquitos vegan?
Since these taquitos already omit cheese, the only thing you'd need to do to make them fully vegan would be to omit the chicken. This would be totally fine since there are already beans for texture and protein. Just know they'll make less since there won't be as much filling, so you may want to double it.
How do you make these taquitos allergy friendly & top-8-free?
To make these top 8 free, you'll either need to omit the dairy-free cream cheese (since the kind I use has soy in it), or use a dairy-free cream cheese made of coconut (since coconut is not considered a top 8 allergen). Either way, this is a simple tweak since these are already gluten free and allergy friendly to begin with.
Do you have any other gluten free and/or dairy free Tex Mex Recipes?
Are you kidding? How could I live without adapting my favorite Tex Mex recipes? Here are some you'll love:
How do you cook the chicken in the baked chicken taquitos?
I have several variation in the directions! My favorite is the instant pot, but you can also boil the chicken, use your crock pot, use a rotisserie chicken or even leftover shredded chicken. Basically, cook the chicken how you please, and then add the rest of the ingredients. This recipe isn't picky.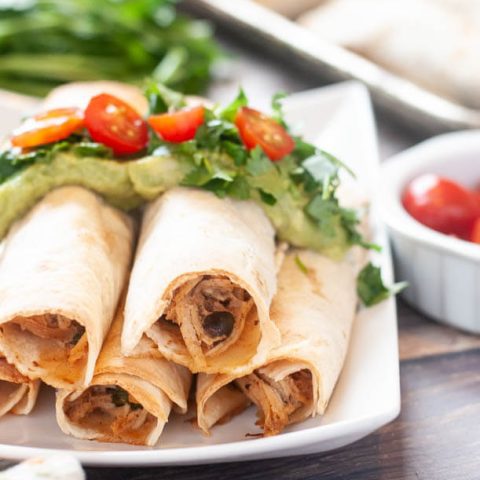 The Bomb Gluten Free Baked Chicken Taquitos
Additional Time:
5 minutes
Crispy baked taquitos with the most flavorful chicken & black bean filling. Customizable to make it dairy free, gluten free and even vegan. The one baked taquito recipe you'll ever need. We've been eating these for years and don't plan on ever stopping! #canstopwontstop
Ingredients
2 Tablespoons fresh lime juice
2 teaspoons chili powder
1 teaspoon cumin
1 teaspoon onion powder
1 teaspoon granulated garlic, or garlic powder
1 tsp salt
1/2 teaspoon pepper
One 15-oz can drained and rinsed black beans
3 Tablespoons chopped cilantro
2 sliced green onions (both white and green parts)
2 large chicken breasts (directions for both thawed and frozen below)
4 oz dairy-free cream cheese (see post above)
salt
olive oil or olive oil non-stick spray
Instructions
Preheat the oven to 425. In an instant pot, place the chicken, green salsa, lime juice and spices. Close the lid and make sure the valve is closed to sealing. Hit "manual" and put either 20 minutes for thawed breasts, or 30 minutes for frozen.
Once the instant pot is done, release the pressure, open the lid and remove the chicken.
Shred the chicken. Once shredded, place the chicken back in the instant pot. Add in the drained black beans and cream cheese and stir with the shredded chicken.
Place a thin line of the filling down the middle of a warmed tortilla and roll it tightly.
Place the rolled tortilla on a greased baking sheet.
Once you have them all rolled and placed on the baking sheet, take a safe aerosol baking spray and spray the tops of the taquitos. Then, lightly sprinkle salt onto the greased taquitos (this helps it stick).
Bake for 12-15 minutes, or until the ends just start to brown and the filling is warmed through.
Enjoy! Leftovers keep in the fridge in an air tight container for 3-4 days.

**Chicken may also be boiled, grilled or sauteed until cooked through, shredded and then have all of the filling ingredients added to it afterwards.
**You may also use leftover shredded chicken, or shredded rotisserie chicken--just add the spices and filling ingredients to it before rolling.
Nutrition Information:
Yield:

12
Serving Size:

1
Amount Per Serving:
Calories:

134
Total Fat:

9g
Saturated Fat:

3g
Trans Fat:

0g
Unsaturated Fat:

5g
Cholesterol:

31mg
Sodium:

343mg
Carbohydrates:

7g
Fiber:

2g
Sugar:

1g
Protein:

8g
DON'T FORGET TO PIN IT, SO YOU DON'T LOSE IT! WHILE THERE, BE SURE TO CHECK OUT MY OTHER ALLERGY FRIENDLY PINTEREST BOARDS.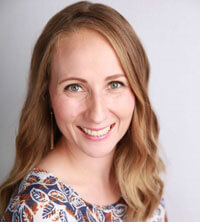 Hi! I'm Megan, a mom to four kids, two with multiple food allergies & one with EOE. I'm a published cookbook author that constantly tweaks recipes to make them allergy friendly–it's an addiction. I share every recipe & tip with you, to help you eat like you did before food allergies & dietary restrictions. You can still be awesome, even with food allergies!