Perfect for meat-less Monday these filling tacos have sweet potatoes, black beans, a hint of lime and a special ingredient that really kicks it up a notch: cinnamon.
While I'll never be able to give up bacon and meat completely, I have been trying to have more meat-less meals, especially after watching COOKED on Netflix. Anyone else see that? It's soo good. It made me feel so proud to cook for my family every single day. While it's a sacrifice, it reminded me what a worthwhile pursuit it is. One of my favorite quotes was at the end when he said: "Is there any practice less selfish…any time less wasted than preparing something delicious & nourishing for the people you love?"
For meat-less meals to pass the mustard with my husband, it still needs to be filling. I think a lot of men equate meat-less meals with going hungry for some reason. Not only do the sweet potatoes and black beans make it filling, but I feel it still gives it that good, textured mouthfeel.
Since we can't do dairy, I love to put a big stream of guacamole down the tortilla before I put the filling. It adds great flavor, as well as helps keep your filling in place, and adds some creaminess.
I love to have my spanish rice as a side since you can't have beans without rice in my book.
I love when I do meat-less meals because then I don't have to worry about thawing meat! Dice a few veggies, throw in some spices, and dump in some beans and you're done!
Be sure to warm your corn tortillas in the microwave for a few seconds before you fill them so they can roll easier and not crack.
Happy meat-less Monday! And, if you have extra sweet potatoes, you can try out this Sweet Potato Salad by fellow blogger: Salted Plains.
If you'd like to see a recipe demonstration, you can see my segment on KSL by clicking on the picture below.
IF YOU'RE LOOKING FOR SOME MORE ALLERGY FRIENDLY TEX MEX RECIPES, CHECK OUT THESE FAVORITES:
If you're looking for another vegan black bean dish, check out my friend Fool Proof Living's Black Bean Corn Salad.
Sweet Potato, Black Bean & Lime Taquitos (GF, DF, Egg, Soy, Peanut/Tree nut Free, Top 8 Free, Vegan)
Perfect for meat-less Monday these filling tacos have sweet potatoes, black beans, a hint of lime and a special ingredient that really kicks it up a notch: cinnamon.
Ingredients
1.5 pounds sweet potato (about 1 large), scrubbed, peeled, and cut into 1-inch chunks
2 tablespoons olive oil
1/4 teaspoon cinnamon
1/2 teaspoon cumin
1/2 teaspoon salt
1/4 cup chopped red onion, diced finely
1 can of black beans, rinsed and drained
3 Tablespoons lime juice, plus several limes cut into wedges for garnish
12-14 corn tortillas, warmed
Guacamole
Cilantro for garnish
Instructions
Heat oil in a non-stick skillet over medium heat, add onion and sweet potato. Cook until softened. Once softened, add the beans, spices and take off the heat. Stir in the lime juice.
Warm tortillas in the microwave until soft and pliable (usually 10-15 seconds in my microwave). Put a large river of guacamole down the middle of the tortilla. Spoon the sweet potato mixture onto the guacamole. Garnish with cilantro.
Serve with additional limes for lime-aholics like myself.
Notes
If you want your sweet potatoes to cook faster, I'll sometimes nuke them in the microwave for 1-2 minutes before adding to the pan.

Also, the larger the sweet potato chunks, the longer they'll take to cook.

Lastly, after filling and rolling them, I've fried them before. They're great either way, but I don't like the hassle of frying, so I didn't include it in the directions. Feel free if you like 'em that way!
Adapted from: Beard and Bonnet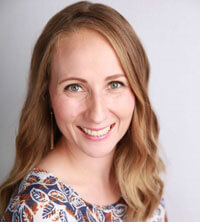 Hi! I'm Megan, a mom to four kids, two with multiple food allergies & one with EOE. I'm a published cookbook author that constantly tweaks recipes to make them allergy friendly–it's an addiction. I share every recipe & tip with you, to help you eat like you did before food allergies & dietary restrictions. You can still be awesome, even with food allergies!