This classic, hot sandwich has withstood the test of time and for good reason: crunchy hoagie rolls loaded with flavorful, tender beef just can't be beat! I could never find a from-scratch recipe which drove me crazy. I didn't want to just use some package or can and I've finally found the BEST recipe that slow cooks all day to give you sandwiches that will get rave reviews. This recipe also has regular AND gluten free and dairy free options too–so you can feed just about anyone in your crowd.
This post contains affiliate links
WHY WE LOVE THESE FRENCH DIP SANDWICHES
I love beef and roasts, but put it with some carbs and I'm even happier! This fall apart beef that slow cooks all day in the most rich au jus broth makes for the most scrumptious sandwich you've had in a long time. It's an easy, make ahead meal that can feed a large family. Leave it and forget it until dinner and people will think you've been slaving all day! It's easy, it's delicious and it's filling–all of my requirements for a GOOD dinner recipe. I literally think I'll ask for this for my birthday dinner, because it's my favorite recipe.
HOW DO I MAKE THESE FRENCH DIPS GLUTEN FREE?
My son has a wheat allergy, so in order to adapt this for his portion, I like to use the Schar Sandwich Rolls because I feel they most resemble a traditional hoagie roll. If you are going for a gluten-free French Dip recipe, then be sure to use gluten-free soy sauce as well, and check the Worcestershire sauce. Otherwise, this recipe should be gluten-free as is. Though, you should always check every single label of every ingredient you use, as some brands tend to sneak it in, in the craziest of places. It's always smart to check everything to be safe.
*If you don't need this recipe to be gluten-free, feel free to use a French roll, sub roll, or hoagie bun…whichever you prefer.
WHAT IF I NEED TO MAKE THESE FRENCH DIPS DAIRY FREE TOO?
My son also has a dairy allergy, so he can't have the traditional melted Swiss cheese (or Provolone, depending on who you're talking to) on top. Thankfully, the meat is the star here and honestly does not need cheese. It's so savory, so sensational that he often ops for no cheese at all (because no matter the brand, they just don't melt like the real thing). When we do want a white sliced cheese substitute, we've used Follow Your Heart Smoked Gouda which is fine. I've also heard good things about Violife's Smoked Provolone Slices. Use, or don't use, whatever type of non-dairy cheese you prefer in this family favorite.
WHAT BEEF BOUILLON DO I USE?
I have been a long time fan of Orrington Farms for both chicken and beef bouillon. They call theirs soup base, but it's used the same. I love that it's powder, so that I'm not carting quarts of liquid home. It's flavorful and doesn't have gluten or dairy in it. Feel free to use whatever brand you like, if you'd rather. I find mine at Walmart or Amazon.
CAN I MAKE THIS FRENCH DIP IN THE INSTANT POT?
Trust me. I LOVE the instant pot. I even have an Allergy Friendly Instant Pot Cookbook. But, if I have to pick which appliance to use for this specific recipe, I'd choose the Slow Cooker. Nothing tenderizes beef like low and slow. I've tried different timings in the instant pot, and it's never that fall apart/easy to shred version/ thin slices that the crock pot produces. You're welcome to use it, if that's your preferred cooking method (granted it is always faster), but I'd recommend the slow cooker version ( also known as the crock pot) if you can plan ahead.
DO I NEED TO SEAR MY ROAST?
No I do not sear roast. I've found because it cooks low and slow, and because of the myriad of spices and herbs that this roast is just fine without having to dirty another dish (or deal with hot oil.) Even on The Kitchn it says: "Contrary to widely held belief, searing meat doesn't actually seal moisture inside the cut of meat or result in a juicier finished dish." If you prefer to sear your meat before adding it to the slow cooker, that won't hurt anything. But the slow cooker will produce tender meat that will make your taste buds squeal with delight.

WHAT CUT OF ROAST SHOULD I USE?
For this great recipe, I prefer a chuck roast. Anywhere between 2-3 pounds is just fine (and honestly you could stretch it to four pounds if need be). Depending on how big of a crowd you have (or how much leftovers you want) can determine your size. I usually do between 2-3 pounds and it feeds my family of 6 with some leftover meat.
WHAT INGREDIENTS ARE IN THIS GLUTEN FREE FRENCH DIP RECIPE
To make the most amazing au jus sauce ever, was difficult. EVERY.SINGLE.RECIPE. I could find used some au jus mix packet, or some canned French Onion Soup. And every single one had either wheat or dairy in them, and we can't use either. Plus, it's so nice to be able to control your own salt amount and do something from scratch and not be dependent on some packet or can in case the store is ever out. So, I set out to make it all from pantry staples and it turned out even better than any one I've ever had! All you need is:
2-3 pounds beef chuck roast
salt and black pepper
dried onion flakes

Gluten-free soy sauce

(or regular if you can use it)
Jarred minced garlic)
Dried oregano leaves
Dried thyme
Onion powder
Dried parsley flakes
Dried rosemary
Celery seed
Water
Swiss or provolone cheese slices (see above for dairy free options)
Hoagies or sub rolls (see above for gluten-free options)

WHAT TOOLS DO YOU NEED FOR THIS FROM SCRATCH FRENCH DIP RECIPE?
You will need:
Slow cooker/crock pot large enough to fit the roast, plus five cups of water
Cutting board
Chef's knife (for cutting excess fat)
Two forks (for shredding)
Oven or toaster oven (for toasting bread)
Cookie sheet/baking sheet (for toasting bread)
Hot pads/oven mitts
Small bowls (for serving au jus sauce)
Fine mesh strainer
HOW TO ASSEMBLE YOUR EASY FRENCH DIP SANDWICHES
Once the meat has slow cooked, move the slow cooker to "warm" and take the roast out and place it on a large cutting board.
Strain the broth with a fine mesh strainer so that all of the herbs are discarded and you're left with a smooth au just sauce. Ladle some into individual small bowls for dipping. (There should be plenty of broth leftover for the shredded beef to sit in juices too–you don't want it sitting dry.)
Shred the beef roast and place back into the slow cooker to stay warm in the leftover juices.
Take your choice of bread and cut it in half (if it didn't already come that way.)
Place both halves of the bread on a cookie sheet face up, and top it with your cheese of choice (swiss, provolone, or dairy-free).
Toast the bread under the broiler of your oven or toaster oven, with the baking sheet on the top rack. Watch closely! It will only take a minute or two, for the cheese to melt and the bread to toast and brown.
Remove the bread from the oven and load one side of the bread up with the tender roast beef shreds.
Place the two halves together.
Serve warm, with a side of the au jus (the cooking juices) to dunk it in.

DO I HAVE A VIDEO SHOWING HOW TO MAKE THIS FRENCH DIP SANDWICH RECIPE?
Yes I do! I know it helps to see how to make something so I filmed a video for you. The video should pop up on it's own. If it doesn't, it's also placed at the bottom of the recipe card. And, if all else fails, you can always view it on my YouTube Channel.
DO I HAVE OTHER SLOW COOKER RECIPES?
Why yes I do! The slow cooker is the best invention because you can set it and forget it and come home after a long day to dinner waiting for you! All of my recipes are gluten free and dairy free, but you can always sub back in regular ingredients and they'll still turn out so tasty. There's nothing like serving a dinner the whole family will love! Check these out:
HOW DO I STORE THE LEFTOVERS?
Place that juicy meat, and any leftover au jus in an airtight container in you fridge (separate from the bread and cheese). This will keep well for 2-3 days. When you're ready to re-serve the next day, warm up the amount of beef and broth you'd like in the microwave while you toast your bread and cheese. Assemble and devour! Just call yourself a sandwich shop!
*Be sure to leave a star rating after you've tried the recipe by clicking the stars in the recipe card below.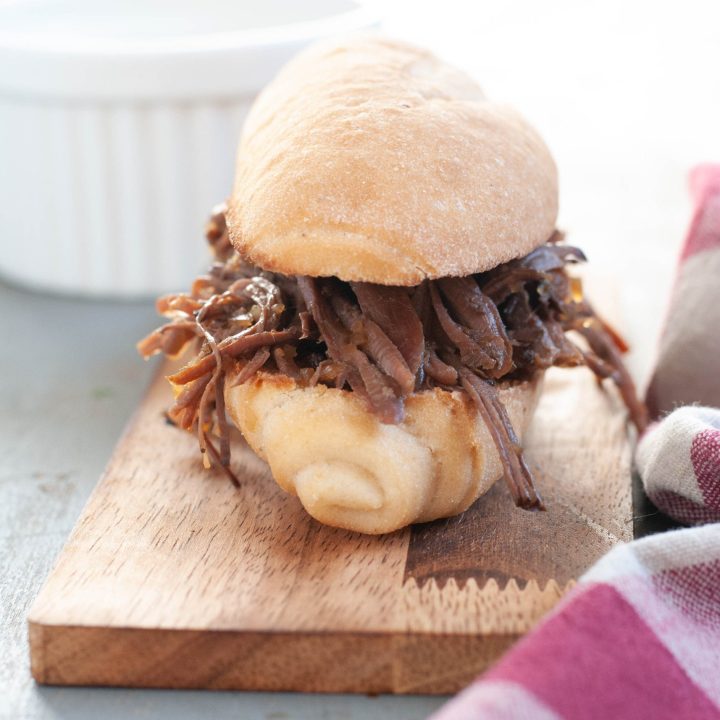 CROCK POT FRENCH DIP FROM SCRATCH + VIDEO (GF, DF OPTION)
Additional Time:
20 minutes
Total Time:
6 hours
25 minutes
This classic, hot sandwich has withstood the test of time and for good reason: crunchy hoagie rolls loaded with flavorful, tender beef just can't be beat! I could never find a from-scratch recipe which drove me crazy. I didn't want to just use some package or can and I've finally found the BEST recipe that slow cooks all day to give you sandwiches that will get rave reviews. This recipe also has regular AND gluten free and dairy free options too--so you can feed just about anyone in your crowd.
Ingredients
2-3 pounds chuck beef roast
salt and black pepper (to liberally put on each side of the roast)
1/2 cup dried onion flakes
8 cloves garlic (4 tsp jarred minced garlic)
1 teaspoon dried oregano leaves
1 teaspoon dried thyme
1/2 teaspoon onion powder
1/2 teaspoon dried parsley flakes
1/2 teaspoon dried rosemary
1/2 teaspoon celery seed
5 cups water
Swiss or provolone cheese slices (or dairy-free if needed, see above for options)
Hoagies or sub rolls (see above for gluten-free options)
Instructions
1. Liberally salt and pepper both sides of your roast.
2. Place it inside of your slow cooker (also known as a crock pot).
3. Pour all of the spices on top of the roast.
4. Pour the water next to the roast.
5. Turn the slow cooker to low and cook 6-8 hours, or until fork tender.
6. Remove the roast and shred, cut off and discard any large pieces of fat.
7. Take a fine mesh strainer and strain the herbs and spices (optional).
8. Place the shredded meat back in the sauce.
9. Cut the buns/hoagies in half (if not already done). Place on a baking sheet face up.
10. Cover with halves of bread with cheese slices (or dairy free cheese) if desired.
11. Broil for a minute or two (watch closely!) until cheese is melted and bread is toasted. (FYI: dairy-free cheese will not melt as much as regular cheese.)
12. Remove from the oven, and place the shredded meat on top of one side of the bread, and then place the other on top.
13. Serve hot, with a small bowl full of the delicious au jus sauce (the juice it cooked in) for dipping.
14. Store leftover meat and au jus sauce in the fridge in an airtight container for 2-3 days. Keep bread and cheese stored separately. When ready to eat, reheat as much meat and sauce as you need, and toast the bread and cheese and assemble as before.
Enjoy!
Notes
*Note--if you need it fish free, omit the Worcestershire
For frequently asked questions and substitutions see the text above the recipe.
Be sure to watch the video to see how to make it.
*Our allergies, while severe and that get re-tested frequently, are such that we can go strictly by what's on the label. I do not call companies to see what things are derived from, or call manufacturers to see about potential cross contact. If your allergies require you to do so, please do your own homework. I cannot assure you of any ingredient's safety, only you can do that. I simply share what works for our family
**If you are going to feed this to someone with food allergies, and you yourself do not have food allergies, I HIGHLY recommend having them check every single brand and ingredient you are using, to ensure they're OK with each part of the recipe. And, to make sure you've talked to them about how to avoid cross contamination in your kitchen.
Adapted from: Eazypeazymeals's French Dips
Nutrition Information:
Yield:

8
Serving Size:

1
Amount Per Serving:
Calories:

611
Total Fat:

27g
Saturated Fat:

11g
Trans Fat:

1g
Unsaturated Fat:

15g
Cholesterol:

213mg
Sodium:

2123mg
Carbohydrates:

21g
Fiber:

2g
Sugar:

4g
Protein:

72g
DON'T FORGET TO PIN IT, SO YOU DON'T LOSE IT. WHILE YOU'RE THERE, CHECK OUT MY DIETARY SPECIFIC PINTEREST BOARDS!