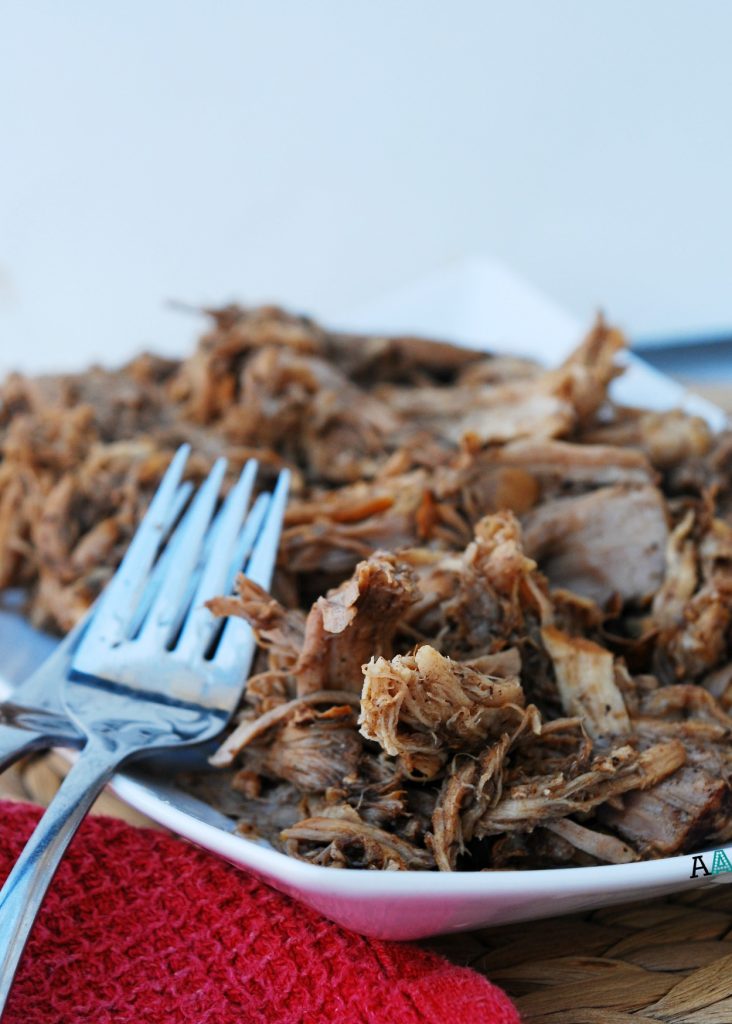 A super savory pork roast that's been drenched in balsamic vinegar and slow cooked all day makes a tender, fall apart meat that is the ultimate topping for mashed potatoes. Free of gluten, dairy, egg, peanuts and tree nuts.
I think my mom named me incorrectly. Instead of my middle name being Jill, it should have been slow cooker. No joke! My love for my crock pot runs deep. It's a valuable part of our family and I use it at least twice a week. We're partners in the kitchen and it always has my back. Soups, meats, sauces…it does it all and makes me look good! To me, there is no other way to cook meat, than in this tenderizing machine. It is so worthwhile to smell it simmering all day, and then dig into it with two forks and have it fall away and shred with no effort.
The only downside to using a slow cooker is that you have to remember to do it! It's been known to be 2 in the afternoon and I've suddenly realized I was supposed to put something in. So, the best way for me to combat that is to meal plan, and just get in the habit of looking what is on the menu for that day when I'm having breakfast. That way, I can either set out chicken to thaw, start a slow cooker, or simply realize I can ignore dinner until 4 because we're having a simple pasta dish.
I also blame my mother for my roast obsession. Almost every Sunday growing up we'd have a pot roast and mashed potatoes. It was sooo good. Unfortunately, my son can't do beef, so this Sunday favorite has fallen to the way side. Then, I remember that pork roasts can be just as delicious!
I love to make my dairy-free mashed potatoes, and then put a big, heap of pork roast on top, and drizzle some of the drippings on top. A fork full of the two is heaven.
Lastly, the roast gets such a deep flavor from the balsamic vinegar. I didn't have balsamic vinegar until later in life, and I consider that a travesty. That dark amber liquid has such a wonderful, briny flavor. There's nothing like it! So, when I saw this recipe on SkinnyTaste, I knew I had to try it. All I've done to tweak her recipe is double the amounts–that's how much I love balsamic. Well that and insist you have to have it over mashed potatoes. Hers was great, but I wanted a more intense flavor, and more drippings to pour over my mashed potatoes.
Please note that why this isn't soy or fish free is because the Worcestershire sauce that I use has both soy and fish sauce in it. However–not all Worcestershire sauces are the same–some of them have wheat, so be sure to check out the labels!!!
I hope this will also help you enjoy a fulfilling Sunday dinner that your kids will remember! If you're looking for another slow cooker pork recipe, check out these Crock Pot Ribs by fellow blogger, The Clean Eating Couple.
Slow Cooker Balsamic Pork (GF, DF, Egg, Peanut, Tree nut Free)
Total Time:
8 hours
10 minutes
Perfect for Sunday dinner, or even a week night this easy and deeply flavorful pork roast is divine!
Ingredients
3 pound boneless pork roast
kosher salt, to taste
1 tsp garlic powder
½ teaspoon red pepper flakes
2/3 cup chicken or vegetable broth
2/3 cup balsamic vinegar
2 Tablespoons Worcestershire sauce
2 Tablespoons honey
Instructions
Put slow cooker on low, and place your roast inside. Add the wet ingredients first, pouring over the roast. Finish by adding your spices--salt, garlic, and red paper flakes to the roast. They should stick nicely to the roast since it's wet now. Cook for 6-8 hours. About half way through, or once the roast is soft enough to pull a apart, do so! This will allow the flavors to penetrate all of the meat, instead of just the outside.
When the roast is almost complete, make your mashed potatoes, and then serve with a generous scoop of mashed potatoes first, and then top with the meat and some of the drippings.
Notes
Please note that why this isn't soy or fish free is because the Worcestershire sauce that I use has both soy and fish sauce in it. However--not all Worcestershire sauces are the same--some of them have wheat, so be sure to check out the labels!!!
Slightly adapted from SkinnyTaste