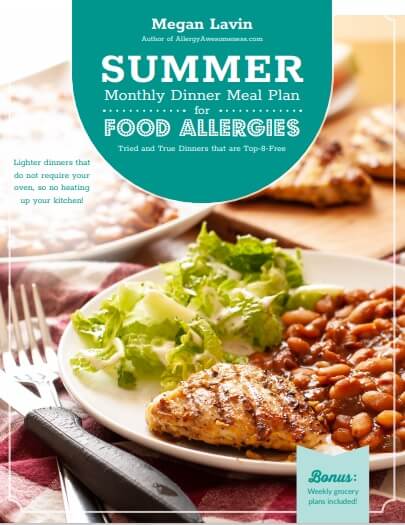 Are you sick of the dreadful question: "What's for dinner?" ESPECIALLY on busy, hot, summer nights?
Do you need someone to take the guess work and plan your shopping trips for you? How about for an entire month? AND, how about NONE of those dinners requiring the oven so you can stay cool this summer?
If you answered yes, then my "Summer Monthly Dinner Meal Plan for Food Allergies" e-cookbook is for you!
I've taken all the guess work out of planning dinner for those with food allergies and given you delicious dinners that will please the entire family–food allergies or not!
Broken out into four weeks, with each week having it's own printable grocery shopping list, you will be able to save your brain power for all of the other demands you have in your life. Go enjoy your summer, let me worry about dinner!
Gluten free AND top-8-free, this e-cookbook will be a lifesaver this summer. You'll wonder how you survived the chaos of summer without my summer monthly dinner meal plan for food allergies. Get one for yourself, and any food allergy friends you have since it's only the low price of $9.99.
Click here to see my other allergy friendly e-books, and a printed cookbook too!