Forget needing a fire! The quintessential summer treat: s'mores just came together in a cookie. Not only are these s'mores cookies delicious, but they're free of: gluten, dairy, egg & nuts–making them an allergy-friendly treat you can share all summer long!
This post contains affiliate links.
S'mores are one of my all time favorite treats! So, I knew I had to figure out how to make them allergy-friendly so both of my allergic boys could enjoy them!
Sure, we had figured out you could use Schar honeygrams, enjoy life chocolate & marshmallows over a fire–but what about when the s'mores hankering hits you and you want something a little less messy (hello mom of boys!).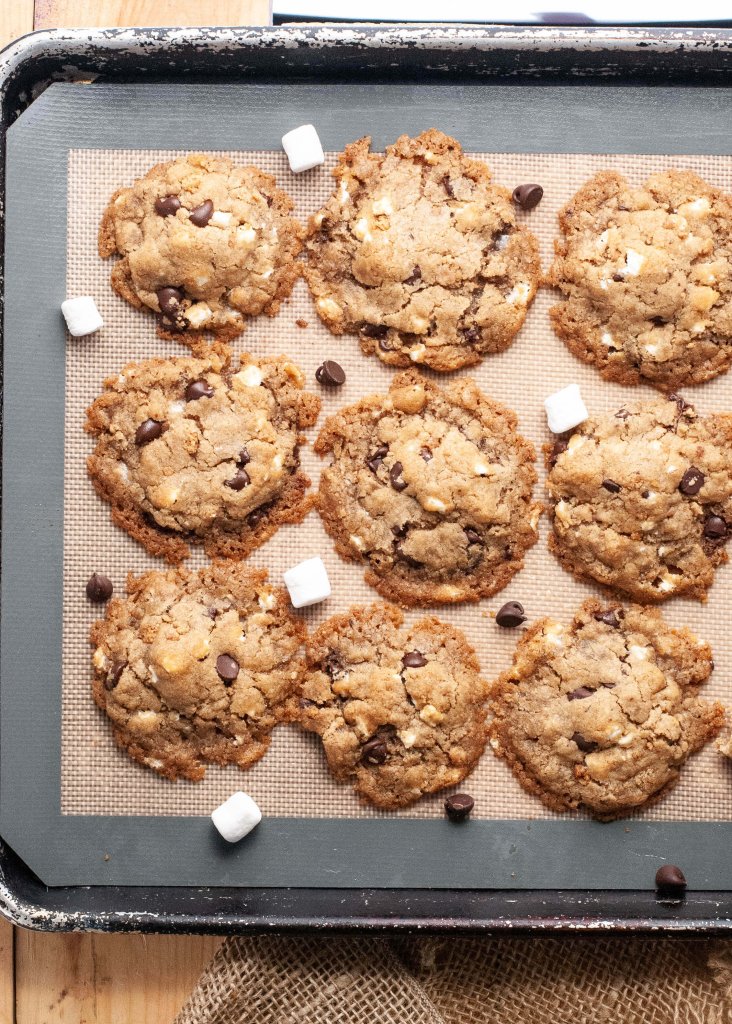 What allergy-friendly substitutions can I use for the s'mores cookies?
Please note none of these ingredients are sponsored–they're truly what I keep in my own kitchen.
Allergy-friendly graham crackers: My favorite part about these cookies is that the dough uses actual graham crackers in it–so the dough has the best flavor! If you need gluten-free graham crackers, we really love Schar. Please note that Schar has soy in it, as well as a may contain statement. I have personally called them (as I'd recommend you do too, in case it's changed since the posting date) and they said that coconut and chestnuts are used in the same facility and that is the case for the warning–but they do clean the lines in between runs. We've had it for many years without any problems. But–if you need a top-8-free replacement, we also love Enjoy Life Vanilla Graham Honey Crunchy Cookies.
Gluten-free flour: I prefer my own blend, but you can also use a general sub like Bob's Red Mill 1:1. If you use a blend that already has xanthan gum mixed into it, you can omit it from my recipe.
Butter substitute: Because we can have soy, I prefer the Crisco Buttery Sticks, because it's the closest buttery flavor I can find. You can also use Earth Balance Buttery Sticks–but I find them harder to find and more expensive. You could also sub out spectrum shortening which is soy free, or try one of your other favorite non-dairy butter substitutes.
Allergy-friendly marshmallows: I really think the key to these cookies are the mallow bits. Miniature marshmallows tend to pool and melt into these giant sticky blobs. The texture on the mallow bits is sooo much more suited for baking and not turning into snot pockets (too much? Sorry–it's just what it reminds me of when people use regular sized.) Mallow bits do have gelatin though–so they would not work for a vegan diet. You'd have to use miniature marshmallows from a special vegan/gelatin free marshmallow like Dandies. Unfortunately, I have yet to find a soy-free, vegan marshmallow. If you ever hear of one, let me know!
Egg substitute: There are many egg substitutes–and I find some work well for certain types of baking. For this recipe, I really like Ener-G Egg Replacer.

What tools do I use to make these allergy-friendly s'more cookies?
I always try to use a hand mixer in my videos, as I feel the KitchenAid stand mixer doesn't show the dough as well. But, I do prefer to make them in my stand mixer. It just makes everything easier and is worth the investment.
I SWEAR by these OXO cookie scoops. They're so comfortable and never break. I've tried several and will never go back–and mine are four years old!
I like these generic silpat mats. I find that they help the cookies not spread as much, plus they're non-stick!
Are there other allergy friendly s'more recipes?
What other allergy-friendly cookies can I make?
If these get you super excited to being able to start baking for your allergy friendly family again, here are some of our other staples:
I hope no matter your food allergies or restricted diet that these cookies help you and yours enjoy a delicious cookie. My family loves them and I'm sure you will too!
Gluten, Dairy, Egg & Nut-free S'mores Cookies
Additional Time:
5 minutes
Forget needing a fire! The quintessential summer treat: s'mores just came together in a cookie. Not only are these s'mores cookies delicious, but they're free of: gluten, dairy, egg & nuts--making them an allergy-friendly treat you can share all summer long!
Ingredients
1/2 cup brown sugar + 3 Tablespoons
1/2 tsp baking soda
1/4 tsp salt
1/2 tsp vanilla
Instructions
Preheat your oven to 350 degrees F.
Place a silpat liner or parchment paper on your cookie sheet.
In a stand mixer with the paddle attachment, combine the sugar and shortening and cream.
Add the baking soda, xanthan, salt, Ener-G egg, and vanilla and combine.
Crush the package of honeygrams and stir them into the batter.
Add the flour and incorporate well.
Gently hand mix the mallow bits and dairy-free chocolate chips.
Scoop out the cookies and evenly place on the already covered baking sheet.
Bake for 10-12 minutes until edges are golden and crispy and middle is still slightly soft set.
Once the baking sheet is out of the oven, allow the cookies to rest for five minutes more on the warm pan.
Gently remove them to a wire rack to finish cooling completely.
Eat and store any leftovers in an air tight container.
Recommended Products
As an Amazon Associate and member of other affiliate programs, I earn from qualifying purchases.
DON'T FORGET TO PIN IT, SO YOU DON'T LOSE IT! BE SURE TO CHECK OUT MY OTHER ALLERGY-FRIENDLY PINTEREST BOARDS!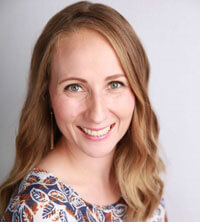 Hi! I'm Megan, a mom to four kids, two with multiple food allergies & one with EOE. I'm a published cookbook author that constantly tweaks recipes to make them allergy friendly–it's an addiction. I share every recipe & tip with you, to help you eat like you did before food allergies & dietary restrictions. You can still be awesome, even with food allergies!