A burst of lemon flavor with a touch of garlic and parsley makes this super easy fish a quick and zesty dinner for any weeknight. This is also gluten, dairy, egg, soy, peanut and tree nut free!

Happy 4th y'all! Note–I don't say y'all–but it just seems a very American thing to do, especially on America's birthday!
Did you all have a wonderful day? I was so close to not posting (even though I post every Monday and Thursday) because fo the holiday. But, then, I remembered the dread I have for getting back on track after a holiday and had no idea what we're going to eat for dinner tomorrow. I thought I couldn't be the only one, so I wanted to share this super easy recipe I've been sitting on for a bit.
Also, I have a ton of cleaning to do after hosting family–and well, suddenly a blog post seems like a great idea. That, and half my family is taking a nap (jealous!) so I've got some quiet time on my hands.
We had a wonderful fourth complete with fireworks, a parade, swimming and a BBQ. And sadly, I didn't take one picture. NOT ONE. So lame, I know. I now I have more pictures of tilapia than I do this year's 4th of July. SAD! We had such a great time with my parents in town, and my bestie and her family joined us for a bit too. I've eaten my weight in watermelon and I am officially pooped!
This is my son's favorite meal. No joke. If I ever say "What do you want for dinner?", he'll request this meal. He loves fish (must be his Haitian roots) and love the lemony zest of this marinade.
I like it because it's fast and simple. I always pair it with rice and a simple side, like my 5 minute microwave carrots, and we're set.
I know some people have a thing about tilapia–but I'm not entirely sure why. It's affordable, it's an easy, non-fishy way to get in some sea food and it's easy to find. It's one of the two types of safe fish my son can do, so we'll take protein any way we can get it.
I know some people say you can marinade fish for as short as 15 minutes, but I prefer around 4 hours to really soak in that lemon flavor. So, plan ahead.
I also love that this takes minutes to cook, so you have a lightning fast dinner on your hands, which is great for a busy weeknight, or the days after a holiday when you're still tired from the big shindig you just threw.
And if you like sauce on your fish, this Dill Sauce for Salmon from fellow food blogger Healthy Seasonal Recipes could also be a yummy addition (has dairy.)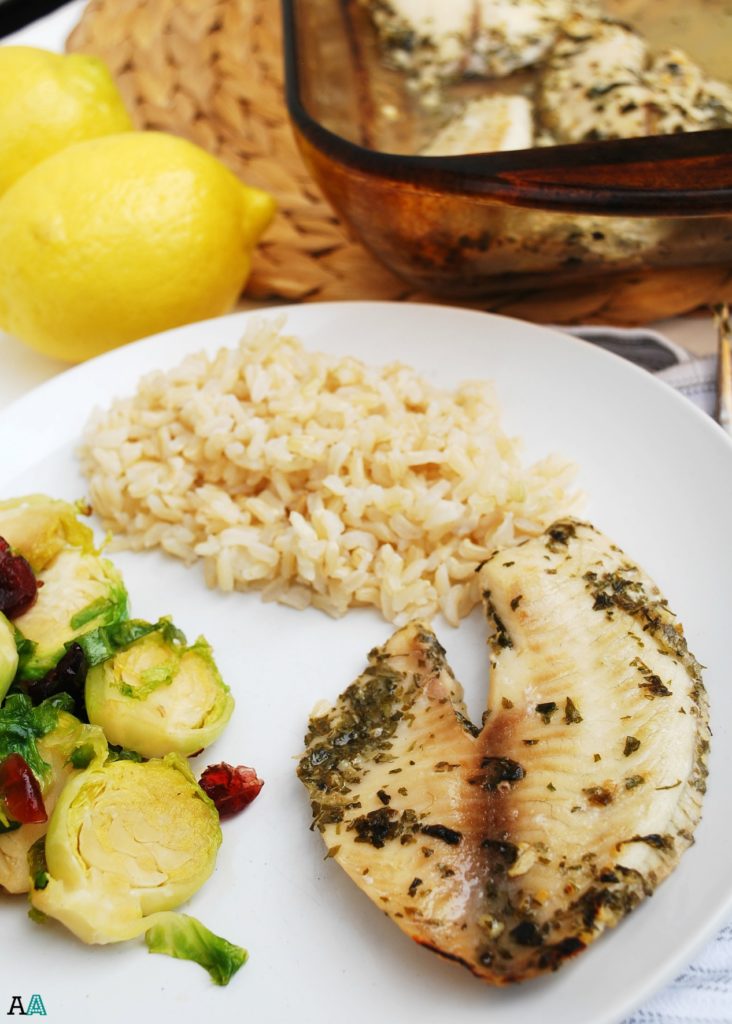 Enjoy!
Also, I recently did a Facebook Live video while my son and I made this dish. I thought it was only right that he help me, since it's his favorite. If you'd like to see the video, click the still-shot of the video below. Also, be sure to follow my Facebook page so that you can get notifications when I do another video.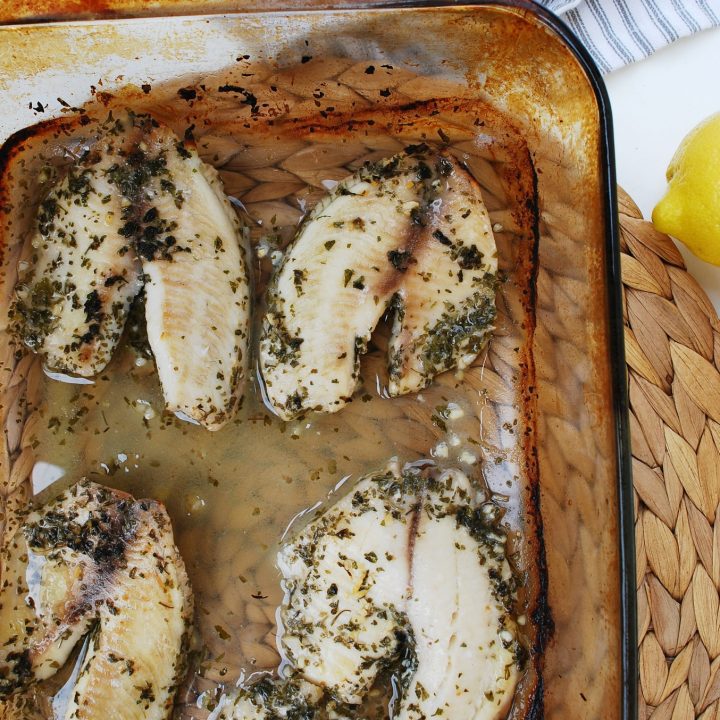 Lemon Garlic Tilapia (GF, DF, Egg, Soy, Peanut, Tree nut Free)
A burst of lemon flavor with a touch of garlic and parsley makes this super easy fish a quick, simple and taste-filled dinner for any weeknight. This is also gluten, dairy, egg, soy, peanut and tree nut free!
Ingredients
4 thawed tilapia fillets
3 Tablespoons lemon juice
zest of one lemon
3 Tablespoons olive oil
1 clove of garlic, finely minced
2 teaspoons dried parsley
1/2 teaspoon Salt
Black pepper to taste
Instructions
In a shallow baking dish, put all of the marinade ingredients, and stir to combine, then place your thawed fillets on top. Flip your fillets to ensure both sides are covered in the marainde. Put plastic wrap over the dish and put in the fridge for 1-4 hours.
When you're ready to bake, take the pan out of the oven and allow to come to room temperature while your oven preheats to 425 degrees F.
Place the dish with the fish and marinade in your oven on the middle rack. Cook for 2-3 minutes. When it looks like it's almost done, turn the oven to broil and place the fish on the top rack. Cook until the edges are slightly golden brown and fish pulls apart easily with a fork.
Serve over rice.
Tweaked from: Simply Scratch