This is my go-to comfort soup. It's the one I crave when I have a cold or am in need of some comfort food. This silky, bone broth base studded with chicken, wild rice, mushrooms, and carrots is one of the few reasons I like winter.

This post contains affiliate links.
I know, I know…temperatures are warming up every where. But, you see, I live in Utah…where one day it's 65 and the next day it's snowing. True story. For example, back when we were newlyweds, I had my truck and my husband, who was still a student, drove a scooter to campus. We thought it had been Spring for a safe enough time, so we broke out the scooter…only to wake up to it covered in inches of fluffy, white snow! So, I'm still holding onto soups like my children hold onto my leg when I want to get something done! And, I'll keep making soups until it's far too warm to stand them any longer.
I literally mourn when I have to give up soup making. I have soup at least twice a week when it's winter and I feel their absence in the hot months and miss like an extended member of my family. I'm crazy, right?
As I've said before, I truly don't like winter and keep praying my husband gets a new job somewhere warm! But, this soup is my saving grace during the winter until then. I try to not eat the same recipe within a month–I'm picky like that–but I find myself thinking…"How soon can I have this soup again that my kids won't riot?" It makes enough that I always freeze a little, and I love breaking into it for a luscious lunch.
My mom used to make a child and wild rice soup growing up and it was my FAVORITE. I made it all of the time when we were newlyweds, but it used a canned cream-of-something and a box mix of wild rice that had wheat as a thickener. So, I jumped for joy, did a few heel clicks and made a gratitude offering when I figured out this Gluten Free Chicken Wild Rice Soup. It has all of the flavors I remember and love.
I normally try to just put good recipes out there and hope someone, somewhere makes it and it makes them happy. But, I beg of you to try this soup before it gets too warm. As we all know, my blog and photography are new blossoms, and I'm still figuring this all out. I was so upset trying to take these pictures because it was horrible lighting that day and I wanted so badly for the soup to scream "make me" so you could join me on this soup affair. As the pictures don't do it exact justice, just take my word for it! Sincerely, a soup-a-holic.
**If you'd like an instant pot version of this soup (along with a video to show you how to make it!) check out my Gluten & Dairy Free Instant Pot Chicken, Mushroom & Wild Rice.
Where can I find more gluten & dairy free soups?
All of my soups are free of gluten and dairy. If you love this soup, then you'll love these allergy friendly soup recipes as well:
Chicken, Mushroom & Wild Rice Soup (GF, DF, Egg, Peanut/Tree nut Free)
A quintessential comfort soup: a silky, bone broth studded with rice wild, chicken, carrots, and mushrooms all gluten and dairy free!
Ingredients
1 tbsp olive oil
1 small onion, diced finely
3 carrots
3 garlic cloves
2 celery stalks (we can't do celery, so we omitted this)
2 chicken breasts, cooked and shredded
1 cup long grain rice & wild rice combo *see note
1 package of button mushrooms, sliced
2 tbsp Tofutti Cream Cheese
1/2 cup chicken broth + 1 Tablespoon cornstarch
salt and fresh pepper, to taste
Instructions
Put olive oil in a large pot on medium heat, add onion, carrots, celery, and garlic and saute until soft.
Add chicken broth,chicken bouillon, wild rice mix ,and mushrooms and simmer on low, covered 25 minutes, stirring occasionally until the rice is softened. Bring to a quick boil and add in the slurry of chicken broth and cornstarch. Boil for one minute and then reduce heat back to low.
Add shredded chicken and sour cream. Adjust salt and pepper to taste if needed and serve.
Notes
* I've been lucky enough to find a wheat free wild rice mix that has seasonings already mixed in at my local Winco that does not have wheat in it. If you cannot find a mix, I've also made it with just plain wild rice. You could add 1 tsp of each of the following: garlic, onion, and parsley to make up for no seasonings, if you wish.
Nutrition Information:
Yield:

4
Serving Size:

1
Amount Per Serving:
Calories:

292
Total Fat:

9g
Saturated Fat:

3g
Trans Fat:

0g
Unsaturated Fat:

5g
Cholesterol:

61mg
Sodium:

1062mg
Carbohydrates:

29g
Fiber:

3g
Sugar:

4g
Protein:

24g
*Tofutti did give me free product in exchange for this post. All ideas and opinions are my own. And, I had been making this soup exactly like this long before.*
This Gluten Free Chicken Wild Rice Soup is adapted from: SkinnyTaste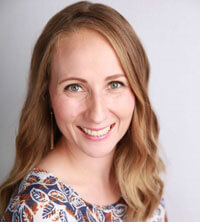 Hi! I'm Megan, a mom to four kids, two with multiple food allergies & one with EOE. I'm a published cookbook author that constantly tweaks recipes to make them allergy friendly–it's an addiction. I share every recipe & tip with you, to help you eat like you did before food allergies & dietary restrictions. You can still be awesome, even with food allergies!