A tangy dressing is perfectly paired with sweet mandarin oranges and loads of veggies for a filling entrée salad that's great for food allergies and restrictions. This Allergy-friendly Thai Chopped Salad is free of: gluten, dairy, egg, soy, peanuts and tree nuts.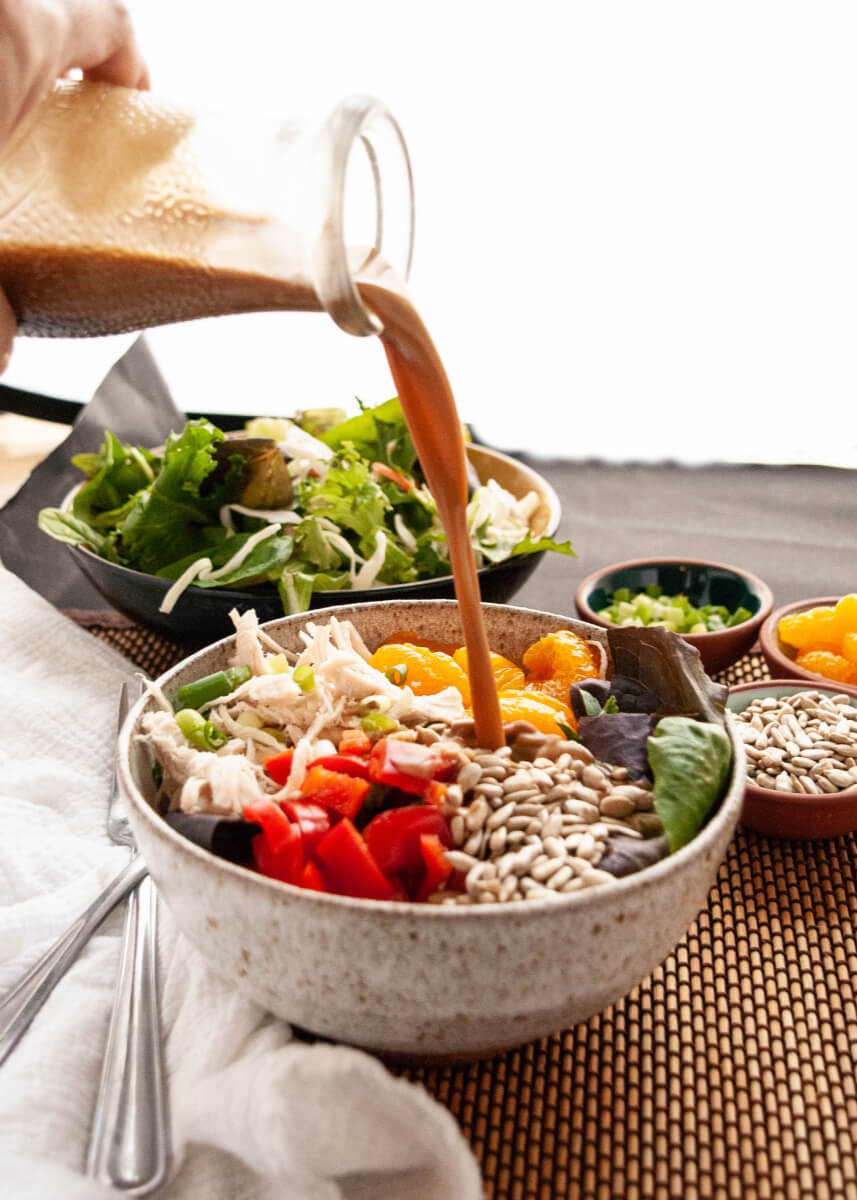 This post contains affiliate links.
I cannot get enough salads in the summer. Something about their cool crispness just helps balance out the seasonal heat. Plus, it's so nice to not have to heat up your kitchen!
I love this salad because it's not your typical salad–it's not a berry salad, and it's not your regular green salad. This Thai dressing is full of rice vinegar, Sriracha, and ginger which makes it one-of-a-kind. The tangy brightness of this salad is paired down with the sweetness of red bell pepper, mandarin oranges and peas, helping it balance out exceptionally.
FAQ ON HOW TO MAKE THIS ALLERGY FRIENDLY THAI CHOPPED SALAD:
CAN I USE DIFFERENT VEGETABLES? Feel free to add additional vegetables to help you clean out your fridge–mushrooms, other colors of bell peppers, cucumbers, bean sprouts–they'd all be delicious!
CAN I USE DIFFERENT GREENS? Yes. I've done it with all spinach, I've done it with a spring salad mix that's 50% mix and 50% spinach. I've added in leftover cabbage, and everything in between. Use what type of greens you prefer. When you have so many toppings and such a unique dressing, the bed of greens doesn't matter much.
IF I'M NOT ALLERGIC TO NUTS, CAN I USE THOSE? Absolutely. I love crunch in a salad, so I always sub out nuts with sunflower seeds. If you can do nuts, feel free to toss your favorite kind in. If you cannot do sunflower seeds, these can be omitted altogether without ruining the salad.
IF I'M ALLERGIC TO SOY, WHAT CAN I USE IN PLACE OF THE SOY SAUCE? You can use coconut aminos–it's my favorite soy sauce substitute.
DOES SOY SAUCE HAVE GLUTEN IN IT? Yes! Many do. Make sure you get a gluten-free brand. I prefer La Choy.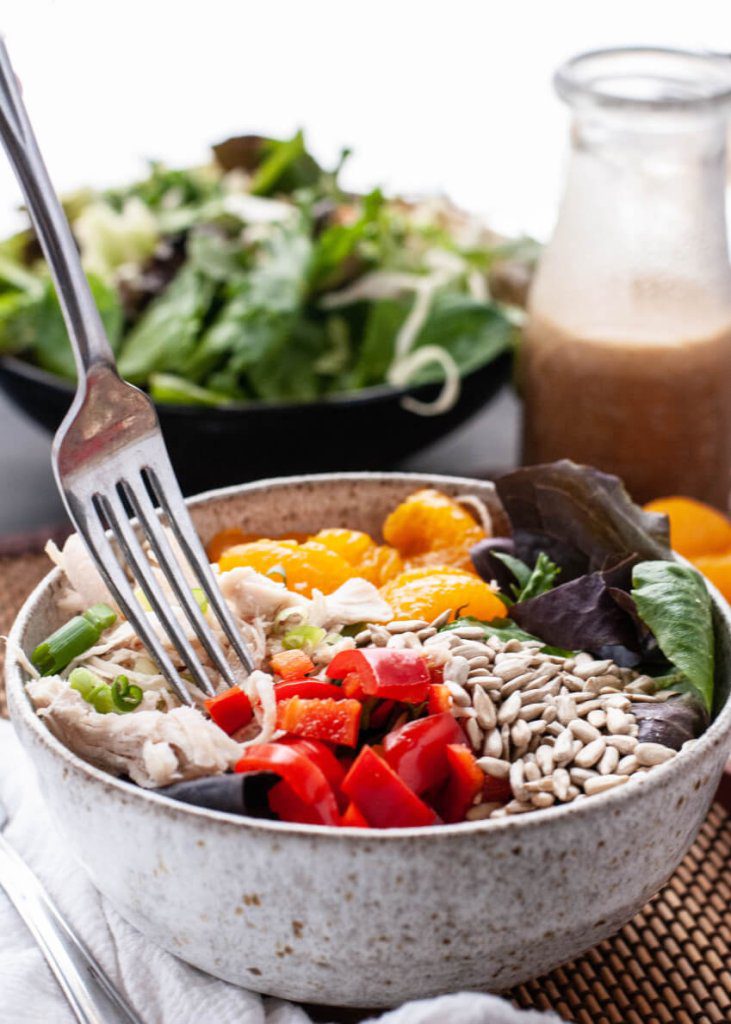 CAN I USE ROTISSERIE CHICKEN? OR, EVEN OMIT IT ALTOGETHER?
Yes! We have found that the Costco rotisserie chickens work for our food allergies. (We're wheat/gluten, dairy, egg, peanut, tree nut, oat, beef and goats milk free–check with your local Costco to make sure their recipe is the same.) It's great to have a pre-cooked chicken to throw into this salad to make it an entrée salad.
If you don't have a rotisserie chicken, but still want some easy chicken to top it with, I like to throw two frozen chicken breasts in the instant pot with 1/2 cup water, 1 Tablespoon of olive oil and generous salt and pepper. I set it manually on high pressure for 25 minutes. When it's done, I simply drain the liquid and shred it. That way, I have tender chicken, without having to heat up my kitchen.
OR you can omit the chicken altogether if you want it to be more of a side salad for a potluck, or if you want it to be vegan.
If you're looking for a Thai Chicken recipe, check out my friend, Tessa's, Thai Grilled Chicken.

CAN I MAKE THIS SALAD AHEAD OF TIME?
I would not recommend it. Greens can wilt quite quickly–especially when they have dressing on them. If you're trying to save time, here's what I'd do:
Make the dressing ahead of time and then store it in an air tight container or jar. You will need to shake it to re-distribute it when you're ready to serve.
Have the toppings chopped and kept in individual bags or containers, so all you have to do it dump them on top of the greens when you're ready to serve and dress the salad.

WHAT OTHER ALLERGY FRIENDLY SALADS DO YOU RECOMMEND?
Are you having a big BBQ or potluck where you want several types of salads to offer? Or, are you just on a salad kick like me and you want more gluten, dairy, egg and nut free versions for your restricted diet? Then I have you covered! Here are all of my favorite allergy friendly salads:
I hope that regardless of your food allergies that you're able to see there's lots of yummy side salads and entrée salads that you can still enjoy this summer. Be sure to share this recipe with other allergy friendly friends!
DON'T FORGET TO PIN IT, SO YOU DON'T LOSE IT! BE SURE TO ALSO CHECK OUT MY OTHER ALLERGY-FRIENDLY PINTEREST BOARDS!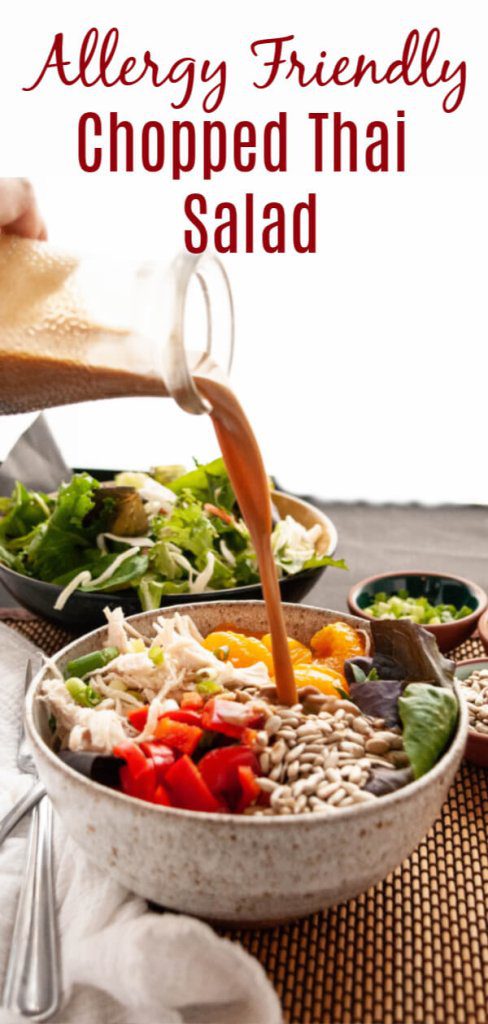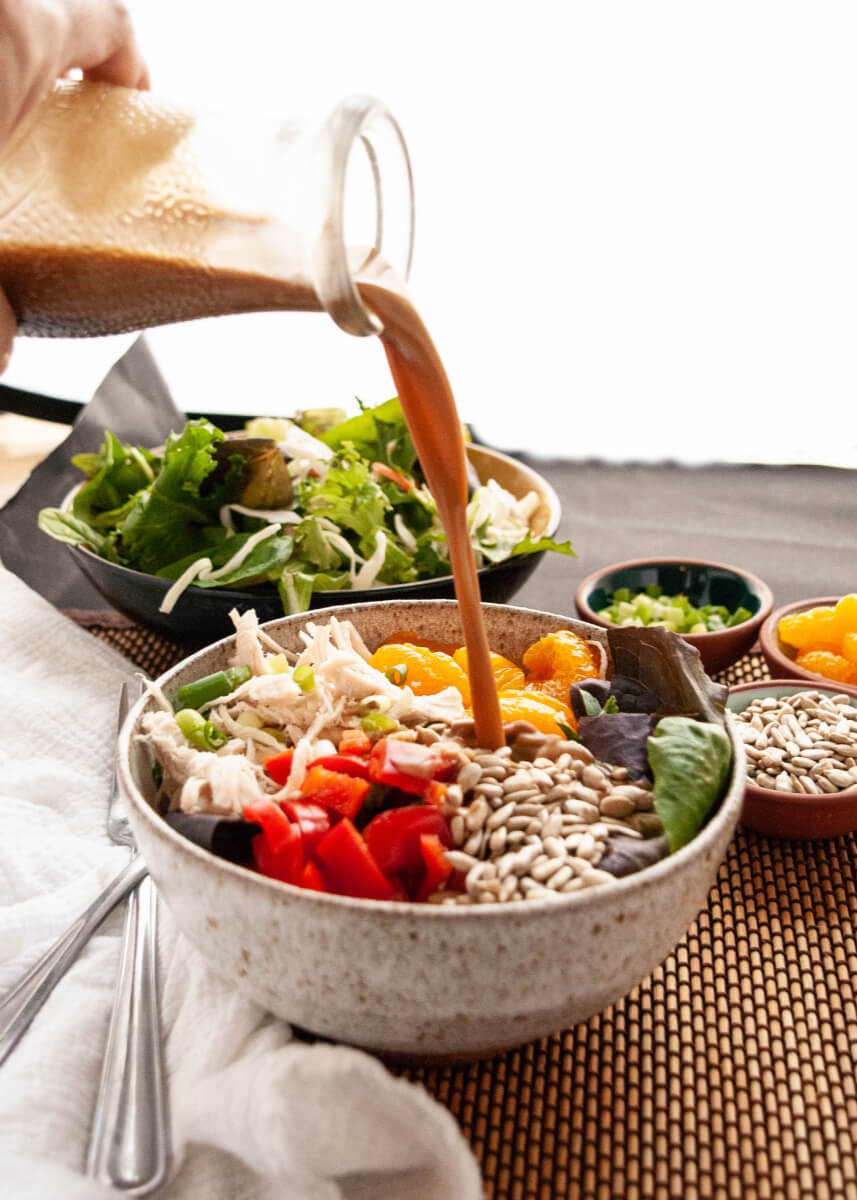 Allergy-friendly Thai Chopped Salad
A tangy dressing is perfectly paired with sweet mandarin oranges and loads of veggies for a filling entree salad that's great for food allergies and restrictions. This Allergy-friendly Thai Chopped Salad is free of: gluten, dairy, egg, soy, peanuts and tree nuts.
Ingredients
THAI DRESSING:
2 Tablespoons olive oil
1 teaspoon sesame oil**
1/2-1 teaspoon chile-garlic sauce to taste
 1 clove garlic, or 1/2 tsp minced garlic
 1 and 1/2 Tablespoons honey
 Salt and pepper to taste
SALAD:
4 cups of greens (see above)
One 11-oz can mandarin oranges, drained
 3 cups cooked, shredded chicken (see above)
 3 green onions, chopped
 1 and 1/2 cups salted sunflower seeds (see above)
1 cup frozen sweet peas, thawed
1 red bell pepper, diced
Instructions
Wash all vegetables.
If using chicken, shred the chicken.
Chop the green onions (both white and green parts) and the red bell pepper.
Place all of the dressing ingredients either in a blender, and blend, or place in a jar with a secure lid and shake to combine. You'll want to give it one more good shake before pouring over the salad. Keep refrigerated until you're ready to serve. (To grate the fresh ginger, I use this microplane zester.)
When ready to serve, place the greens in a large bowl. Top with the drained mandarin oranges, shredded chicken, green onions, sunflower seeds, peas and red bell pepper pieces.
Start slowly, and pour the dressing to taste, tossing to combine.. You most likely will not need all of the dressing.
Serve immediately.
Nutrition Information:
Yield:

6
Serving Size:

1
Amount Per Serving:
Calories:

383
Total Fat:

22g
Saturated Fat:

3g
Trans Fat:

0g
Unsaturated Fat:

17g
Cholesterol:

51mg
Sodium:

1599mg
Carbohydrates:

24g
Fiber:

10g
Sugar:

10g
Protein:

27g