Does a family member, neighbor or church group need an easy list of allergy-friendly candy to buy for their Easter egg hunt or party? Send them this list! All of the candies below are free of the top allergens, are easy-to-find and would make any kid smile and feel included this holiday. These candies are free of: gluten, dairy, egg, soy. peanut & tree nuts. There are also allergy-specific brands and non-food ideas too!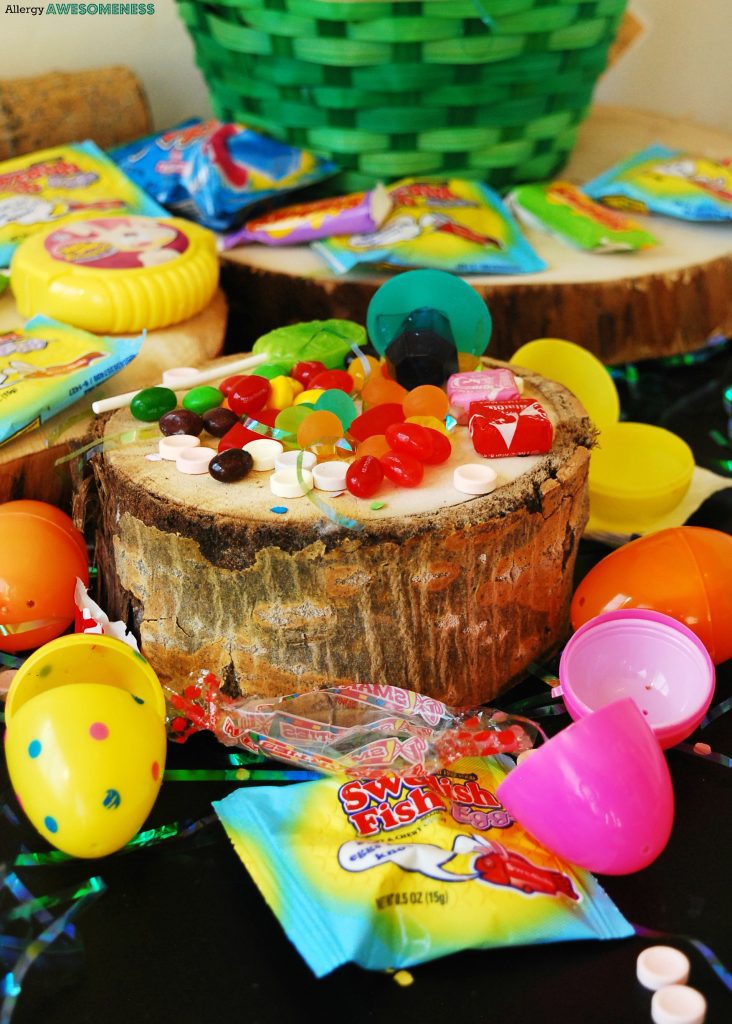 I wanted to challenge myself, so I went to a regular grocer and wanted to see how many allergy-friendly options I could find. It was kind of like a fun scavenger hunt! Thanks Smith's for giving me all of the allergy-friendly candy I spotted!
At first, I was feeling super nervous. I was shocked at HOW many chocolate options there were. In fact, I kept thinking–since when was chocolate so heavily ingrained in Easter? I was beginning to feel it was worse than Valentine's. Chocolate is a no-go since it has milk in it, and is often cross contacted with nuts.
But, the more I walked around, the fuller my cart got!
I know for people who don't have food allergies, having to find allergy-friendly candy can be tough. I've had many well-meaning friends who want to include my child, but feel nervous to say whether something is safe or not and don't feel confident reading labels. So, I've found that giving them a handy-dandy list like this can alleviate stress on both sides.
To help make this more shareable, and for those of us who love video (and to selfishly raise awareness in my neck of the woods) I went on my local Fox talk show, The Place, to show what I found.
You can watch the video by clicking here, or on the image below:
Even after following a list like mine, always check with the allergy parent! There is no "one safe list for all allergy kids, ever, in the history of the world". I find it's best to let them see the bag, so keep the original bags so they can read the labels and be sure. Or, let them know ahead of time so they can look it up. I know it's extra work. And, it is so stinkin' kind of you to have so much empathy. Thank you for going to that work–it does NOT go unnoticed.
And, unfortunately, companies change recipes, or manufacturing processes. Meaning, that one year it could not have a "may contain wheat, soy…XXX…" and the next year it does. So, always check from year to year. And, it never hurts to read and re-read to make sure you're not missing anything. Reading all of the ingredients AND looking for a "may contain" statement at the bottom needs to be done.
Also, please note I did not call any of these companies. I went purely off labels. If your allergies are such that you need to call and find out what else is manufactured there, please do so. Take care of yourself and do what works for you and your family!
Allergy-friendly Easter Candy List:
(PS–I went ahead and linked to them in Amazon. I find Amazon doesn't always have the Easter packaging like stores do. But, it will at least help you see labels and options. Many of these are affiliate links, because I love Amazon #addictedtoprime)
Dum Dum Lollipops (shaped like eggs if you buy the holiday version)
Ring Pops (no Easter specific packaging, but I find these are still super fun for kids to wear and eat)
Skittles (they come in individual, Easter colored packages in the holiday version)
Starbursts (they come in two packs in Easter colored packages in the holiday version)
Smarties (I didn't find any holiday packaging, but love that they're individually wrapped and fit well in a plastic egg)
Pixie Sticks (I didn't find any holiday packaging, but find that their colors are bright like Easter colors and individually wrapped)
Sweedish Fish (the holiday packaging is cute and has fish and eggs in the individual packages)
Double Bubble (either the regular, or the bubble gum eggs–sorry couldn't find a link for this!)
Pez candies (fun to either get holiday versions, or their favorite characters)
Peeps (please note some of their non-traditional flavors have "may contain" warnings)
And, while these are all big name brand, easy-to-find, you can always find allergy specific brands online too, or at specialty stores. I know some towns are smaller and don't have options like Sprouts, or Whole Foods. Many of these are vegan, organic, and free of artificial colors and flavors–which is important to some families. I don't love my kids eating tons of candy, but for a holiday I don't mind them eating it and feeling included. You definitely have to do what works for your family, and have faith that others are doing what they feel is best.
Allergy-specific brands of Candy:
Finally–don't forget non-food treats! Every year we get the boys one big gift to share that is some form of an outdoor toy (gotta burn off that sugar!). For example, this year we got them a slip and slide. I'm seeing lots of fun memories coming up this summer! DVDs, and favorite current TV characters are always a big hit with my kids. Here are a few things my kids like:
Non-food Easter basket stuffer ideas:
Coloring books
Side walk chalk
Bubbles
Stuffed animals
Action figures/dolls
Bouncy balls
And lastly, if you can do eggs–these confetti eggs are super fun (free of the other allergens, but they do use a real egg shell)
I hope you all have a wonderful holiday! Be safe, include others and best of all–have fun making memories!
Don't forget to pin this, so that you can easily share it again next year with friends and family. Also, be sure to check out my other allergy-friendly

Pinterest boards

.
---
If you want some Easter candies or treats to make together as a family, be sure to check out these favs:
Easter Bunny Sugar Cookies (Gluten, dairy, egg, soy, peanut & tree nut free; top 8 free; vegan)
Chocolate Covered Cookie Dough Easter Eggs (Gluten, dairy, egg, soy, peanut & tree nut free; top 8 free; vegan)
Allergy-friendly Carrot Cake Sheet Cake (Gluten, dairy, egg, peanut & tree nut free; vegan)