This shop has been compensated by Collective Bias, Inc. and its advertiser. All opinions are mine alone. #CampbellSavings #CollectiveBias
Tender chicken that's loaded with flavor from slow cooking in Pace Salsa all day. Topped with freshly sautéed bell peppers, onions and guacamole this is a naturally gluten, dairy, egg, soy, peanut and tree nut free dinner that comes together in a snap for busy school nights!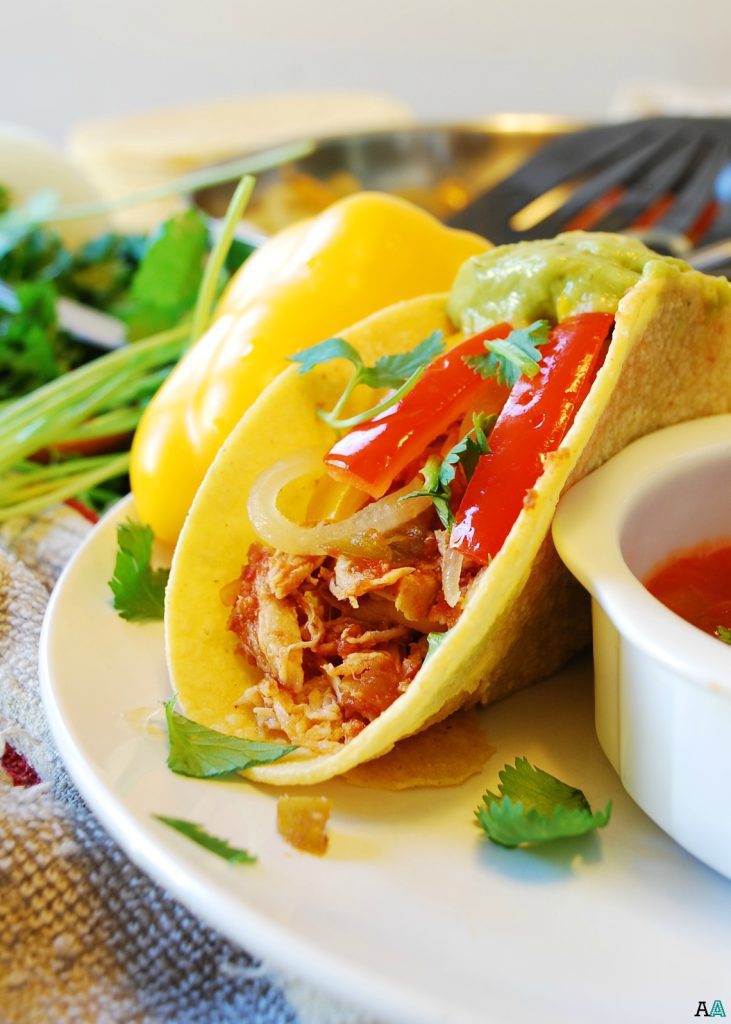 First off, a big congrats to Rachel Todd! You won the giveaway!! HOORAY! Jodi from Talk For Me Tees will be in contact with you. If you didn't win, this recipe will help fill that hole, or at least a very hungry tummy.
You guys. I am dying. DYING. I can't believe summer is practically over. This is my second year having a child in school and I think you become more and more aware of just how fleeting summer is once your kids enter the school-age years.
I really am not ready to get up before 8 am, or to have more of a schedule…and get this…I am only dealing with preschool. I know–I'm a wimp. Heaven help me when my oldest is going full days!
While every little bit of me wants to hang onto summer with white knuckles, I know I also need to start bracing myself for busy afternoons. One way I'm doing that is digging out some of my favorite slow cooker recipes and fast, kid-friendly dinners.
This is one of them! We've been making this for several years since Pace is so allergy-friendly! It really is an evening life saver. While I do love the stress relief you get from cutting up a bunch of fresh vegetables, sometimes you don't have time–especially in the mornings when I'm trying to throw something in the slow cooker before running out the door. That's why I use Pace Salsa to give me a garden flavor, all with just opening a bottle.
This seriously is the easiest recipe ever. I place two frozen chicken breasts in the bottom of my slow cooker/crock pot and pour one and a half cups of Pace Salsa on top. I then furiously run about doing the rest of my morning routine and allow myself to forget about it. I'm then free to go about the rest of my day and let the flavors of the salsa penetrate the chicken while it becomes tender and slow cooks.
Whenever we're done with our crazy day, I simply julienne some bell peppers and onions and saute them for a few minutes with olive oil and salt.
Then it's just all about assembly–which can be fun and customizable. You can do hard corn tortillas or soft–whatever floats you boat…or should I say holds your chicken? Then, I love to stuff it with that soft, juicy chicken and place the sautéed vegetables right on top. No taco is complete in my house without guacamole. I love guacamole even more since we've had to go dairy-free for my son's milk allergy. It still gives it that cohesive feeling, and that creaminess you'd get from cheese. If you can do cheese, feel free to add that on top too! And, it never hurts to put a smidgen more of salsa on top as well!
This dinner is such a great meal with lean protein, veggies and it's naturally gluten-free too with the corn tortillas. It's really a win-win and totally filling.
I hope that this recipe helps you as you adjust getting back into the school routine. We can adjust together! And remember, there's nothing wrong with having #TacoTuesday multiple times a week as we get back into the groove! (PS–If stored separately, the chicken and veggies make FABULOUS leftovers. And, feel free to double the recipe too!)
If you're wanting to switch it up, and do a taco salad instead, you can check out the recipe by Keto Blogger Wholesome Yum.
And, if you're anything like me–somehow crazy nights turn into crazy mornings (probably because I'm staying up late). So, it's nice to have a little pick-me-up the next day with a new, tasty beverage I discovered: V8 + Energy.
A helpful tip: I found both at Wal-Mart while I was doing my weekly grocery shopping. The Pace Salsa was easy to find, since I've bought it many times before and it's smack-dab in the middle of the Hispanic section. However, do note that the V8 + Energy was not right by the regular V8 at my store. I thought it'd be by the plastic 46 oz bottles, but it was at the end of the juice isle, by the other single-serve drink options. You can just order it online, or here's a pic to help you:
Slow Cooker Salsa Chicken Tacos (Gluten, Dairy, Egg, Soy, Peanut & Tree nut Free; Top 8 Free)
Inactive Time:
9 hours
54 minutes
Total Time:
10 hours
15 minutes
Tender chicken that's loaded with flavor from slow cooking in Pace Salsa all day. Topped with freshly sautéed bell peppers, onions and guacamole this is a naturally gluten, dairy, egg, soy, peanut and tree nut free dinner that comes together in a snap for busy school nights!
Ingredients
2 frozen chicken breasts
1 and 1/2 cups Pace Salsa (heat preference to your liking, we use Mild)
1 red bell pepper
1 yellow bell pepper
1 orange bell pepper
1/2 yellow onion
1 Tablespoon olive oil
Salt and pepper to taste
Corn tortillas
FOR GARNISH:
Guacamole
Chopped cilantro
Instructions
Turn your slow cooker/crock pot to low and place the frozen chicken breasts in the bottom. Pour the salsa on top of the chicken breasts and replace lid. Cook on low for 6 hours.
When ready to eat, heat a skillet with the olive oil over medium-high heat. Wash and julienne the bell peppers and onion and add them to the skillet. Cook until they're tender and add just a pinch of salt and pepper.
Shred the chicken in the slow cooker.
Assemble your tacos by placing the chicken in the bottom of the taco (soft or hard shell is fine) and then adding the sautéed veggies on top and finishing it with guacamole, cilantro and any other toppings you enjoy.
Leftovers store well for 1-2 days. Be sure to store the items separately.
To help you enjoy these easy tacos, be sure to use this coupon that will get you $1 off two bottles of Pace Salsa.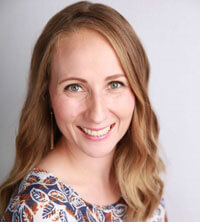 Hi! I'm Megan, a mom to four kids, two with multiple food allergies & one with EOE. I'm a published cookbook author that constantly tweaks recipes to make them allergy friendly–it's an addiction. I share every recipe & tip with you, to help you eat like you did before food allergies & dietary restrictions. You can still be awesome, even with food allergies!