Make your kids excited to see your after-school snack creation. Or, better yet–get them involved making fun after-school treats that are allergy-friendly, vegan and top-8-free. These two fun, kid-friendly ways to dress up granola bars will fuel your kids with whole grains for a filling a mid-afternoon treat. 
This post is sponsored by Enjoy Life. All thoughts and opinions are my own. There may be affiliate links.
I'm dying you guys–just dying. My son is set to attend school next week, and so begins the hunt for easy snacks to throw in school lunches or satisfying treats for after school.
When Enjoy Life said they had new granola bar flavors to try, I thought "perfect timing!". They have three new flavors: Lemon Blueberry Poppy Seed, Caramel Blondie, and Carrot Cake.
You and I both know that kids can get bored easily with food. And, if they're like mine, they will eat things that seem different, fun, or something they can help create themselves. So, while my kids loved the granola bars plain, I thought it'd be fun to dress them up a bit.
Let's start with the healthier version of the two:
GRANOLA & FRUIT KABOBS
You could really use any of the flavors, but we went with Carrot Cake, since it already has some fruit (raisins) in it.
The great thing about this version is that you can use whatever fruit you have on hand. Melons would be fun, pineapple, apples…you can't go wrong. You can also pack the fruit on tight, or looser. I knew that my kids weren't super hungry, so we went with littler kabobs.
Simply slide pieces of the granola and fruit onto the skewer and serve. Be aware that because these are such moist, soft granola bars I found I had to mold the piece of the granola around the skewer.
Granola & Fruit Kabobs
Fruit and whole grains for a satisfying after-school snack.
Ingredients
4-6 strawberries--washed and cut in half
a handful of blueberries, washed
1 large banana, sliced
Kabob skewers
Instructions
Cut the granola bar into pieces. Wash, cut and prepare the fruit.
Slide the fruit and granola pieces onto the kabob in the order which you like. Feel free to mix up the order, pack on as little or as much fruit as your kids like. You can't go wrong!
If the granola bar crumbles, simply mold it around the skewer. To help with this, I put the granola bar on the ends to be able to better reach it.
CHOCOLATE DIPPED CARAMEL BLONDIE GRANOLA SQUARES
This version is admittedly more indulgent. This is a sweet bar to begin with, but me and my kids just LOVE chocolate. It helps that Enjoy Life also makes a vegan, top-8-free chocolate chip package, so naturally that is what we used to dip them in.
My son had fun dipping the pieces in the chocolate, and it's always nice to involve the kids when I'm making them food. I think it helps them take ownership and helps them be more excited knowing that they had a hand in it.
CHOCOLATE DIPPED CARAMEL BLONDIE GRANOLA SQUARES
An indulgent after-school snack where you do your own chocolate dipping!
Ingredients
2-3 Caramel Blondie Enjoy Life Chewy Granola Bars
1/2 Tablespoon soy-free and dairy-free shortening
Instructions
Cut the granola bars into bite-size squares.
In a microwave safe bowl, pour the chocolate chips and top with the allergy-friendly shortening. Microwave on medium for 30 seconds at a time, stopping to stir it in between.
Once the chocolate chips are completely melted, dip the bottom (or the entire thing) into the liquid chocolate.
Place the dipped granola bars onto wax paper and allow them to cool. This can be done quicker if you place them in the fridge or freezer.
In case you're not convinced about these news flavors (my favorite is the Caramel Blondie), here's some awesome points about them:
They are vegan, gluten-free, top 8 free, Non-GMO, Kosher, Halal, and made with no artificial ingredients.
They feature a new Pure Life Balanced Dry Blend™ flour, which is made from sunflower kernels, cassava flour, sorghum flour and quinoa flakes. I REALLY liked the quinoa fakes. My son can't do oatmeal, but the flakes gave it that classic "oatmeal" texture you'd expect in a granola bar.
To help you try out just which flavor you want to dress up, I've partnered with Enjoy Life to give you 20% off single boxes! Simply go to this link and enter the code: CHEWYBLOG.
Whatever way you choose to dress up these allergy-friendly granola bars, I'm sure your kiddos will be as happy as mine!
DON'T FORGET TO PIN IT, SO YOU DON'T LOSE IT! ALSO, CHECK OUT MY OTHER

ALLERGY-FRIENDLY PINTEREST BOARDS

.
---
Looking for other kid-friendly after-school snacks? Try some of my other favorites:
Double Apricot Jello with Coconut Whipped Cream
How to Make Jello Pudding Dairy-free (and top-8-free too!)
Oat-free & Nut-free Chocolate Banana Granola Bars (Gluten-free and top-8-free too!)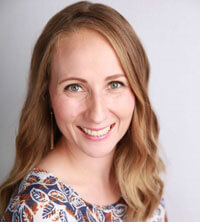 Hi! I'm Megan, a mom to four kids, two with multiple food allergies & one with EOE. I'm a published cookbook author that constantly tweaks recipes to make them allergy friendly–it's an addiction. I share every recipe & tip with you, to help you eat like you did before food allergies & dietary restrictions. You can still be awesome, even with food allergies!