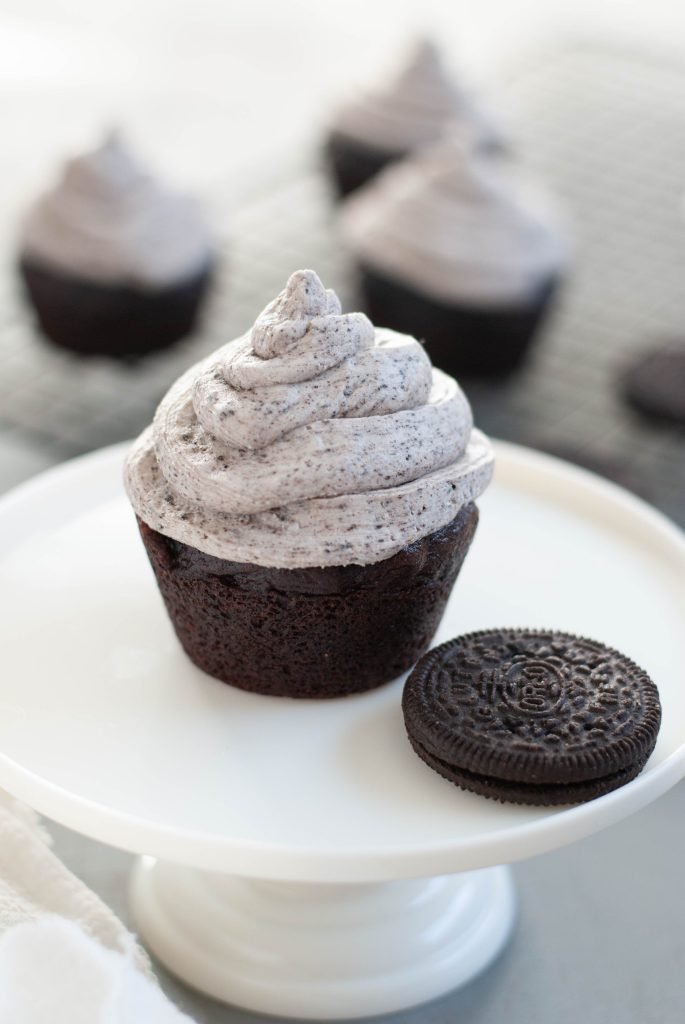 Gluten-free Dairy-free Oreo Cupcakes are your favorite cookie made into a tall, tender dessert. Soft, dark chocolate cupcakes are topped with thick, creamy Oreo frosting–with real Oreo crumbs running through it. So tasty, so spot on–no one will know that this dessert is gluten free and dairy free. There's even an egg free option to make these gluten free vegan as well! With easy modifications, this dessert should work for just about any dietary restriction so everyone can enjoy America's Favorite cookie…in cake form.
This post contains affiliate links.
WHY WE LOVE THESE OREO CUPCAKES
Calling an oreo fan (or cookies and cream–however you want to put it)! If you love the taste of Oreo, but want something bigger and better–this is it. As much as I like Oreo's–I've ever loved how stale and crispy they are. This cookies and cream dessert gives you all the taste plus better texture. My kids inhale these, and I admit I do too. I have to literally count and divide them, otherwise fights break out claiming someone got more. Pretty sure that this is going to be the official birthday dessert of our family now. The dark chocolate base counteracts the sweet frosting to give you something craveable…and dare I say addicting. Moist chocolate cupcakes topped with creamy frosting that has real oreo cookie pieces in it just can't be beat!
HOW DO I MAKE THE OREO CUPCAKES GLUTEN FREE?
In order to make these oreo cupcakes gluten free only requires two easy switches: use a gluten-free all purpose flour and use the official gluten-free Oreos. I like to use Great Value (Walmart brand) all purpose gluten-free flour blend or make my own homemade gluten free flour blend. As far as store bought blends go, I find the Great Value blend to be very similar to Bob's Red Mill 1:1 flour blend, but less expensive. Feeding a family of six takes all the budget shortcuts I can get. I find as long as the gluten-free flour has these components: rice flour, potato starch and tapioca starch that it will work well. If it has sorghum flour in it too, that doesn't hurt. I like to use ones that already have xanthan gum in it. If your blend does not, add 3/4 teaspoon to your batter.
I can find the gluten-free Oreos at my local Walmart, and many other big box grocery stores, as well as on Amazon. If you can't find Oreos, or need some different options, Kinnickinick has K-Too's and Glutino has their Chocolate Vanilla Creme Cookies that would work well too.
*If you do not need them to be gluten-free, you can simply swap in regular flour at a 1:1 ratio (and don't worry about the xanthan gum) and use regular Oreos.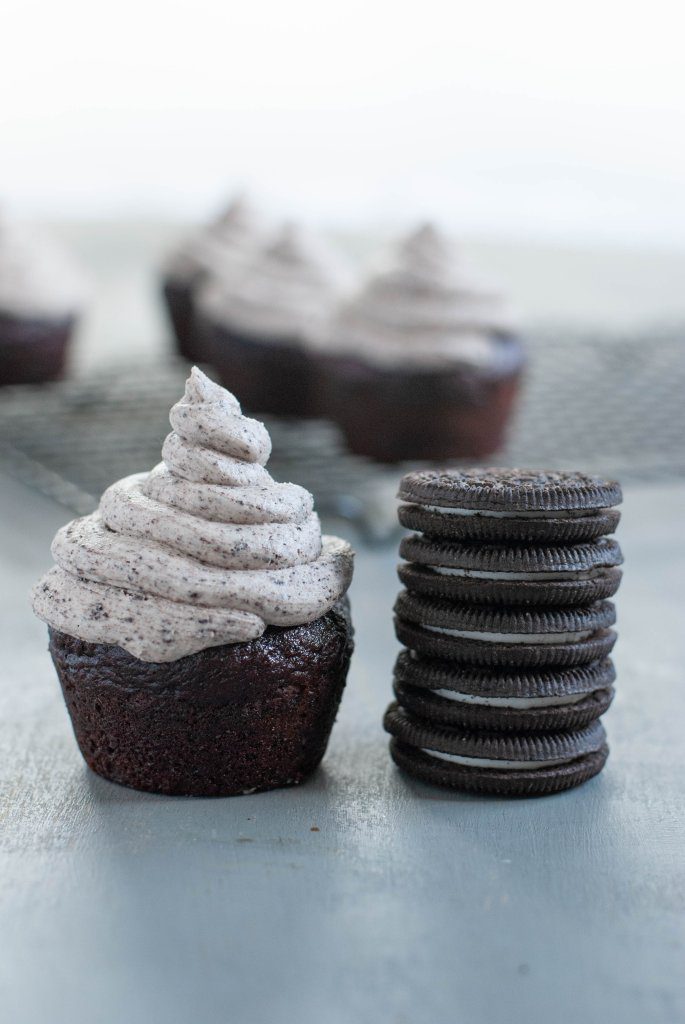 HOW DO I MAKE THE OREO CUPCAKES DAIRY FREE?
Thankfully, Oreo cookies are naturally dairy-free. So, the only two swaps you need to make are using dairy free/vegan butter and rice milk. I have used both Earth Balance Buttery Sticks or Country Crock Plant Butter Olive Oil Sticks just fine. I would think using other brands would most likely work too. Let me know in the comments if you try another brand.
For the dairy free milk substitute, you'll notice I call for rice milk. I do this because it doesn't have an after taste or a strong flavor to compete with the Oreo flavor. If you can't have rice milk, or need to use something else, I would assume it wouldn't affect the texture, but may affect the taste. Use at your own discretion.
*If you don't need these to be dairy free, you can use regular milk and butter at the same ratios.
CAN I MAKE THESE OREO CUPCAKES EGG FREE AND VEGAN?
My son used to have an egg allergy, so I have made these oreo cupcakes successfully using 2 flax eggs (2 Tablespoons of ground flax meal + 5 Tablespoons warm water). If you swap out the eggs, because you're already using vegan butter and rice milk, this entire dessert will also then be vegan.
WHY DO I USE APPLESAUCE IN THIS RECIPE?
I used to use a dairy-free sour cream in this recipe to give it extra an extra moist and soft crumb, but I realized that was difficult to find and expensive. I tried subbing it out for applesauce and it totally has the same affect, and everyone has applesauce in their pantry! I've been making these cupcakes for over a decade, and even "regular eaters" at all of our family birthday parties rave about them, and claim they look forward to being invited to our parties just to get their yearly cupcake fix. Trust me, this really is the best oreo cupcake recipe!
HOW DO I FROST THESE CHOCOLATE OREO CUPCAKES?
I really don't think there's a wrong way to frost these fluffy chocolate cupcakes. You can use an official piping bag (either disposable or washable) and use a coupler and a large open star tip (also known as a 1M tip). That will give you a classic look. I am lazy and just fill a sandwich baggie with the frosting and snip the end off, as you can see in the video. I think it still gives a nice swirl as an end result and I've never heard anyone complain saying they're not perfect. Besides–this favorite cupcake recipe gets eaten so fast they hardly notice what they look like! No matter the tool you're using, I find the best results happen when you start from the outside and make smaller and smaller circles as you move towards the middle.
WHAT INGREDIENTS DO I NEED FOR THESE GLUTEN FREE OREO CUPCAKES?
The best oreo cupcakes can be made with these ingredients:
Cupcake Batter Ingredients:
Oreo Buttercream Frosting:

WHAT SUPPLIES DO I NEED FOR THESE DAIRY FREE OREO COOKIE CUPCAKES?
You will need:
DO I HAVE OTHER GLUTEN FREE DAIRY FREE CUPCAKES AND FROSTINGS?
I do! What is a party without a cake or cupcakes? Below you'll find a mixture of cakes and cupcakes, and all should be able to be made into either 13×9 or cupcakes. Just be sure to watch the bake time, as ovens can vary, especially when baking different sizes. One sure way to know if something is done is if you touch the top of the cupcakes or cake and it is springy and bounces back, then it should be good to go–and it will smell done! Enjoy these sweet treats!
DO I HAVE A VIDEO SHOWING HOW TO MAKE THESE GLUTEN FREE DAIRY FREE OREO CUPCAKES?
Yes I do! I love seeing how to make a recipe from start to finish and I know you will too! The video should auto populate for you, but if it does not, it should also be at the bottom of the recipe card. If that still does not work, you can view it on my YouTube channel.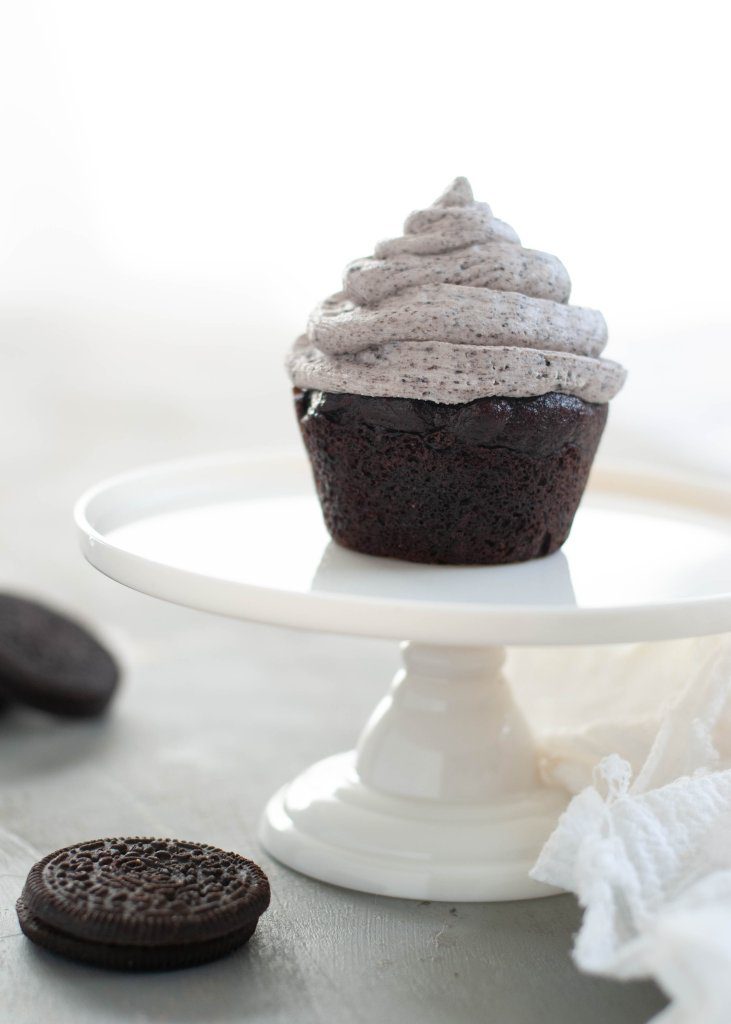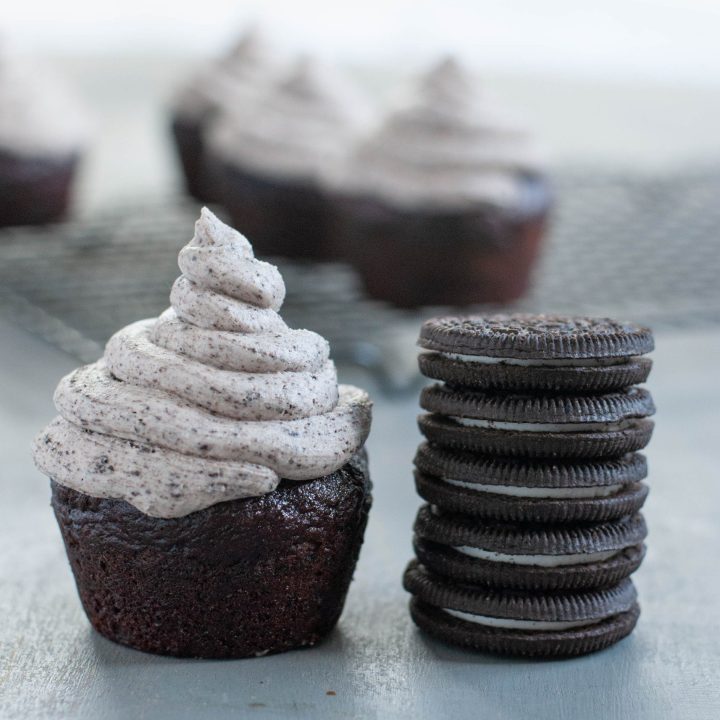 Gluten Free Dairy Free Oreo Cupcakes
Gluten-free Dairy-free Oreo Cupcakes are your fav cookie made into a tall, tender dessert. Cookies & cream at its finest! (eggless and vegan option too)
Ingredients
CUPCAKE INGREDIENTS:!
1 and 1/2 sticks vegan butter (12 Tablespoons)
1 cup water
1/2 cup applesauce
2 eggs [or 2 flax eggs (2 Tablespoons ground flax seeds mixed with 5 Tablespoons of water) if you need egg free]
1 teaspoon vanilla extract
1 teaspoon salt
1 teaspoon baking soda
3/4 teaspoon xanthan (if not included in the all purpose mix)
1 and 1/2 cups granulated sugar
FROSTING INGREDIENTS:!
1 cup non-dairy butter, (I prefer Country Crock olive oil butter)
3 cups powdered sugar
1/4 tsp salt
Instructions
Grease a muffin tin and preheat your oven to 350 degrees F.
In a large stock pot over medium heat, melt your butter. Stir in your water.
Remove from heat.
Add your applesauce, eggs and vanilla. Stir.
Add in your salt, baking soda, sugar and cocoa powder. Stir.
Stir in the gluten-free flour until everything is mixed.
Scoop 1/4 cup to 1/3 cup of batter in each muffin tin.
Bake for 20 minutes, or until middle is done and thoroughly cooked through.
Remove from the oven and allow to rest in the muffin tin for an additional five minutes.
Afterwards, turn out onto a cooling rack to cool completely before frosting.
While the cupcakes cool, make the frosting.
Pulverize the Oreo cookies until they are a fine crumb--either with a food processor, or a rolling pin (with the cookies in a plastic baggie).
In a stand mixer, or a large bowl with electric hand beaters, beat your butter.
Add in your salt and powdered sugar a cup at a time.
Add in your rice milk 1 TBSP at a time, to help the frosting come together, until it reaches your desired texture. I find I only need 2 TBSP. The frosting will be thick and creamy.
Stir in your oreo crumbs.
Frost the cooled cupcakes with the frosting mixture. Store covered, at room temperature for 2-3 days.
Notes
Chocolate cupcake recipe slightly tweaked rom my birthday cupcake recipe.
Oreo frosting tweaked from Cake by Courtney's Cookies and Cream Cake.
See the post above for FAQs. And see the video below for a visual example of how to make it.
*Our allergies, while severe and that get re-tested frequently, are such that we can go strictly by what's on the label. I do not call companies to see what things are derived from, or call manufacturers to see about potential cross contact. If your allergies require you to do so, please do your own homework. I cannot assure you of any ingredient's safety, only you can do that. I simply share what works for our family
**If you are going to feed this to someone with food allergies, and you yourself do not have food allergies, I HIGHLY recommend having them check every single brand and ingredient you are using, to ensure they're OK with each part of the recipe. And, to make sure you've talked to them about how to avoid cross contamination in your kitchen.
Nutrition Information:
Yield:

15
Serving Size:

1
Amount Per Serving:
Calories:

390
Total Fat:

19g
Saturated Fat:

10g
Trans Fat:

1g
Unsaturated Fat:

8g
Cholesterol:

71mg
Sodium:

408mg
Carbohydrates:

51g
Fiber:

1g
Sugar:

34g
Protein:

5g
DON'T FORGET TO PIN IT, SO YOU DON'T LOOSE IT! WHILE YOU'RE THERE, BE SURE TO CHECK OUT MY OTHER DIETARY SPECIFIC PINTEREST BOARDS!