A dairy-free and allergy-friendly way to enjoy this McDonald's cult classic. Free of the top-8-allergens, this creamy mint shake has the flavors you remember without any dairy. Easy to assemble, with all store bought ingredients, simply blend and pour to enjoy green treat this St. Patrick's day! This Dairy-free & Allergy-friendly Shamrock Shake is free of: wheat, gluten, dairy, egg, soy, peanut & tree nuts. Contains coconut.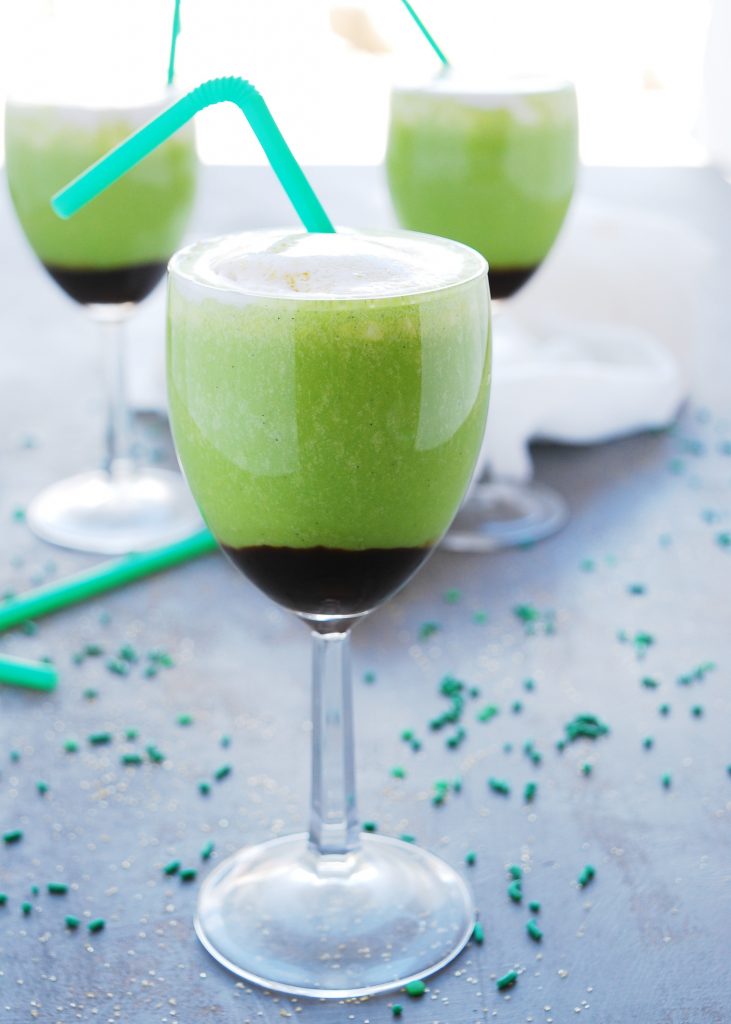 This post contains affiliate links.
I wasn't going to do it. I thought, "Oh well if I don't have a lot of St. Patrick's day recipes on my site…it's not like I'm Irish and I just don't have the time to squeeze in a specialty/holiday recipe."
Then the craving struck. Man oh MAN did some chocolate and mint in a frothy, cold glass sound mighty tempting. So, last minute I ran to the store, gathered up my materials and was back in my kitchen before I knew it.
Sometimes the holidays get the best of you and you find a sudden urge to make a traditional treat. And, while I could have swung through a McDonald's drive through and just gotten myself one while my son was at school, I wanted him to experience his first Shamrock Shake too. The only problem is that he cannot have dairy thanks to a severe food allergy–so that's where I set to work finding allergy-friendly substitutions.
Thankfully a shamrock shake is pretty simple and doesn't require a lot of ingredients, so I figured I could find some dairy-free alternatives.
What allergy-friendly food coloring do you use in the shamrock shake recipe?
I've been asked by many what food coloring I use. So, confession: I used Wilton's food coloring gels long before I was smart enough to check their label. I don't know why I didn't think food coloring might have something in it! I have called Wilton before, and the person I talked to said they've added a "may contain" label if there is something in the same facility. So, we've used it and never had an issue–BUT–only do what you're comfortable with for your own food allergies and go with what your allergist tells you. I've heard (but not personally tried) that AmeriColor has allergy-friendly food gels.
What gold sprinkles do you use?
I thought it'd be fun to put some gold sanding sugar on top, to play off the gold coin concept of St. Patrick's day. This is optional, but sanding sugar is cheap and it's always fun to add a little sparkle. I used this

CK Sanding Sugar

, but beware–the longer it sits on the ice cream, the more it turns from hard crystals into just colored specs. So don't put this on until you're ready to serve.
What dairy-free milk do you use in this vegan shamrock shake?
You could use about any safe milk you typically use in baking. We like to use rice milk, because I find it has the least amount of after taste. Depending on your allergies you could use coconut, almond, cashew, soy or any number of milks. Just pay attention to how thin they are compared to regular milk. For example, the original recipe said to use 1 and 1/4 cups milk, and since rice milk is thinner, I only used 1 cup. Feel free to add your milk slowly, until you reach your desired consistency.
What mint extract do you use in this dairy free shamrock shake?
I just used

Watkin's

, but I've also used

McCormick

, and for those who need to be very sensitive to possible gluten from the alcohol I've heard

Olive Nation

is good, though I've never personally used it.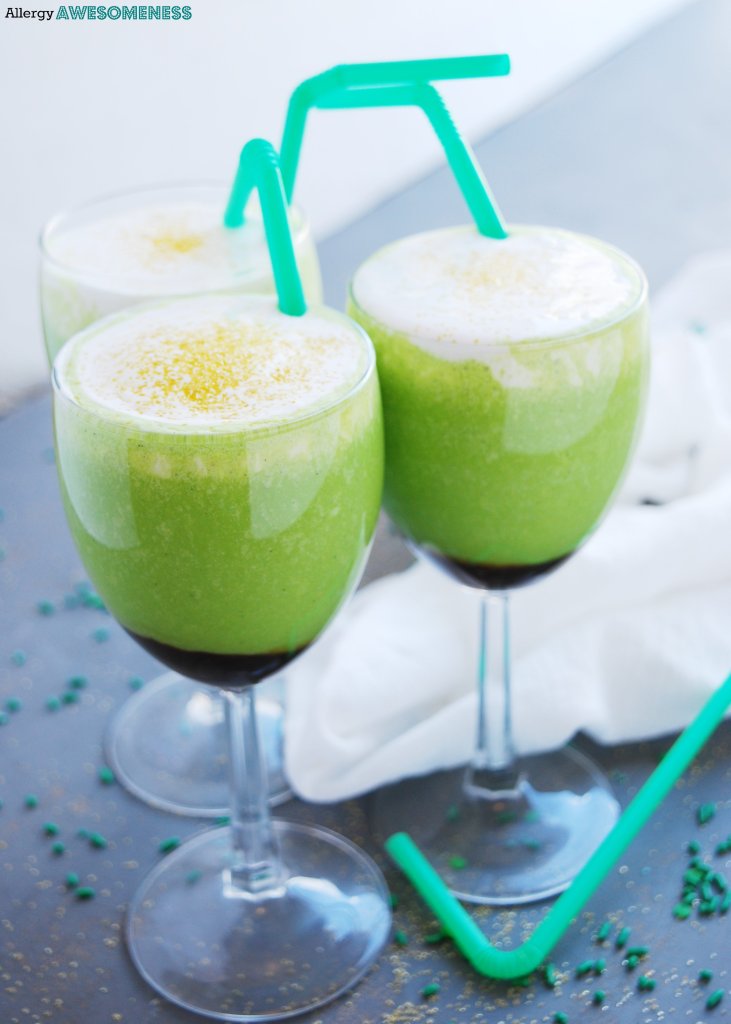 What dairy free whipped cream do you use in the vegan shamrock shake?
The was the only disappointment in this recipe, was how flat the dairy-free whipped topping turned out. I've actually used this before to create beautiful swirls (like on my

pumpkin mousse pie

), but either it was too warm that day, or I was in too big of a rush but it was either too cold to pipe, and when I got it warm enough to pipe out the piping bag it immediately melted. So, did it have the tall swirls that I was hoping to recreate from the classic? No. Did it still taste amazing? Yes. I used So Delicious Coco Whip (not sponsored!). I stirred it until it was workable enough to put in a bag, put a star frosting tip on and piped it. I've heard that Trader Joe's has a non-dairy spray that would have probably worked better, but we don't have a Trader Joe's by us. #thelifeofanallergymom I had already gone to two stores for these ingredients and I was not about to drive 45 minutes each way for some whipped cream. I know you feel me. If you cannot do coconut, feel free to just omit the whipped topping–it'd still be great!
What dairy-free chocolate sauce can you use in the dairy free shamrock shake?
This obviously isn't typical to shamrock shakes, but I just think that mint and chocolate is the best combo! So, to put a little spin of it of my own, I decided to put about a tablespoon of

Hershey's syrup

in the bottom of each glass. That way, the person could stir it together when they got their drink. Finding out that Hershey's syrup was dairy-free was a huge highlight in our dairy-allergy journey. We use it on ice cream, brownies, you name it. We almost always have a bottle on hand.
What dairy-free vanilla ice cream do you recommend?
Thankfully. there are a lot of dairy-free ice creams out there. None of these are sponsored, but here are a few that are easy to find for me. You'll have to check your local grocer to see what options you have. There's So Delicious, Coconut Bliss and Nada Moo is you can do coconut (which we can, thankfully.) There's also Breyer's Oreo (so it wouldn't be exactly like a shamrock shake, but the addition of oreos could still be yummy if it works for your allergies!) if you can do almond milk. And, there's Tofutti and Soy DREAM if you can do soy. There are other brands of non-dairy ice cream, but those are all of the ones I've been able to find that are vanilla flavored.
Now onto the recipe! I hope that this top-8-free, dairy-free & allergy-friendly Shamrock Shake helps you and your family re-create a classic treat and celebrate St. Patrick's day in a yummy and safe way! I know my boys sure loved it and were thrilled to come home to this colorful surprise.
*And, I should correct that while we're not totally Irish (my husband is Haitian after all!) I do have some Irish way back in my line, and my husband's adopted father, Richard Calvin Lavin, was Irish. So, I dedicate this recipe to our favorite Irish man, my sweet father-in-law. We think of you often. Rest in peace.*
What other dairy-free chilled treats do you recommend?
I love me a no-bake, ice cream, or chilled dessert! Here are some of my favorites:
Dairy-free & Allergy-friendly Shamrock Shake!
A dairy-free and allergy-friendly way to enjoy this McDonald's cult classic. Free of the top-8-allergens, this creamy mint shake has the flavors you remember without any dairy.
Ingredients
1 pint dairy-free vanilla ice cream *see above for suggestions
green food coloring, to taste
1 container of dairy-free whipped topping *see above for recommendations
Instructions
In a blender place the rice milk, mint extract and then dairy-free ice cream. Put as many drops of food coloring as you like (I did between 4-6) and then blend until everything is combined.
In a glass place a Tablespoon or so of the chocolate syrup. Then, gently pour the blended mint ice cream mixture on top. Top with a scoop of dairy-free whipped topping.
If so desired, top with gold sanding sugar, or green sprinkles. Place a green straw in it and immediately serve, or keep in the freezer until you're ready to serve. If you're freezing it, I would wait to add the topping and gold sprinkles until serving time.
Nutrition Information:
Yield:

3
Serving Size:

1
Amount Per Serving:
Calories:

517
Total Fat:

13g
Saturated Fat:

7g
Trans Fat:

0g
Unsaturated Fat:

4g
Cholesterol:

39mg
Sodium:

175mg
Carbohydrates:

96g
Fiber:

3g
Sugar:

74g
Protein:

5g
DON'T FORGET TO PIN IT, SO YOU DON'T LOSE IT! BE SURE TO ALSO CHECK OUT MY OTHER ALLERGY-FRIENDLY PINTEREST BOARDS.
---
Looking for other allergy-friendly frozen treats? Check out my other favorites:
Frozen Raspberry Pie (Gluten, dairy, egg, peanut & tree nut free; vegan)
No Churn Vegan Chocolate Banana Ice Cream (Gluten, dairy, egg, soy, peanut & tree nut free; top-8-free)
Vegan Strawberry Pie Pops (Gluten, dairy, egg, soy, peanut & tree nut free; top-8-free)