A naturally sweetened breakfast shake that has your fruit and protein in a delicious, convenient drink. Simply blend and sip either as a breakfast shake or after-school snack. Free of gluten, dairy, egg, soy, peanut and tree nuts; top 8 free; vegan; refined sugar-free.
I don't know about you guys, but I constantly struggle to get my kids to eat breakfast–especially when we're in a hurry. And, if I solve that problem, come mid-afternoon they're wanting snacks because they're hungry. Kids never stop being hungry–what is it with them?? Except for when I've gone to a lot of work on dinner–THEN they're not hungry. I digress…This recipe is great for either of those occasions! We basically live off shakes and smoothies at my house. Don't believe me–check my counter on my Blendtec–it's over 2k!
My kids love those instant breakfast, soy- protein shakes–but they're often expensive and just full of stuff I don't want them to have. I really just want them to get some protein, some fruit and re-hydrate. This recipe hits all of those, and my kids think they're winning because it tastes like chocolate! When I'm feeling extra generous, I'll leave some dairy-free chocolate chips on the top.
If you're really want to make it extra special for breakfast, I like to add in 1/4 to 1/2 cup of gluten-free oats too (depending on how thick you want it). But, my oldest can't do oats, so I didn't include it in the recipe. I've done it personally and it really is breakfast in a cup since you then have some whole grains! Another great add-in is a Tablespoon of ground flax seeds. If you have a quality blender, your kids won't even notice and it will be a great source of Omega 3. #MomWinning
I had to snap a photo of my son trying to snag all of the chocolate chips around the cup as props! He's not as sneaky as he thinks he is, haha!
Back in the pre-allergy days, chocolate and peanut butter was one of my favorite combos, and thank goodness for seed butters that still give you that roasted flavor and similar texture. I'm an affiliate for SunButter, so what can I say…I love the stuff and use it in everything!
And, I didn't realize, but SunButter and peanut butter (at least the label I saw) have the same amount of protein–which made me feel better since I like to sub them 1:1.
A quick note: Be sure to use some spotted bananas since you're not using any type of sweetener. It won't be as sweet if you don't use older bananas!
Hope you and your kiddos enjoy this quick and tasty drink whether it be at breakfast or for a late afternoon snack! If you need another simple breakfast idea, check out these Easy Overnight Oats by Cooking LSL. Or, if you're looking for a greener way to start your morning, check out this Green Vegetable Juice Recipe by fellow blogger, Clean Eating Kitchen. And if you love shakes, and want something more dessert-wise, check out this Blueberry Milkshake by fellow blogger Food Doodles.
If you'd like to watch a video about it (and see me surprise the host with a pop quiz on food allergies!!) click the image below: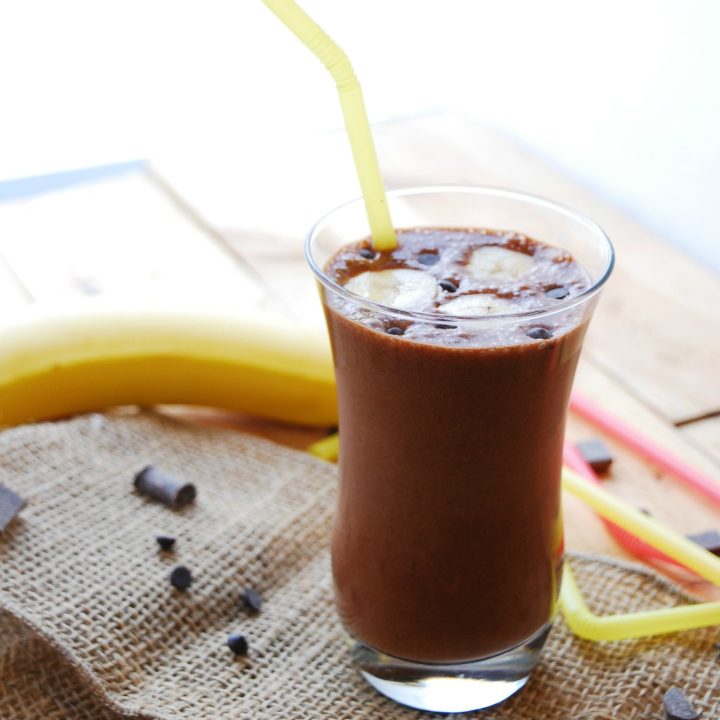 Chocolate Banana SunButter Breakfast Shake (Gluten, dairy, egg, soy, peanut & tree nut free; top 8 free; vegan)
Ingredients
2 large overripe bananas, peeled, sliced and frozen*
3/4 cup original or vanilla rice milk (or more to thin as desired)
3/4 cup ice
2 Tbsp unsweetened cocoa powder
1/2 tsp vanilla
Instructions
Add all ingredients to a blender, with the ice cubes on top, and process until well blended. Serve immediately. Garnish with banana slices, and additional dairy-free chocolate chips if desired.
Notes
I've done this last minute, without the bananas being frozen and it's still great--just not as thick.
Also, feel free to add in 1/4-1/2 cups gluten-free oatmeal (depending on how thick you want it) to add in some whole grains into the smoothie. My son can't do them, but I've done it and it makes it thicker and delicious.
You can also add in 1 Tablespoon of ground flax seed for a great source of Omega 3s.
Lastly, be sure to use very ripe bananas, since you aren't using sweeteners to make sure it's sweet enough.
Adapted from: Cooking Classy
Don't forget to pin this so you don't lose it!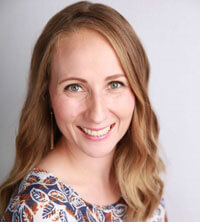 Hi! I'm Megan, a mom to four kids, two with multiple food allergies & one with EOE. I'm a published cookbook author that constantly tweaks recipes to make them allergy friendly–it's an addiction. I share every recipe & tip with you, to help you eat like you did before food allergies & dietary restrictions. You can still be awesome, even with food allergies!