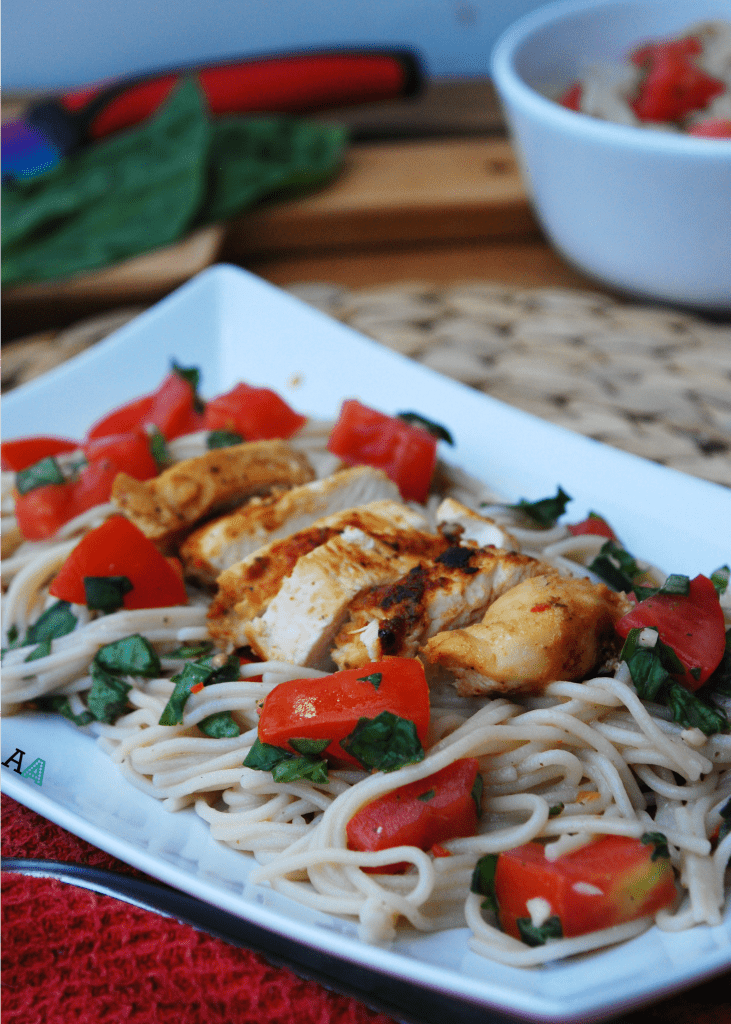 Gluten free pasta is topped with fresh tomatoes and basil along with a juicy marinated chicken in this allergy-friendly bruschetta chicken. A homemade Italian dressing marinade imparts deep flavor without the typical parmesan cheese.
Every week that I go to my grocer, the produce is looking better and better! I love warmer weather and seeing the produce section become more and more vibrant.  There's nothing like fresh, juicy tomatoes and leafy green basil. It's the best flavor combo. Add it to pasta–which, hello, is already one of my favorite staples, and then add juicy chicken for a zesty and filling dinner.
The key to this recipe, although easy, does take some planning ahead.  You want both the chicken, and the tomato basil mixture to marinate all day.  Let that tangy marinade really soak into both to kick up the flavor.
Thankfully, the marinade can be done in your blender, and only takes a few minutes with pantry staples. This marinade is really the star.  Not only does it work it's magic on the chicken and tomato basil topping, but I add a few Tablespoons to flavor the pasta too.  It just sings throughout the entire dish.
After you've thrown together the marinade in your blender, pour it on some chicken, quickly dice a few tomatoes and basil and you're set.  Leave it in the fridge before you go to work, and come back to a simple dinner.  To put it together you only have to cook the chicken and boil the pasta.
I had my sister over for the weekend.  She'll be watching my boys while I go to a blogging conference soon, so I wanted to treat her to dinner and dessert. Watching my boys definitely earns her a nice dinner.  I made her this and she loved it.  We both had seconds.  And, I didn't feel bad about it because of the lean protein, and the extra produce.
And, get this…my four-year-old liked it so much, that he asked for it for breakfast.  He's an odd one when it comes to breakfast–but it's healthy, so why not?  He's definitely not a cereal type of kid.
This will certainly make its way into our regular dinner rotation.
Enjoy!
Bruschetta Chicken & Pasta (GF, DF, Egg, Soy, Peanut, Tree nut Free, Top 8 Free)
Ingredients
4 skinless boneless chicken breasts
Homemade Italian dressing, divided (recipe below)
1 pound roma tomatoes, diced
1 package of fresh basil leaves, chopped
2 whole garlic cloves, minced
salt and freshly ground black pepper to taste
1 Tablespoon olive oil
1 pound gluten free pasta, cooked al dente
HOMEMADE ITALIAN DRESSING RECIPE
1/4 cup white vinegar
1/4 cup lemon juice
2 teaspoons sugar
1 teaspoon kosher salt
1/2 teaspoon red pepper flakes (don't worry--it doesn't make it hot, just really deepens the flavors!)
4 cloves garlic
1/2 cup canola oil
1 tsp. Italian seasoning
1 tsp. nutritional yeast
Instructions
Place vinegar, lemon juice, sugar, salt, red pepper flakes, garlic, Italian seasoning, and nutritional yeast in a blender. Turn it on, and slowly add the oil while it's going, to ensure it incorporates.
Take two small containers with lids, and put 5 Tablespoons of the marinade in one, and 3 Tablespoons of the marinade in another. Set aside.
Put the chicken in a sealable plastic bag, and pour the rest of the marinade in with the chicken. Put in the fridge and allow to marinade 4-8 hours.
Take the basil and tomatoes and chop. Add it to the small container that had the 3 Tablespoons of the marinade. Add the garlic and stir to combine. Put that in the fridge and allow to marinate 4-8 hours.
When everything is done marinating, boil the pasta according to the directions, until al dente. Take the pasta and wash off the extra starch in cold water. Turn a skillet to medium heat and add the 1 Tablespoon of olive oil. Put the chicken and marinade in the skillet and cook until the chicken is nice and browned on the outside and completely cooked on the inside.
To assemble, put the pasta back on the stove, and add the 5 Tablespoons of marinade that you had reserved in a small container. Add the tomato basil mixture to the pasta as well. Turn to medium low and heat the pasta until just warm again (you don't want to over cook, as gluten-free pasta can become gummy, just warm enough to serve.)
You can either slice the chicken breasts and set it on top of the marinade+tomato+basil+pasta mixture, or, if you have little kids like mine, I just dice the chicken breasts and stir it all together so that it's a one bowl, easy to eat combo. Serve immediately. Leftovers will be good in an air tight container for 1-2 days.
Don't forget to pin this for later so you don't lose it!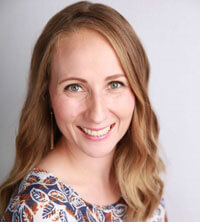 Hi! I'm Megan, a mom to four kids, two with multiple food allergies & one with EOE. I'm a published cookbook author that constantly tweaks recipes to make them allergy friendly–it's an addiction. I share every recipe & tip with you, to help you eat like you did before food allergies & dietary restrictions. You can still be awesome, even with food allergies!