This post was written clear back in October, and I've been sitting on it ever since. Stick to the recipes, I said. But, that's not me. I'm a very open person, and I'd like to sprinkle in bits about our real life and how we deal with food allergies as well.
You'd think I'd start off this real-life series by sharing a heroic or proud moment. But, instead I'll just be vulnerable and tell you about a dumb mistake that I recently made.
Both of my kids have food allergies. My oldeset (Big C) has a rare disease which causes him to have tons of food allergies (over 30). My youngest (Little C) is allergic to peanuts, walnuts and pecans so we just avoid all nuts to be safe. Since my older child has sooooooooooooo many, plus a rare disease, plus asthma, that I tend to think that my youngest is quite a bit easier to manage. (Not that dealing with any food allergies is easy, but this is how I make myself feel better at night.)
Well, this thinking bit me in the butt.
I volunteer my time with the youth in my area. We were doing a breakfast for them, and I offered to take Little C with me. I don't like to take my oldest since he usually can't have a single thing to eat at food functions and that's not fair or fun to him. I knew that Little C would be able to eat everything there and so I thought I'd give them a break from each other and my husband and I would divide and conquer.
It was just kitty corner to our house, so I left the house…….without our diaper bag which has our benedryl and epi-pen in it.
I know. I KNOW. I advocate all the time "don't leave the house without it". But, our diaper bag is so big, and it'd only be two hours. And, it was across the street. And…and…and.
Fast forward…
There was peanut butter for a pancake topping. I still didn't worry much because everyone at the event knows about my son's food allergies and they're all good to not feed him. I gave him some plain pancakes, bacon and yogurt and let him happily trot around the room and soak in the attention.
I then made another bad decision. I decided to have some peanut butter on my pancake. It'd been so long since I'd had some. And, my "severe" child wasn't there. I figured I'd eat it away from my child while he played and he'd never be the wiser.
I was sure to finish it and throw it in the trash. I don't remember how much longer after eating it I gave him a kiss. (I mean, can you blame me…look how kissable he is??)
I then turned my attention to helping with dishes. When I finally looked back at him he had a decent sized, raised hive on the side of his face.
My stomach fell to the floor.
My mind started to race. At first, I didn't even remember kissing him. My mind was in such a panic that I couldn't remember and was frantic about where this could have popped up from.
But, as I retraced my steps, I remembered. I was the culprit!
I also remembered I had left my epi-pen at home!
I was so scared that maybe he had grabbed something he shouldn't have when my back was turned. Suddenly, my feeling of confidence about how I could handle the situation deflated. I was hitting myself for thinking he'd be OK around it, or that I could indulge. Those tasty few bites suddenly did not seem worth it.
I took him and ran home.
And, guess what? My husband had left (he hadn't told me he was going to) and had locked the door. I hadn't taken my keys since I was just kitty corner to our house. Talk about a series of bad luck! As I stood dumbfounded on the door step I rocked back and forth between thinking "maybe it's just from the kiss and he's fine" to "what if this is just the beginning of anaphylaxis and he did eat something?"
I called my husband over and over with no luck. Anxiety was fully setting in. Thankfully, a few minutes later he pulled up. He had just ran to our church and back.
I raced inside and grabbed the Benadryl. I didn't feel comfortable giving him an epi-pen since we didn't know if he had ingested anything. Thankfully, the hive subsided and no other symptoms appeared so we were able to leave it at that.
Tell you what though! Those frightening minutes were enough to really impress upon me the importance of always having it on you.
I feel embarrassed and FOOLISH that I would go to a food event without it. I thought because I knew the event, knew the people and the closeness of it I would be fine. This was a reminder that you can't always plan what lay ahead, but you can always be prepared.
I am so grateful that my learning experience didn't come at the expense of my child. Being only 16 months, he had no idea what was going on and was none the wiser.
I won't forget this.
It's also another reminder that my second child, while he has "less" allergies, that they are just as severe. I think I had lulled myself into thinking I could be more lax. Clearly, my Little C is incredibly sensitive, as I know I did not have any large piece of peanut butter on my face. I remember wiping my face off. So, for some incredibly small, trace amount on my lips to do that to his skin, it makes me tremble inside for what would happen if he ever eats one.
Don't let yourself have a terrifying morning like I did. Don't let yourself think because you have dealt with food allergies for a few years that you are immune or safe.
Take your epi-pen every time. Be wise about what situations you put yourself in. Learn from my mistakes!
And, as always…keep praying for a cure!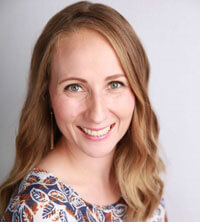 Hi! I'm Megan, a mom to four kids, two with multiple food allergies & one with EOE. I'm a published cookbook author that constantly tweaks recipes to make them allergy friendly–it's an addiction. I share every recipe & tip with you, to help you eat like you did before food allergies & dietary restrictions. You can still be awesome, even with food allergies!