This post was sponsored by Good Karma & Mambo Sprouts. All opinions are my own.
A simple, two-ingredient smoothie that has flavor, fruit, protein AND probiotics. Completely dairy-free, but with live cultures, this is a secretly healthy drink that is kid-friendly. Free of: gluten, dairy, egg, soy, peanut & tree nuts; top 8 free and vegan.
First off–CONGRATS to @NicolefPlus2 for winning the Snack Packs giveaway on my Instagram. Be sure you're following me there for more giveaways coming up, plus behind the scenes look at my life!
Ever since my kids were babies, my pediatrician recommended that I put them on probiotics. I also used to work for a global nutritional company, so I've always been a big believer in probiotics.
Since I can't just give my son regular yogurt to get his probiotics due to his dairy allergy, it's been tough making sure he gets them into his diet regularly.
I finally found a capsule that worked, but I'd have to open it and pour it into his drink every morning, and honestly–I often forget. It sounds silly, but one extra step in rushed mornings can mean a lot to a busy mom! It didn't have any flavor and I'd just have to mix it into his regular drink.
So, I was super excited when Good Karma offered to send me their products. It was perfect timing because not only do I want my son taking probiotics, but he's doing an oral challenge to flax seeds for his EOE. If you're not familiar with EOE–you have to eat the challenge food every day for 4-6 weeks and then get an endoscopy to see if it has bothered your esophagus. It's only then that you know if it's a pass or fail. I was really having a hard time figuring out how I was going to get flax seeds into his diet every day! Seriously, I had tried sneaking some crushed flax seeds in his applesauce and he HATED it. This really was THE perfect timing.
When you get sent free products as a blogger, there's always that fear that you won't like it and then it will be awkward. My oldest liked it a little bit, he said "it takes like yogurt" and he's never been a big fan of yogurt. My youngest, however, could drink the ENTIRE bottle in one setting if I let him. He's seriously hooked. He's drank every flavor (Strawberry, Blueberry & Good Greens and Pineapple) and liked them all equally. He calls it his "strawberry drink" and he's cleaned me out of my supply already! No exaggeration, my husband is on a honey-do errand for me right now picking up some more. So, if your kids like fruit and the taste of yogurt (all with the convenience of putting it in their sippy instead of it getting all over them like regular yogurt) than THIS is the product for you!
Not that it needed any improvement, but I wanted to make it extra creamy and give it some additional fruitiness. I almost always have frozen strawberries in my freezer, so it was a simple solution!
I put 8 ounces of the Good Karma Strawberry in my blender with 3/4 cup of frozen strawberries and gave it a whirl. The result was a double-strawberry, thick, cold and delicious smoothie.
You can also do this to the blueberry flavor as well, but put frozen blueberries instead. Or, it'd be fun to mix in additional fruit flavors. I feel like you really can't lose when it comes to berries being the base in a smoothie.
I love hearing about new allergy-friendly products, so I hope you do too. Sometimes it's hard to comb through the aisles at your grocery store reading labels–I know I get in a rut sometimes just buying the same things. And, sometimes your stores don't carry everything. (Seriously, has anyone else gone to four different stores to find your specific allergy product!??) So, hopefully this will help my other dairy-free friends out there.
And, if you want to mix up this smoothie, but aren't familiar with making smoothies, you can check out this helpful how-to-make-a-smoothie article by fellow blogger London from evolvingtable.com.
2 Ingredient Strawberry Probiotic Smoothie (Gluten, dairy, egg, soy, peanut & tree nut free; top 8 free; vegan)
Ingredients
8 oz of Good Karma Strawberry
3/4 cup frozen strawberries
Instructions
Pour the Good Karma Strawberry flavored dairy-free probiotic into a good quality blender. Place the frozen strawberries on top. Blend until everything is uniform and there are no large chunks of strawberry left. Drink immediately or keep chilled until you're ready to drink it.
If you're interested to see their full line (they have flax milks too!) then click here. #pouritforward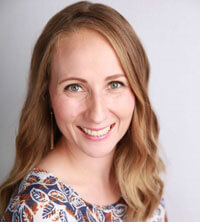 Hi! I'm Megan, a mom to four kids, two with multiple food allergies & one with EOE. I'm a published cookbook author that constantly tweaks recipes to make them allergy friendly–it's an addiction. I share every recipe & tip with you, to help you eat like you did before food allergies & dietary restrictions. You can still be awesome, even with food allergies!